Happy Friday!! These weeks seem to go by a little faster now that I am working. I like that I am driving to work now so I don't have to rely on a train to get me home. Pros and Cons to train commuting and driving. So far though, it's not too bad.
I'm thinking after today's post, I will just do a monthly favorites post. Truth is, I can't always think of 5 new things without repeating something. Either a monthly favorites or a Fridays Thoughts, reflecting on the week will be the next thing. Eventually I may add in some workout recaps too. I'm currently choosing some sort of powerlift training to follow soon and since I am either working or at the gym, I feel it would be a good post as I work on my journey into Powerlifting.
Anyway, let's get to some of a few favorites from this week.
My new work shoes – I am in love with my new shoes. They are literally more comfy than my last 2 pairs of shoes and they were the same price. I usually don't spend more than $40 on a pair of shoes for work and I was pleasantly surprised this time around with the comfort. The little heel is perfect and the memory foam bottom is so comfy.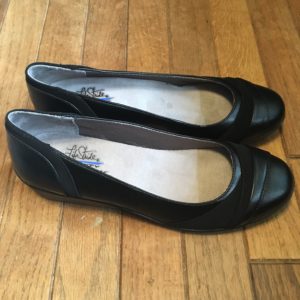 A working computer – Tuesday night, Brian was finally home. Basically I had only seen him for 4 hours within a span of 5 days. While he was home for the night, he had his friend come over to check out why my desktop crashed Monday night. I literally turned it on and it went to blue screens and kept going in circles through errors and recovery. Thankfully Brian's friend built my computer 4-5 years ago and now that I live near him, he was able to come over. Apparently it took like 30 seconds to fix. I have no idea what was wrong but it works now. He still plans to update it to run a bit faster as well.

Baking – it all started Sunday when Brian's brother made cookie and by the time Sunday dinner was over, most of the cookies were gone too. So what did I do? I quickly whipped up more cookies. I later realized I used a 1/3 cup instead of 1/2 cup for the flour which made my cookies flatten a lot but still tasted good. On Wednesday it was one of my co workers birthdays so that was an excuse to make a batch of chickpea bars and see how my co workers liked the healthy treat. Well even the hard to please critics were quite impressed and liked them. Anyone who has worked with me before knows I am the baker in the group usually.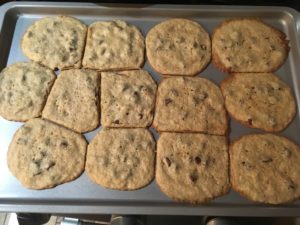 Problem solving at work – I guess the one thing about liking math is that I like to solve problems involving numbers. Honestly I would prefer to avoid all problems but when it comes to work, I seem to get the projects that involve some research. Since I haven't had too many major things to do yet, I was excited to take on this project and so far getting some positive answers and making the process more efficient for the future.

Yin yoga– if you read my post yesterday, you know that yin yoga has been inspiring me. Somehow I get all sorts of blog ideas in my head during class while also getting in some deep stretches that are perfect the day after a heavy weight workout. I can't wait to get the yin yoga books I ordered for training and start the training in July.

Hope you all have a great weekend!!
What's something you are loving this week?