Sharing is Caring:



Hey there and Happy Friday!! I am looking forward to this weekend since I am heading down to Philly to visit some friends and my old office. I will be participating in Yoga on the Steps Reach and Raise for the 4th time and would love it if you would contribute a donation to Living Beyond Breast Cancer on my page. I will be sure to recap next week on the event (read recaps from 2016 and 2015). Most of my favorites this week are food related. I have been cooking more and also treated myself to some snacks at the store this week (it happens when you go to the store hungry…thank goodness Wegmans has a hot bar and salad bar so I ate before I shopped, but a few extra items still made it in my cart). Also I am loving the temperature warming up, though 90 was quite hot so I didn't get my walks in, but I won't complain about the heat too much because I still prefer it to the cold. Linking up with Heather for some Friday Favorites.
Outdoor yoga in the park – I have been walking the park daily (except for Wednesday and Thursday because 90 degrees was a little too hot to be walking 5 miles) and Tuesday I finally brought my yoga blanket so that I could do a little intuitive flow. Pigeon, hip openers and shoulder openers are my thing at the moment. Yoga is a great release after weight lifting. Also chair pose is really hard the day after squats…
Bunny grahams – I have been craving a graham cracker for a while and so I finally picked up bunny grahams at the store and they were sooo good. Hit the spot!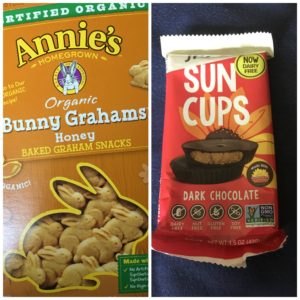 Dark chocolate Sun butter cups – I also ended up getting some sun butter cups because ummm I went to the store hungry and the chocolate sounded good. I love peanut butter cups, but also really enjoy these as well.
Zoodles – I forgot to take a picture but I made zoodles for lunch the other day. I love having my spiralizer veggies again.
Smoothie weather – As I said above, it was 90 degrees here and a smoothie was welcomed post workout. I mixed blueberries and avocado with some almond milk, ice and About Time vanilla protein powder. It was delicious. I have a feeling this combo will be on repeat for a bit.
What's your favorite post workout snack/meal?
What's your favorite snack to treat yourself to?




Sharing is Caring: