Sharing is Caring:



Happy Monday!! Just one week before Memorial day and I just have a 4 day work week since I am heading to Chicago on Friday for the long weekend. YAY! I have so many things I want to do at home in a short amount of time and hope I can get to most of them. I should probably start packing too….but that's getting off topic here.
My weekend went by way too quickly!! I was hardly home and my train is currently down due to the derailment last week so that has made it a bit more difficult since I had some yoga in the city this weekend.
Friday evening, I headed to the Phillies game after work. He had an extra ticket after a couple people backed out. One thing about me is that I am a planner. I like to know what is going to happen, when, but life doesn't work that way. Being a planner, I am very good at saying "no" to things. I don't know if that comes with being a planner, but in my mind it does. Being that I didn't have plans for Friday night other than to lay around on the couch or on the patio and I don't know when I would get another opportunity to go to a Phillies game, I decided to say yes. So I went to my very first baseball game (sorry Chicago…) and saw the Phillies play. We were in a party suite too! I mean that is the only way I go to games (like when I went to the Bulls game and Blackhawks game with my last company). What comes with watching sports is drinking and I will say I don't drink. This means I also remember stuff people say when they are drunk…but what I enjoy are the chicken fingers and cookies. There were tubs of popcorn and I ate some, then the container just sat there and I started talking to a couple sitting next me after they mentioned I had so much self control with the popcorn. I am really not a salt lover (I guess growing up with plain food has a bonus to it) but it a plate of cookies is in front of me, it is a different story. Luckily those were at other tables.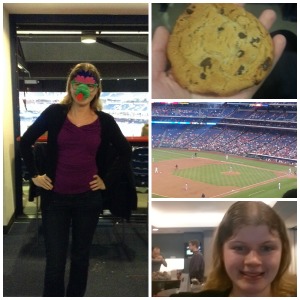 Funny story about the photo on the left. I asked to borrow someone's glasses (these glasses are like the mascot) to take a picture. She said "sure go get your phone" and then I pull out my ipad for the photo because the quality will be better and she goes "what is this?!?" as it clearly was not the phone she was expecting. Wow we were laughing for so long. You can't see my mouth in the picture but I was laughing while she took like 4 photos. Phones are convenient for taking photos, but I still like my regular point and shoot camera. Since I didn't have that, I was happy to have my ipad with me for a bit of a better photo. That is definitely my favorite photo of the night. Oh and the Phillies won so that was good also.
It was a late night as my boss and I headed on the subway to center city and then I hopped into a cab to my car at the other train station. I swear every time I take a cab, the cab driver has no idea where to take me, but after 5 minutes of repeating my destination, he finally understood at least and I finally made it home around 11:45, took a shower and headed to bed.
Saturday morning I work up to my alarm at 7:30. I wish I could have slept in with my late night Friday, but I had to leave at 9 and get ready for Yoga on the Banks and a potluck with my yoga studio that I trained at. So I threw together a quick bean salad in the morning to bring and ate breakfast and left shortly after 9 to drive to the area I used to live by and park at that train station, since my train was down and headed into the city. As I was on the train, I felt right at home, the stops of the places that I knew for my first 11 months living in Philly.
It was a great morning for Yoga on the Banks. Maybe I will get tan this year with all my time outside. I put on loads of sunscreen since I burn easily though. After some yoga, I headed to the potluck, hoping the bean salad didn't warm up too much in my car for a couple hours. It turned out fine and while people were in their normal everyday clothes (which was weird to see since you always see them in yoga clothes at the studio), I was in yoga clothes since I came from yoga lol.
The potluck was until 3 but a few of us stayed until 4 just talking and having a great time! I didn't take any pictures but it was at my wonderful yoga teacher's house and people just came and went as they pleased pretty much. I wanted to leave around 4 since it was a 45 minute drive home for me and again sooo much traffic, but that is also because I pass through the city so it eventually opened up.
So there was my Saturday, I was out from 9-5…geez sounds like work, but at least it was really enjoyable. I had a small dinner at home and spent the evening relaxing with some writing and reading.
Sunday morning I got up at 5:15am!! I know that is not the time to be waking up on Sunday but I had to head out at 6am to my old town to park my car and take the train at 6:57 to the city for Yoga on the Steps. I was glad I took the first train too since the steps filled up quickly. The whole top of the steps was off limits due to a giant tent being there, my guess is a wedding was there Saturday evening, so instead some yogis got to put their mats in the street along Benjamin Franklin Parkway which was cool. I sat on the step with the band and the stage so I had a great view.
The event began at 9:30 with a few people speaking and then the yoga class started at 10 and the clouds were finally moving away and the sun was coming out. I was applying sunscreen like crazy but I still got burned along my tank top straps on my shoulders and back.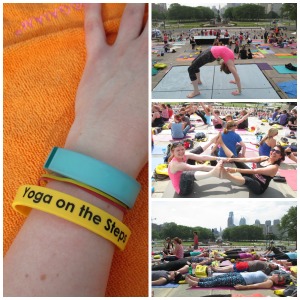 After the class, they had some snacks. The food wasn't as great as last year when they had make your own salads, but they did have guacamole and chips which everyone was after. After snacking, I headed over to Whole Foods down the street since I needed a couple things and I wanted a bit more food and water, so I ate a kale salad there before heading to the train station back to my car. Then it was time for some grocery shopping before heading home.
I got some meat marinating and cleaned up and then made some stir fry like dish for dinner.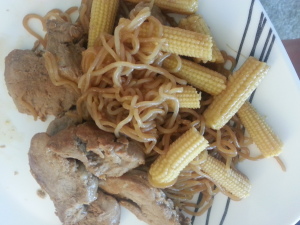 The rest of the evening was uneventful and I used the bit of time before bed to relax.
Thank you Katie for hosting!




Sharing is Caring: