Sharing is Caring:



Welcome to yoga workshop Fridays! Don't know what I am talking about, check out this post.
This series will be each Friday explaining how to do a particular pose leading up to a peak pose on the last Friday of the month. Throughout this series, I ask that you listen to your body to prevent injury and warm up for a pose when needed.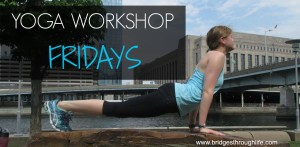 Disclaimer: Though I am a certified yoga instructor, please consult your doctor before you begin practice and note that everyone's practice may look a bit different as you align the pose to your body.
Is it really the first Friday of December?! I have been doing this series for 5 months now and absolutely love it. I hope you are enjoying it. As always, if you have any suggestions or specific requests on what you would like me to add, please comment or email me.
I have a good pose for today. Maybe one I should have brought out weeks ago as it is the beginning of sun salutation B after all. Today we are doing chair pose or utkatasana in sandskrit.
This is such a fun pose. Don't you think fun when you think of core exercises?! Actually my favorite core exercise involving this pose is going from chair pose to boat pose. I learned that from Yoga Girl earlier this year and it always gets people laughing in class…like you want me to do what? Laughing plus core exercise makes it even harder! But anyway that is fun to try if you are more advanced.
Before we get advanced though, let me break down the basics of the pose.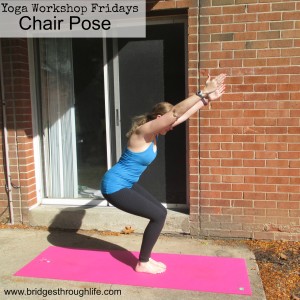 How to do the pose:
Begin in Tadasana, inhale your arms overhead with palms facing towards each other. Relax your shoulders down and away from your ears. Exhale as you bend the knees and sit back like a squat. Put the weight towards your heels (though you can play with coming onto your toes in this pose if you feel comfortable). Keep your knees behind your toes and squeeze the thighs together. A good way to get the feeling of squeezing the thighs together is to place a block between your thighs.
As you breathe here, you can try to sit more deeply as you exhale. Lift through your low abdomen, pulling the belly button up and in. After a few breaths, exhale to a forward fold or inhale as you straighten the legs to standing.

You can add a twist to chair pose or add it as the start of a flow (sun salutation B). Maybe even just challenge yourself to hold this pose for a longer time. I know I always feel those core muscles working.
Benefits:
Tones the leg muscles
Strengthens the core and lower back
Increases stamina
Stretches chest and shoulders
Share your pose on Instagram, tagging @bridgesthroughlife and hashtags #bridgesthroughlife #yogaworkshopFridays
I hope you enjoy this series. If you have any suggestions for what poses you would like me to break down, I would love to hear from you. Leave a comment or send me an email [email protected]




Sharing is Caring: