Welcome to yoga workshop Fridays! Don't know what I am talking about, check out this post.
This series will be each Friday explaining how to do a particular pose leading up to a peak pose on the last Friday of the month. Throughout this series, I ask that you listen to your body to prevent injury and warm up for a pose when needed.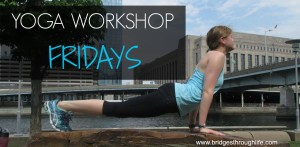 Disclaimer: Though I am a certified yoga instructor, please consult your doctor before you begin practice and note that everyone's practice may look a bit different as you align the pose to your body.
It's often said that we hold a lot of tension in our hips and I believe that to be true. Times seem to be more stressful during the holiday season and I hope that these hip openers have helped you. I find by holding pigeon pose for a while and imagining sending my breath into my hips as I hold the pose makes me feel better. As we conclude this month and head into the new year, I wanted to bring in one more hip opener, lizard (Utthan Pristhasana). Lizard has many similar benefits to pigeon pose, but also strengthens the thigh as you are almost holding a low lunge.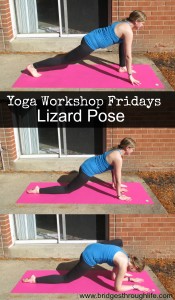 How to do the pose:
Begin in a low lunge. Bring your hands inside the front foot and toe heel your front foot out to the side. Lower the back knee down. You have the option to stay here with straight arms or begin to lower down to the elbows, keeping the arms parallel. Make sure that your spine stays long as you lower down.
To make it more challenging, lift the back knee off the ground. Breathe into the hips here, allowing the hips to loosen up.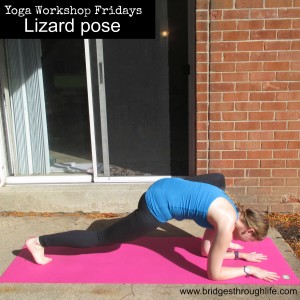 This is a pose that I like to hold for a full 2 minutes when I can. However long you decided to hold for, to release out of the pose, inhale to slowing come onto the hands if you were down on the forearms. Then walk the fingertips back towards your hips and slowly straighten the front leg taking half split pose as a counter pose. Try to keep the hips level as you take this pose. Then inhale back to low lunge and take downdog and come into low lunge on the second side to flow into lizard pose.
Props
If you want to work on lowering down to your elbows, you can place your elbows on two blocks.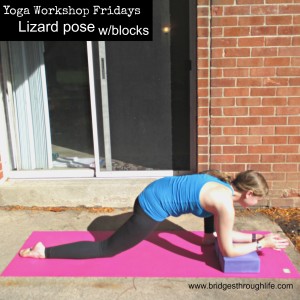 Benefits:
Opens the groins and hip flexors
Strengthens thigh muscles on front leg
Strengthens hamstrings
Relieves stress
Share your pose on Instagram, tagging @bridgesthroughlife and hashtags #bridgesthroughlife #yogaworkshopFridays
I hope you enjoy this series. If you have any suggestions for what poses you would like me to break down, I would love to hear from you. Leave a comment or send me an email [email protected]