Sharing is Caring:



Hello everyone!! Today begins a new month and what better way to kick off the month than to start a new series on my blog all about yoga. I completed my 200 hour yoga teacher training in May 2015 and have had the idea for doing a series of poses on the blog for a while. I am so happy that I have finally taken the time to sit down and prepare this for you.
Welcome to Yoga Workshop Fridays! This series will be each Friday explaining how to do a particular pose leading up to a peak pose on the last Friday of the month. Throughout this series, I ask that you listen to your body to prevent injury and warm up for a pose when needed.
Whether you are a beginner yogi or more experienced, I hope that you can find this series beneficial. Maybe you will learn a new cue or be able to work on the peak pose a bit further. I will do my best to give suggestions for all levels. If you are a beginner, I do suggest having a block or 2 and a strap as those props can help you with alignment as you work on the pose to get deeper into it.
Disclaimer:
Though I am a certified yoga instructor, please consult your doctor before you begin practice and note that everyone's practice may look a bit different as you align the pose to your body.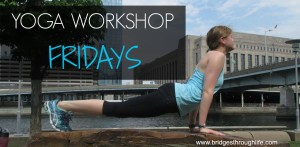 This month, I decided to start by focusing on the basics of vinyasa yoga. Vinyasa simply means movement with breath. In a vinyasa class, we move through a series of poses with the breath, so inhale is one movement and exhale is another. For this first month, I will be focusing on the poses in sun salutation A as I feel they are the basics for any vinyasa class.
Our first pose will be Tadasana, also known as Mountain Pose. Let's break it down.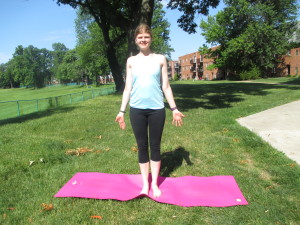 How to do the pose:
Bring your feet together at the top of the mat, with all 10 toes pointing straight ahead. Root into all 4 corners of your feet and engage the inner arches. With a tall spine, roll your shoulders up and then down your back and look straight ahead. Imagine someone is pulling a string from the crown of your head up.
Bring your arms to your side, palms facing forward, so that your arms are externally rotating. Legs are internally rotating. If you place a block between your thighs and squeeze the block, that will help you get the feeling of internal rotation of the legs.
Feel free to close the eyes here and take a few breaths. Maybe even explore what it feels like to lean forward onto the toes and then back towards the heels, gently swaying back and forth.
Benefits:
Helps improve posture
Strengthens legs
Good for grounding
Share your pose on Instagram, tagging @bridgesthroughlife and hashtags #yogaworkshopFridays #bridgesthroughlife
I hope you enjoy this series. As I mentioned above, we are starting with the basics and each month I will have a new peak pose for you to work on. If you have any suggestions for what poses you would like me to break down, leave a comment or send me an email [email protected]




Sharing is Caring: