Wednesday April 27
Wednesday morning I opted for sleeping in, instead of attending yoga. I was awake around 7am and I think this was the first night I slept the entire night of about 9 hours. I chilled in my room until 8:30am. I finished reading my book, snacked, watched some YouTube. It was a nice morning that I needed.
Breakfast was French Toast and fruit. It was so good, I had 3 slices.
After breakfast, we were headed to Monchique to walk the gardens. It was about an hour drive. We walked around then had a journaling session.
Next we went to the center of town and ate lunch at Velochique, a cute café in town. Suzanne and I sat down and while we both thought of sandwiches, we then saw the burger come out and immediately both ordered the burger with sweet potato fries. OMG I still think about this amazing burger!! We found out after that the bun has curry in it. The bun tasted so good!
We followed that up with a vegan brownie. So good!!
After lunch, the group split up. I headed back with Jen, Terry and Christina to the lodge. We actually stopped at the large super market on the way back for Terry to get some items for dinner. I was able to get more snacks which was perfect.
Also have you ever thought of doing your laundry while at the supermarket? They had washers in the parking garage.
Then I had the afternoon to chill. The weather was beautiful. We laid in the sun outside. I was able to journal about the past few days and chat with Jen and Christina.
The rest of the group was off in Lagos but after some adventurous days, I enjoyed the down time in the afternoon. It was just what I needed. Terry made a nice simple chicken dinner for those who were at the lodge and then it was time for bed at 9pm for me again.
Thursday April 28
This was the last full day of the retreat. We started with some eggs for breakfast.
After breakfast we were off for a 6 mile hike. The hike was a nice sand path up the road from the lodge a bit. My only regret in this was not packing my Camelbak for water. My water bottle was not really enough and I later got a dehydration headache, but the views were stunning. I took nearly 100 photos on this hike alone, probably the most of the trip. I just couldn't take enough of the cliffs and the beautiful clear ocean water.
Although I was chatting with various people throughout the hike, towards the end I was wondering at what point were we going to be at ground level to reach a beach. Eventually the trail led to a road that we went down and we reached the café area and beach.
I was excited for some lunch and ordered an avocado and fig salad.
After a delicious salad, we headed over to the other café to check on the other ladies and I ended up ordering a delicious slice of chocolate cake. I pretty much inhaled that but not before taking that Instagram worthy photo of my cake and the beach in the background.
Jen came to pick us up from the beach area and take us back to the lodge around 2pm. I then needed to do a COVID test for my flight. Luckily Suzanne saved me with this and I was happy to have it done that afternoon.
Around 4pm, we headed to the yoga studio for class. Just a few of us went and I was happy I did. This was our last yoga practice for the retreat as Friday morning was for packing. Maggie taught the class at the studio and then at the end we had a long savasana. Jen came in to do Reiki at the end.
After yoga, we headed back to the lodge. We were headed out for dinner again. This time in the town but just up the road. A bunch of us walked up the road and enjoyed the beautiful views.
We arrived at dinner around 7:30pm. Late night again. It was mainly a seafood restaurant and I was the one who ordered the grilled chicken as I am not a seafood fan. By the time the food arrived, it was nearly 9pm. I really wasn't all that hungry. I was happy I had that salad and cake earlier. The chicken was good, but I was just tired I think.
After dinner I looked forward to crawling into bed and getting some sleep before the travel day Friday.
Travel Day and Lisbon: Friday April 29
We had breakfast earlier, at 8am I think it was. As everyone was packing and stripping their beds.
I paid for the private car with Karen B, Karen S, Ann, Suzanne and Linda. Hugo was our driver and came around 9:30am. We had our bags outside and did a closing circle at 9am. I took some last photos with people and then we got in our car.
A 3.5 hour drive to Lisbon. It was nice driving in the daylight and no rain this time. I feel like I noticed more.
Although the drive was long, we all had a good time chatting. We did request one stop to pee and Hugo said we were 45 minutes from the city at that point. Well 45 minutes turned into 1.5 hours so I'm glad we stopped then. The traffic was like any other city traffic once we arrived in town. We dropped off Karen S and Ann first at their hotel. I got off next with Suzanne at her hotel.
I left my bag in her room briefly while we grabbed lunch across the street. Last meal, I had a peach tea and pork with fries and rice.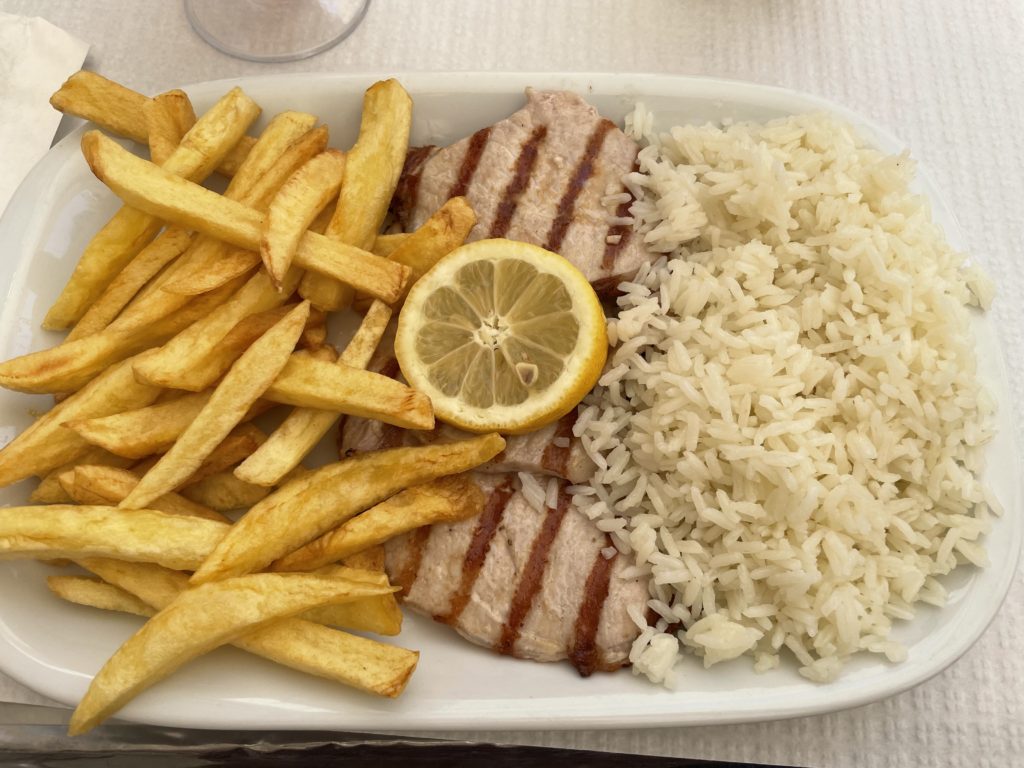 I was really on a pork kick there. It was nice to chat with Suzanne over lunch and then her hotel called a taxi for me. The taxi showed up in like 2 minutes and it was a short drive and 11 euros or so to the airport. Quick and easy. I then had to navigate the airport, found the place to self check my bag and grab my boarding pass. I then headed through security, bought some water so I could hydrate a bit before the plane. I had a good 3 hours but it passed by quickly. They didn't check my COVID test until the gate which I thought was a little late, but so happy the one I took worked. At the Lisbon airport, we had to take a bus to the plane for boarding.
My flight was 6:30pm Lisbon time and scheduled to land at 9:30pm Eastern time. I put on Harry Potter movies to just dose off to since I have seen them so many times I can know what is going on by just listening. Food was served again a little bit into the flight. I was actually asked if I wanted pasta or meatballs. I asked for pasta, but then it was ravioli and a cheese sauce that I knew I shouldn't eat. I'm glad I ate a full meal before the flight so again I wasn't too hungry and focused on taking short naps. We landed an hour early again. I was excited to take my phone off airplane mode and text Brian normally.
Brian was at the hotel waiting for my flight to land. He told me to text when I got through customs. We had to wait about 15 minutes for a gate since we were early. I was able to skip over the passport lines and just do Global Entry (so worth it!). Then I waited for my bag. I was a bit nervous as it didn't come out for a bit but finally I saw it and I was excited it made it on the same flight as me this time. I basically made it through customs and picking up my bag by the time my plane was supposed to land, so 9:30pm.
Brian booked a hotel which I was grateful for. I think it was best to go right to sleep as I tried to adjust to the time zone. I was wide awake around 5am on Saturday, but slept well otherwise. We got back to Binghamton before noon on Saturday and I immediately unpacked and started laundry. It was amazing trip that I'm grateful I was able to go on.
What an amazing group!