Sharing is Caring:



In line with my post about facing fears speaking in front of people, here is another "scary" thing for me: attending an event alone. Like you mean I have to find my way there and back and sit there while everyone else talks to their friend and here I am looking around, who can I talk to? I am going to feel so alone. The thoughts that go through my head…
Let me tell you, it's not that bad. You know what is worse? Sitting around waiting for the right friend to come along who will go to events with you. I can't tell you how many times I used to wait around for people and finally I decided I can't wait anymore. Maybe you do have that friend but they live in another state and are unable to come. Maybe you haven't found that friend that shares the same desire to attend the event you want to. Whatever the case, ask yourself this, do you want to go? Is the answer a definite YES that you would consider going alone? Because if you really don't want to miss it, you will take that step to make it happen. That is what I believe.
It was about 2 months ago, before thanksgiving, The Gratitude Tour was announced and the day tickets went on sale I will admit I was highly distracted at work purchasing my ticket. I debated should I go because I mean the cost was crazy for a yoga class and it was in a somewhat sketchy looking area ( I was "driving" around Google Maps) but I mean other yogis would be around so that might help. The event was also late in the evening which I wasn't fond of but I was determined to make it work. OK ticket purchased. Now I didn't have to worry about the transportation until January when the event was happening.
I finally decided to give Uber a go and it worked. [Glad I made it home and didn't go missing.] What worked out even better is that just a week before the event they announced they were overbooked and so they added another class earlier. I tried to switch my ticket but the ticket place wouldn't let me, however someone saw my Facebook comment and contacted me and we emailed tickets and swapped. I am so glad that worked out!! I truly believe things happen for a reason.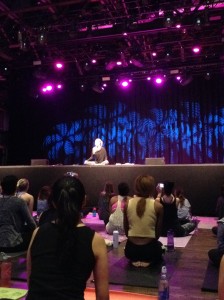 I made it safely to the place. Rachel started the practice by drawing an Angel Card. The card read "You are loved." I mean I almost had tears in my eyes as she read that, seeing as I was attending this event alone, it was a great card for the practice, reminding me that I am loved. I practiced yoga with some beautiful souls and Yoga Girl herself (Rachel Brathen). We had a short Q and A and then a time for hugging. She really spreads her love and shares her experiences. She is an amazing yoga teacher. All her words flowed. My pictures may be blurry from the lighting, she also doesn't take selfies and I forgot my book for her to sign but I got a hug from her and I fully enjoyed the experience and that is what matters.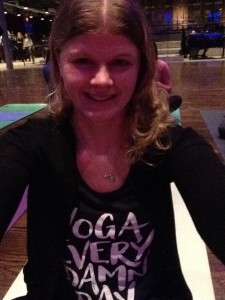 Every penny I spent between the ticket, the Uber rides, was all worth it for this one night. I am grateful that I attended by myself. The other thing with a yoga event, is that you are never truly alone. We leaned on one another through practice and it was beautiful. Just picture 200 people in tree pose, resting their hands on their neighbor's shoulders, then we all in unison lean forward to warrior 3. Community is powerful and the practice was beautiful. It flew by in a blink, but I was glad I remained present throughout the practice and had time to stick around at the end.
I then treated myself to some dinner, because I was so hungry after. Potbelly's for a quick dinner and then train ride home.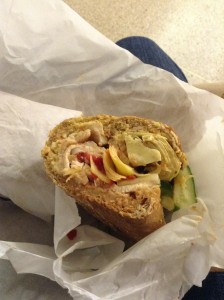 A wonderful evening and date night with myself. I think it's important to do things on your own that you are interested in and take a night out with yourself.
When I got home, I looked up at the sky, such a clear night. I spotted the big dipper, maybe the little dipper too. I could stare at the stars for hours as I don't see them often and I just thought, it truly was a beautiful evening. I then read my comments on yesterday's post and I can't thank you readers enough. Between Yoga Girl and this blog writing this week, my heart is so full.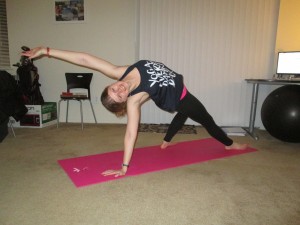 My phrase for the year: Don't let fear stop you!!
Have a great weekend!!




Sharing is Caring: