Sharing is Caring:



Hey there! Happy Friday!! Wow where did this month go?
Welcome to yoga workshop Fridays! Don't know what I am talking about, check out this post.
This series will be each Friday explaining how to do a particular pose leading up to a peak pose on the last Friday of the month. Throughout this series, I ask that you listen to your body to prevent injury and warm up for a pose when needed.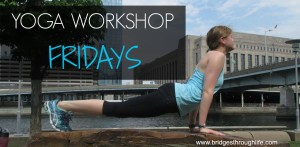 Disclaimer: Though I am a certified yoga instructor, please consult your doctor before you begin practice and note that everyone's practice may look a bit different as you align the pose to your body.
I am happy to introduce our peak pose for the month, half moon, ardha chandrasana (meaning half moon) in sandskrit. I love love love this pose for the challenge it offers me in balancing and yet how strong it also makes me feel when I can really hold it. I used to not understand half moon. It frustrated me. Then a teacher cued to stack the hips and adjusted me with hands on assistance and I was like woah, it clicked. This is what my half moon pose should feel like. I wish I could give you each adjustments in half moon so you can get that sense, but since I can't, I just was to re iterate to not give up if you don't get it the first time. Also don't jump right into it. It really is best to open up the hips with butterfly pose and a quick warrior flow and triangle from last week.
I will also mention some ways to start working on the pose if your balance is not quite there yet. See below for prop options.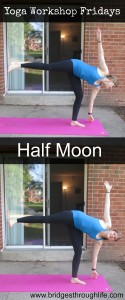 How to do the Pose:
As with any pose, there are a few different ways to transition. I like to come into half moon from either warrior 2 or triangle as your hips are already facing the correct direction and you mostly just have to float your back foot off the ground. Now that I made it sound so easy, let me break it down a bit further.
Starting in warrior 2 with your right foot in front, heel toe your back foot in a little closer as you begin to put most of your weight into your front foot. Slowly come onto the toes of the back foot and then put all your weight into your front foot as you lift the back foot off the floor.
Begin to tilt forward over the front foot, lifting that back foot higher and higher. Begin to bring your right hand (likely you will be on your fingertips and not your palm) to the floor, just outside of the right foot as you straighten the standing leg. Flex the toes of the lifted foot and stack the hips on top of each other. Reach through the top arm towards the ceiling aiming to form a straight line up and down with the arms. This can be hard to find by yourself and it helps to have a friend nearby that may be able to assist with guiding your top arm to be over the bottom arm. Hold here for a few breaths.
To release, gently bend the knee of the standing leg and lower the lifted leg down to the mat, bringing the arms out to a T and finding warrior 2 again.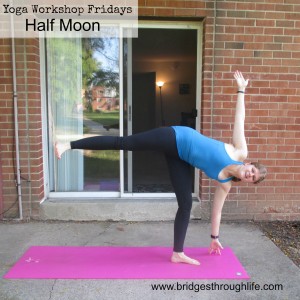 With Props:
Block:
If you are a beginning or have trouble with balancing or reaching the floor with that right hand, I suggest using a block. Place the block next to your front foot before going into the pose. Follow the same steps as above except when you bring that right hand down, reach for the block. Grab hold of the block as you straighten your standing leg, flex the toes of the lifted foot and really extend that leg back. Open up your chest drawing that top arm back and stacking the hips.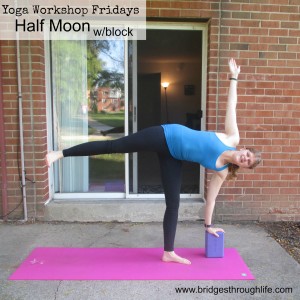 Wall:
Another great prop for this pose is to do it against the wall. Place your front foot so that it is a few inches from the wall and start in warrior 2. Follow the steps above and when you bring your right hand down towards the floor or block, stack the hips by letting them touch the wall. Reach through your top arm along the wall and let the wall hold you while you get a sense of what it feels like to be in the pose.
Benefits:
Tones the leg muscles and spine
Strengthens the abdomen
Stretches the hamstrings and calves
Improves balance
Share your pose on Instagram, tagging @bridgesthroughlife and hashtags #bridgesthroughlife #yogaworkshopFridays
I hope you enjoy this series. If you have any suggestions for what poses you would like me to break down, I would love to hear from you. Leave a comment or send me an email [email protected]




Sharing is Caring: