Sharing is Caring:



Welcome to Yoga Workshop Fridays. Don't know what I am talking about, check out this post.
This series will be each Friday explaining how to do a particular pose leading up to a peak pose on the last Friday of the month. Throughout this series, I ask that you listen to your body to prevent injury and warm up for a pose when needed.
Disclaimer: Though I am a certified yoga instructor, please consult your doctor before you begin practice and note that everyone's practice may look a bit different as you align the pose to your body.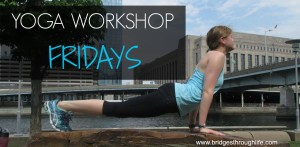 It's the first Friday of September and we are getting started with a great warm up pose that I use a lot in my yoga classes. Sometimes this pose is referred to as cat cow balance pose, but it is also called bird dog pose. I am not sure if there is a sanskrit name for the pose so if you know one, please share it with me. Bird dog pose is a great pose to test your balance and also get a great core workout.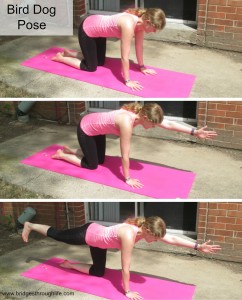 How to do the pose:
Begin on your hands and knees, wrists under the shoulders and knees under the hips. Keep your gaze focused just past the hands or maybe on the top of the mat so that your neck remains neutral. On an inhale, lift your right arm forward. Keep the thumb pointing towards the sky. Keep the hand in line with the shoulder. When you feel steady here, inhale to extend the left leg behind you. Flex the toes so that they point down towards your mat. Keep the knee in line with your hips. Make sure you are not sinking into your back as you hold here. Keep the abdomen engaged, pulling the belly button up and in.
I always loved the way one of my favorite yoga teachers taught this pose. As we held here, he would say "imagine you are balancing your favorite Starbucks drink on your back and you don't want to spill it."
Once you feel steady here, take a breath in and then as you exhale, bring elbow to knee underneath your belly for a crunch. Inhale to extend the arm and leg long again. Exhale, elbow to knee. Repeat this for 5-10 reps. Once you have completed your reps, exhale to release the arm and leg and return to starting position on all 4s. Go to the second side, inhaling the left arm forward and then on your next inhale extending the right leg behind you. Make sure to do the same number of reps on each side to stay balanced.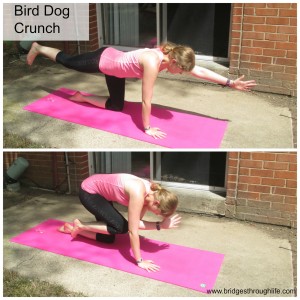 Benefits:
Great for warming up the body
Builds core strength
Helps balance
Maintains strength in lumbar spine
Share your pose on Instagram, tagging @bridgesthroughlife and hashtags #bridgesthroughlife #yogaworkshopFridays
I hope you enjoy this series. If you have any suggestions for what poses you would like me to break down, I would love to hear from you. Leave a comment or send me an email [email protected]




Sharing is Caring: