I feel like as a child, many people dream about their wedding someday. I dreamed of getting married, but in terms of the details that go into a wedding, I really didn't have a clear vision. When Brian proposed to me, Feb 29, 2016, we didn't jump right into wedding planning. We actually were in the process of discussing one way tickets to Australia which we accomplished later in 2016. We waited until we returned to the states and settled back into jobs to work on saving up before discussing planning our wedding. Brian really didn't want anything to do with the planning though and at one point in our travels I even tried to see if we could just elope in Australia, but he refused that at the time. I knew that I would be the one putting up the funds for the wedding and after some research…WOW food is so expensive and weddings in general are expensive. I, personally, wanted to spend a bit more on our honeymoon and traveling than the wedding part.
It's no secret that in the last 6 years I've moved a lot. From school in Buffalo, NY to home in Evanston, IL to Philadelphia, PA for a couple years and then to Binghamton, NY. Due to school being away from my hometown and moving, I am lucky to have friends all over. It makes getting together with my friends very challenging though. So, my solution, I'm paying for this wedding, then I'm doing it my way and that's going to be married on a beach with a small crowd. Brian was fine with whatever I chose and my family and friends that I invited would have had to travel anyway because my family is so spread out.
I initially started to plan in November 2017. I looked into planning our wedding in Florida because my grandma lived down there at the time and I knew she wouldn't go unless she could drive to the location. After locking in my contract and package, about 4 months passed and I had also recently found a photographer and paid a deposit. Well my wedding package suddenly became unavailable that I booked and in 4 months I had literally had email exchanges with 5 different people. It seemed the company was having issues and unfortunately I had to let that deposit go on that. Lesson noted, read contracts very carefully, because supposedly my contract only reserved my date and nothing more.
After Florida was a fail and this was 14 months before we had planned to have our wedding. I decided to move the wedding to Charleston. I had heard the beach was beautiful there and Charleston was always a place I wanted to visit. Nope I never visited before my wedding.
I did a little more research online this time and tried to look up reviews, because how do you really know a company is going to follow through and after losing one deposit, I wasn't about to lose a second. With the wedding moved and knowing costs, I found a company, Reynolds Treasures, that was affordable and had a great package for 15 people. So that was my new limit, 15 people. We decided on parents, siblings and a few close friends. Being that the wedding was a destination wedding, I decided to also make it a mini bachelorette with my friends. In a way it was a vacation for everyone. I highly recommend Reynolds Treasures if you are looking to get married in Charleston. You can add many customizations to your package with chairs and more, but I kept it simple. I actually thought I would have chairs, but learned just before that I didn't. It still worked out perfectly because no one would have been able to hear had they been sitting so we all gathered in a bunch. They were able to set up the wedding right near our beach house and designed a beautiful bouquet from an image I found on Pinterest. I decided on teal and coral for my colors and my friends found their own dresses. Reynolds Treasures had WAY better communication with me than the first place I had looked at in Florida. They didn't send too many emails, just enough so I knew they still had my wedding booked. They would send an email at different dates to select things like the flowers and say what I should have planned and instructions on the marriage license, etc.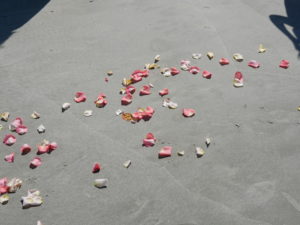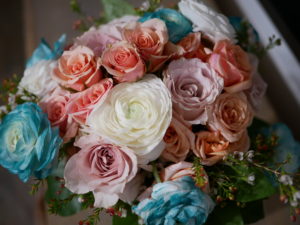 Now my package was only for the ceremony and photographer. So when it came to planning a dinner, I searched high and low for restaurants to hold 15 people and reserve way in advance. I also knew I had one friend who was a vegetarian so I really didn't want a steak house which came up multiple times in my searches. Eventually I found Butcher & Bee and coordinated through email. I had paid a partial deposit and then was told I would be contacted a week before to confirm the number of people and choose the menu. I did call the person a week before to follow up to make sure I was getting the menu and she was great to work with. We coordinated the menu and I loved how I had a personal menu at the table when we arrived. There were 5 appetizers followed by 3 small plates to share and then everyone got to order from 3 entrees. It was perfect and honestly the restaurant blew me away with the service and the food. Everything was so good!! Everyone continued to comment on the food and how amazing it was and we had such a variety thanks to all the small plates. So many vegetables and something for everyone to enjoy!!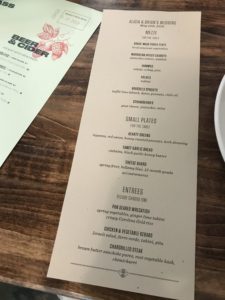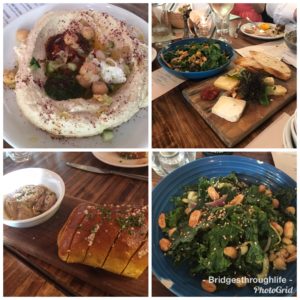 Continuing with keeping it simple, a wedding traditionally would have a wedding cake. Well, I am more of a cupcake person and knowing the small crowd, I stuck with cupcakes. I found Cupcake DownSouth and placed an order with them for 3 dozen cupcakes. I ended up with 3 dozen mini cupcakes of different flavors; key lime, red velvet and peanut butter chocolate. They were ALL amazing. My wedding crowd also ended up being exactly 12 people with me and Brian so it worked out that everyone had the option of trying each flavor. Brian was highly impressed by the Key lime with a graham cracker crust and all. We might have been full from dinner, but back at the beach house, we enjoyed the cupcakes. Again, this was all coordinated through emails.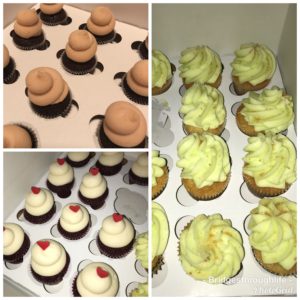 Planning all this online and not having a rehearsal of any sort, I didn't set high expectations. I mostly wanted to have fun with my friends and get married. My tips for planning a destination wedding (especially if you haven't been to the place like me) would be:
Read the contract carefully before signing that line, know what the deposit is and the terms
Try to book a package that includes everything for you, my ceremony package was perfect with the flowers, photographer and officiant (some places I looked you needed to bring your own officiant)
Read reviews
Don't be afraid to ask questions with the coordinator or pick up the phone and confirm with the restaurant, make sure everything is in order
I kept our wedding simple and honestly the financing part was still stressful to me because I just don't like spending money in general and costs definitely add up. I can't imagine the costs (or I somewhat can) when you have a wedding coordinator, designer, reception hall, ceremony, photographer, etc. For me, the cost of food still is insane to me. I felt I had a really good price at my restaurant choice for all the food everyone got and I enjoyed it too. All those details. I understand that is important to some people, but for us, a beach wedding and close friends and family was perfect. My friends came in from Iowa, Michigan, Ohio and Illinois. Yes, each person in my group came from a different state. When we visited the aquarium, the person actually, jokingly, asked if I just choose a person from each state lol. I mean most of us originated from Illinois, but have since moved. That's how my friends are so spread out and so it was special to me that they all made the trip and we had a few days to hang out as well.
It's a bit crazy to plan a whole wedding online to somewhere you have never been, but hey it all worked out for us. In this day and age of technology, that may become the norm, who knows?
As simple as our wedding was, I'm still glad the stress of it all is over. I'm glad everything worked out and my dress worked so well for the beach, the price was worth it because I just love spinning in my dress. It was fun to get dressed with my close girl friends around and reveal to them. All the cameras in my face were a bit overwhelming at the time, but of course I loved having so many photos at the end. Now we are planning the big local reception for more people. Since we don't have to travel anywhere this time and it's going to be pretty casual, it should be less stress.
What do you prefer: small or large wedding?