Sharing is Caring:



Alright, we left off at the first look. The girls had Brian keep his eyes closed until I came down and he could see me. Nobody cried, but we were happy to see each other and then it was photoshoot time, but being that it was 4pm, when the ceremony was supposed to start, I was ready to head down to the beach.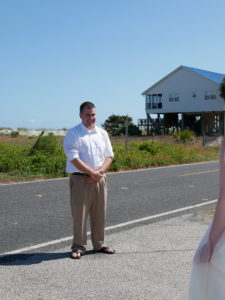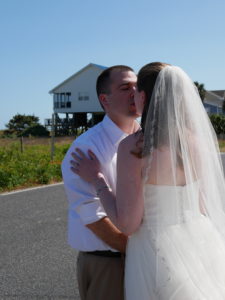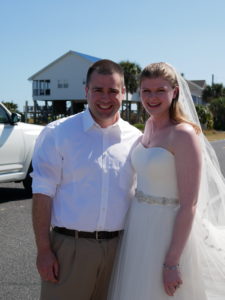 So the entourage of the 12 of us walked from the beach house to the beach. Kristin was helping me hold my dress so it wouldn't drag through the street. I just love the photo of us walking. My sister took pictures on my camera. My dad had his camera and there were cell phone cameras all over us. My face was already getting tired from smiling so much.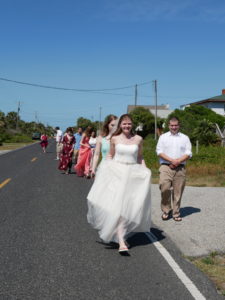 Brian and my dad each got a boutonniere. Then it was time for everyone to line up and I linked arms with my dad as we walked down the sand and flower petal aisle. It was finally happening, our wedding.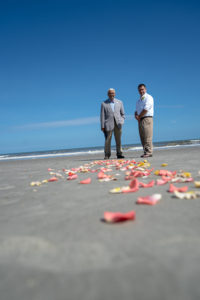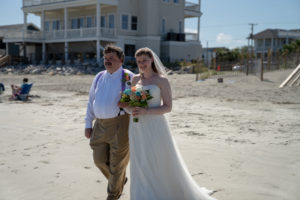 All my friends were so excited and taking pictures and videos. So glad I had them there. We exchanged silicone rings (Groove Rings) because neither of us really expect to wear our rings much. I love my engagement ring, but my fingers swell so much in summer and I don't like the tightness and then in winter, my ring looks giant and the diamond doesn't even stay on top and ends up circling around multiple times a day. So it just made sense to not spend money on ring bands we will never wear. I would like to get nice watches to exchange and engrave though so hopefully soon. These rings work and although Brian hasn't worn his since the first day, I do love mine as it stays put and is designed to work out with and be active as I am. [side note: the Mayor of Folly Beach married us which we thought was cool]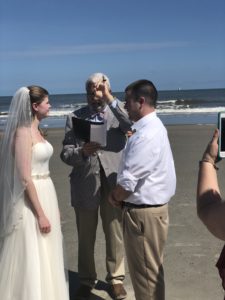 Now for all the photos to share. I didn't expect it, but Brian and I took a lot of photos with the photographer after. This meant everyone was standing in the hot sun and eventually headed back to the house, so I didn't get individual pictures with my friends, but we got our group photo and we all had a nice time. It was also just nice to have a small amount of people so I could spend time with everyone and my friends and I had the days leading up to the wedding as well. I will talk more about the planning in another post.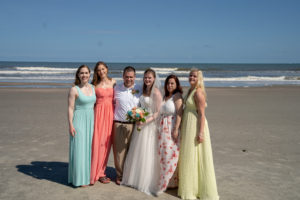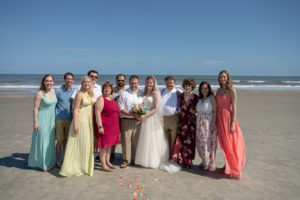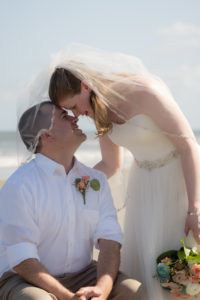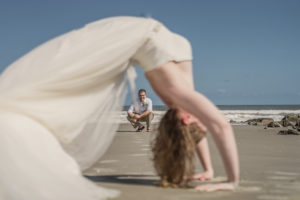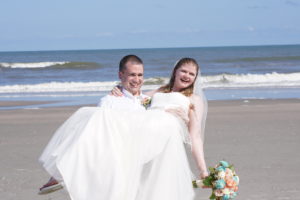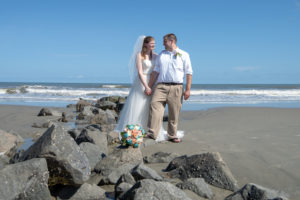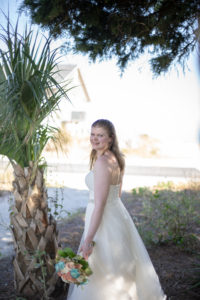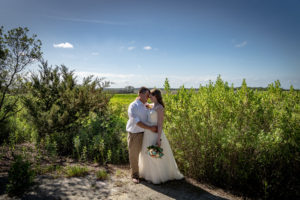 After the ceremony and photo taking, we all headed to Butcher and Bee in downtown Charleston for dinner. They printed a menu up and I choose 5 appetizers for the table and 3 small plates and 3 entrees. Everyone had the appetizers and small plates and then ordered an entrée from the list. It worked out amazingly well, because in case you didn't realize, this was all planned online and through email! The food was seriously amazing so I highly recommend Butcher and Bee. I will say it was a little weird going to a restaurant in my wedding dress, but our group was towards the back and I didn't notice too many people staring. I was having fun with everyone there.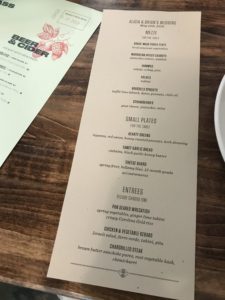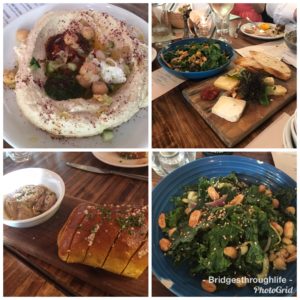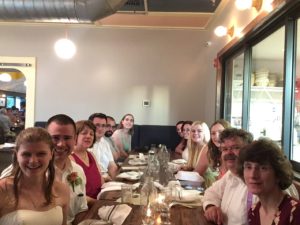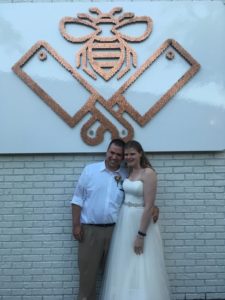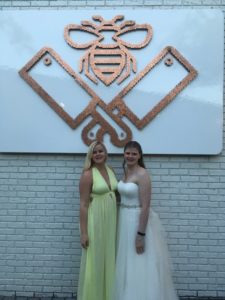 Afterwards we headed back to the house. Someone, my other friend car needed to stop at Wal-Mart for alcohol…I'm honestly not sure who they thought was going to drink all of it, but they had fun. I had ordered cupcakes from Cupcake Downsouth in Charleston that my dad had brought over before the ceremony. While my order actually got messed up because it was supposed to be 1 dozen regular size and 2 dozen minis, they gave me 3 dozen minis but it worked out well because we had exactly 12 people and 3 dozen cupcakes. So everyone had the opportunity to try every flavor, which were red velvet, peanut butter chocolate and key lime. Brian was highly impressed with the key lime because it had a graham cracker crust on the bottom. They were all delicious!!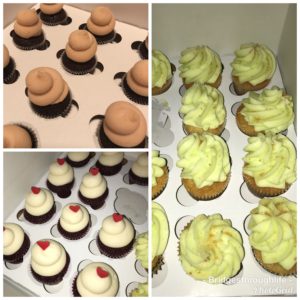 My friends stayed up pretty late, drinking and playing games. I worked on packing up my bag. Brian's friend Kyle took my dress for me and drove it back to NY state so I was changed pretty quickly. I am glad my friends bonded so well especially since most of them had never met before. Brian and I are already an old couple apparently because we headed to bed around 10.
Saturday morning came around and me, Ashley and Brian took a walk down to the beach for one last beach walk. Then we rounded up the gang and headed out to The Lost Dog in Folly Beach for breakfast.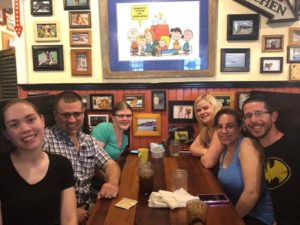 Honestly breakfast took a little longer than I would have liked because we needed to get to the airport. After breakfast, I dropped off Brian at his hotel to get his things and check out while my sister and I worked to clean up the house and make sure we had everything packed. My friends in the other car, disappeared. Apparently they headed down to the lighthouse and unfortunately I was rushed leaving so I wasn't able to say official goodbyes.
My sister and I went to pick up Brian and then we dropped off my sister with my parents since she was staying another day and spending the day with them. Then it was off to the airport. Of course you are in a hurry and there is an accident on the highway too. Luckily we made it in plenty of time. However, my friends cleaned up the house and my friend found my marriage license in the second kitchen area. I never put it in my bag..eeek. So thankful for my friends being the last ones to make sure everything was clean and my friend mailed me my marriage license. I still had to order the official stamped one anyway, but good to have your original right?!
Next stop for me and Brian…Atlanta!!




Sharing is Caring: