Sharing is Caring:



Thursday morning I heard someone walking around early and I was awake by 6:30am. I am so used to getting up early for work that was basically sleeping in. Ashley was also up. I grabbed myself a bowl of cereal for breakfast and waited for the others to get up. A few of us had a nice walk to the beach in the morning.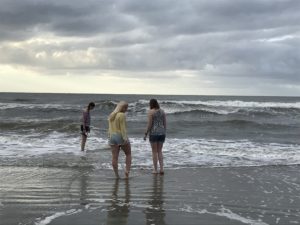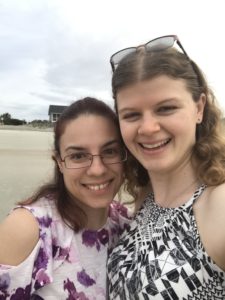 We had a packed day ahead, beginning with a 10am walking tour of Charleston. Being that there were 6 of us, we couldn't all fit in one car, so Brian met us at the house and drove a few of us into downtown Charleston and dropped us off while he went to pick up our marriage license and then pick up his mom and brother from the airport.
Meanwhile, the girls + Geoff were on a walking tour. We actually had our own guide with our big group. Later, a family with 1 kid joined, but it was mostly us. Again you can see some of the footage of our tour in my sister's Youtube video of Charleston.
Being that it was my first time to Charleston and I think the first time for all the girls, actually, it was really interesting. We learned about the single houses and double houses and the pineapples people put out for hospitality. Of course, the highlight for my sister and us was walking down Rainbow Row. We ended near there so we quickly took some pictures before getting some much needed lunch.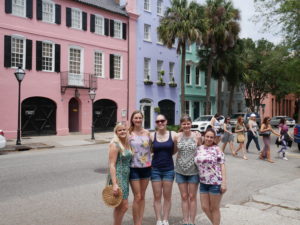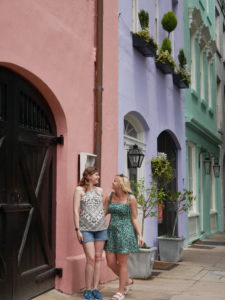 Mercedes and Geoff headed off to find lunch themselves and me, Kristin, Ashley and my sister checked out Brown Dog Deli. It was a bit of a wait, but it allowed us time to decide what we wanted to eat. We also got to sit at the back patio and I didn't even realize there was one.
When we finished, I realized the aquarium closed at 4 and it was almost 2 so we weren't going to make it there. We revised our plan and decided to walk down King St and check out the shops. Mercedes and Geoff met us over there. I had heard about the Savannah Bee Company store and I would have loved to buy honey, but I didn't want to send it home with someone or bring it overseas to Aruba. Honey is one thing I had to be cautious of traveling with because of going to New Zealand. I know every country is different, but I figured that less hassle is better with dealing with customs and TSA.
I did buy myself a chapstick that reminds me of the Chapstick Mint flavor. I also donated $1 to "adopt a bee." I'll donate to the bees but I can't do the whole keeping a beehive thing. Bugs and things just like to bite and sting me…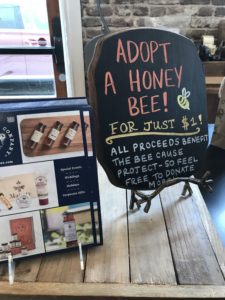 While walking down King St, I learned of King Street Cookies. Ummm a cookie shop is a must stop for me (in addition to cupcake shops). This place was AMAZING!! Everyone got 1,2 or 3 cookies. I only got one, the smores. Some people got 3 because if you bought 3, you got a free drink of your choice. I was thankful I brought my hydrate pack with me for the day. I may have looked goofy or like a tourist, but it really helped me stay hydrated, a new must pack for trips. It also held my purse and camera.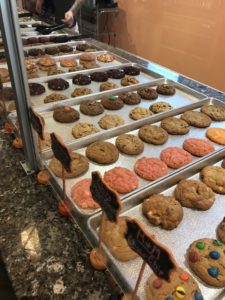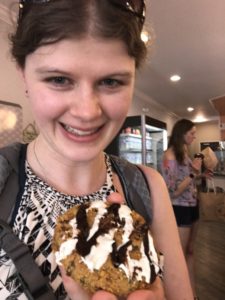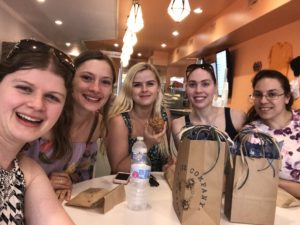 After all the walking, everyone was getting tired and ready to head back. Brian was out with his mom and brother so after a long walk back to Kristin's car, the 6 of us squeezed in. We got a little lost walking back to the car so it was like a 20 minute detour.
Once we got back, we headed to the beach for a bit. Brian was out getting groceries for dinner.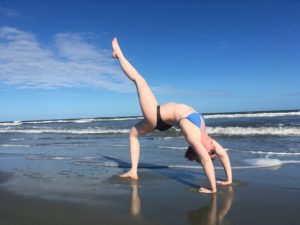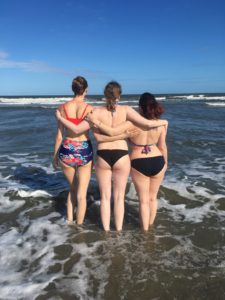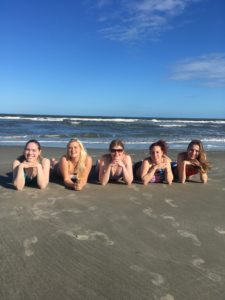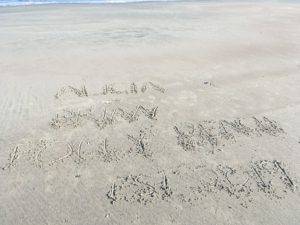 We had a nice grill and table on one of the many porch areas of the beach house and we were having the whole wedding party (10 people plus me and Brian, so 12 in total) over for dinner. Brian cooked up hamburgers, steak, sausages and shrimp. We also mixed together a bunch of salads and threw together dinner. It was actually all really good. While we ate, we could see the sun set behind the marsh area as well. It was a beautiful night. All the girls wore the Bride Tribe shirts and we took a bunch of photos. Even the guys got in on some photos. Also Brian's friend Kyle arrived mid day. He drove down and that was nice to have another car.
After dinner, the parents left and the "kids" played What do you Meme for quite some time. I think around 10, I called it quits. We had been going for a while and the day was non stop.
Friday May 10th
Friday was WEDDING DAY!! But since the wedding wasn't until 4pm, we decided to head out to the aquarium when they opened at 9. It actually worked out well as Geoff stayed behind and the girls all went. We wore our Bride Tribe shirts too. It was also Charleston graduation weekend and we seemed to walk through some of the campus to the aquarium. Luckily we didn't have too much traffic arriving at 9 and leaving at 11. The Charleston aquarium has been on my bucket list since I met a girl on my Costa Rica trip in 2010 who worked/volunteered there for a while. Since she is currently living on a sailboat (what a life!), I didn't get to see her, but we had fun visiting. Since our group was the first to arrive in the day and the staff seemed to be eager to talk to everyone, we had many people to talk to and ask questions. They then also offered us a free behind the scenes tour at 10:30am with one of their volunteers thanks to my wedding shirts for letting them know I was getting married that day. So we walked around and it was easy to follow the map as they have the aquarium organized for where to start and finish. We had pretty much made it through everything in an hour and enjoyed watching the turtle and other fish swim in their 42ft tank, the tallest in North America apparently. Then we watched the river otter feeding at 10am. It was exciting to see the otters swimming. Apparently river otters are quite mean and even trainers can not get in the area with them. They throw the food from above and each otter has its respective eating area. After the otter feeding, our guide found us and took us behind the scenes to the food prep area. He explained the aquarium is mostly run by volunteers and it's a very educational aquarium as they have a lottery system to allow each school in the Charleston area to come to visit for free. We saw the many school groups start to arrive around 10am and I was thankful we arrived at 9.
Our guide then explained the holding tank area and we got to talk to some divers for a while about the fish they have in the big tank and also their one sea turtle, whom apparently rules the tank. They actually always need 2 divers in there so that one is watching her, because she likes some people and doesn't like others and she can knock your tank or goggles if not careful. I was also given a fish tooth for good luck as we talked about my wedding. I just realized while writing this I gave the tooth to my sister to hold in her purse and never remembered to take it LOL.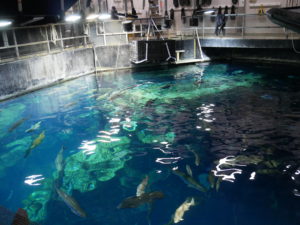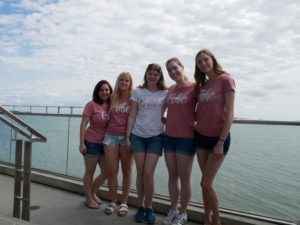 After our tour, it was 11 and time for us to head back to the beach house to have the afternoon to get ready. We made a quick stop at Wal-mart for nail polish and headed back. We had bought bread and sandwich meat, chips and other snacks planning to be home for lunch. So we ate and then I found Miss Congeniality on TV so we put that on while painting our nails and everyone doing their hair, etc. I originally told Brian to come over at 3 for a first look, but apparently he wasn't listening and I wasn't ready anyway. Mercedes had straightened my hair in the morning and Ashley re straightened it a bit (after humidity) and my sister figured out how to do my hair for my veil. Around 3:30 everyone was getting to the house. I came out to reveal my wedding dress. Oh and the girls were on "Brian patrol" and keeping him outside for the official reveal. My dad had picked up my cupcake order and he walked in while I was in my dress. It was actually kinda funny, I was just standing by the door in my dress. It was super fun to spin in and the girls were all taking my pictures.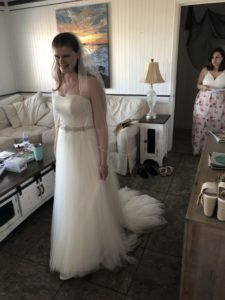 I also had sent my friend and dad down to the beach to see if anyone was setting up. Apparently the organizer was there and we had a little misunderstanding as I thought there would be chairs, but I guess I didn't order any. I knew the ceremony would be short, so I didn't worry about it. It actually worked out for the better because everyone crowded around to hear the vows anyway.
Finally we were all ready to go…(to be continued)




Sharing is Caring: