Sharing is Caring:



We have finally made it to the Honeymoon recap…Aruba!!
So originally when thinking about a honeymoon, Brian and I wanted to head back to the Bahamas, but then Brian brought up Aruba I think. I couldn't say no to Aruba (HELLO YOGA GIRL!!). Lately when planning trips as well, I like to use my vacation time to go to new places. Since we haven't been to Aruba, why not. Brian decided in his brief time off from working this winter to take a scuba diving course. He did all the paperwork and coursework locally and was able to get the reference paperwork filled out to complete his open water dive in Aruba. This meant the first two days of our trip, he would be diving and I would be off doing my own thing. Aruba was perfect since I could take a yoga class in the morning at Yoga Girl's studio and then just relax. My summer classes also started our first full day in Aruba so I had quite a bit of reading to do in the first week and homework to figure out.
After a whirlwind of a trip through Charleston (part 1 and 2), our wedding and a brief stop in Atlanta, I was ready for some downtime. I booked an Airbnb studio apartment that was basically around the corner from Yoga Girl's studio. I still drove there. I probably could have walked in daylight, but there are also crazy drivers in Aruba and it was just easier to drive and park in the back. We arrived on Sunday night and immediately headed to the grocery store before they closed. We had a grill to use and a cool bar area outside by the pool in our backyard. Brian grilled up some kebabs and it was the perfect dinner. Then we settled in planning our week.
Monday morning, we were up early so I could drive Brian to the other side of the island (a whole 45 minute drive, small island). Also there are basically no stop signs in Aruba. There are many yield signs and circles to force you to slow down. Also the average driving speed was between 40-60kph which is only between 20-30mph so really not very fast which makes sense with all the circles at intersections.
Once I dropped Brian off for the day, I headed right to yoga. I was able to look around some of the studio, but they were filming in the main room. Since I arrived early though, I started chatting with another woman visiting from the New Jersey area and who happens to have a house in the Charleston area. She has a daughter who recently graduated from college and I was telling her about my online MBA program at Penn State in addition to all my traveling. It was nice chatting for a while. I often find people in yoga are just so open and easy to talk to.
It was only an hour class so it went by quickly. I was actually glad because the air was shut off during the class and it was quite humid and warm in the room meaning I was slipping on my mat. I purchased a travel mat just for this trip, but plan to use it going forward as well. It was no slip for a while until my hands and feet were sweating so much I could actually do chaturanga correctly by sliding over my toes. We moved and flowed and for the class being titled "power yoga", it was not as intense as I was expecting, but still a fun time and perfect way to start my morning. Afterward, I checked out the café and grabbed a green smoothie. I started to talk to another girl there asking where she was visiting from. She was from the PA and Philadelphia area and we started talking about that and yoga retreats, yoga girl and travel. She actually did a yoga retreat with Yoga Girl in Aruba last year and it was cool to hear about that experience. Maybe one day for me. We talked about other islands and travel as well and she mentioned a few restaurants to check out in Aruba for a nice romantic meal for me and Brian. We could have kept chatting, but her ride was there and I wanted to head back for some lunch.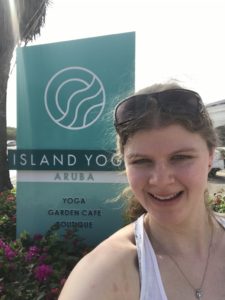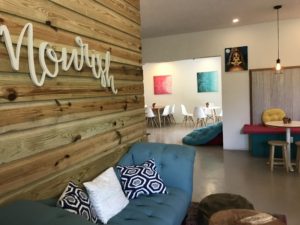 After eating and checking on my emails from my teachers to start the summer classes, I started reading my supply chain book and then spent a while writing. It was so nice to have that quiet and down time. Around 2pm, I headed back to the other side of the island to chill out on Baby Beach and wait for Brian. Apparently I made perfect timing because Brian saw me pull in and had finished early. I sat down on the beach and he appeared shortly after. In the time I took to cover my body in sunscreen and read a few pages of my book, Brian went to grab a bite to eat and returned. I took a quick dip in the water which was super warm, but I didn't want to leave my stuff on the beach too long, so I headed back to my stuff and Brian was tired and ready to go anyway.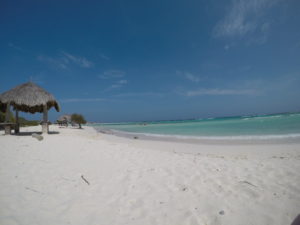 Back to the house, Brian wanted to take a nap, so I brought my supply chain book outside and read for a while by the pool. I did take a quick dip in the pool, but then as the sun started to set and the breeze picked up, I was content reading by the pool and staying dry. The wind was challenging when reading and taking notes, but I made it work and it was nice to just be comfy outside in a bikini.
Somehow 2 hours went by and I didn't even have my watch on, but I was starting to drain from the reading so I checked on Brian and woke him up basically. I found a restaurant nearby that sounded good, Dragonfly, and we headed out. I got orange chicken and a mojito because when a mojito is on the menu, I usually get one to try. Brian got a huge salad and some sushi.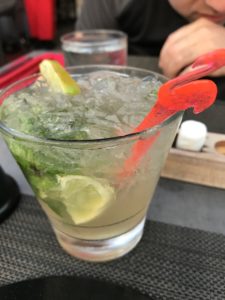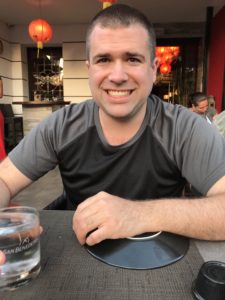 I realized as we were out for dinner that it gets dark at 7pm which seemed so early because we are getting used to the sun being out later at home. Aruba doesn't do daylight savings time so they were on Eastern time while we were there, but also not as many daylight hours which was an adjustment.
Day 2
Tuesday morning I dropped off Brian and then headed to SUP yoga. There were only 4 of us in the class so it was nice and small. The balance is definitely challenging on a board and we had awesome boards for yoga, Boga Yoga boards (putting that on my future wish list but maybe when I get a new car SUV to carry it and have time to SUP). There was also a huge starfish in between my board and the person next to me. I wish I had brought my Go Pro out for a picture as it was beautiful and pink. We told our teacher after class and she said it was rare to see them in that swim area. We left it where it was though as to not disturb it, but I was a bit afraid of falling off my board and stepping on it because we were only about hip deep.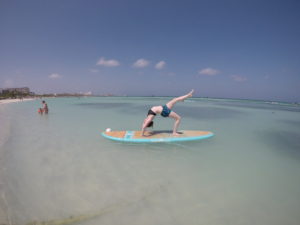 When I got home I ate some lunch and had a bit of time to work before I headed out to pick up Brian around 1. Brian only had a half day of diving to finish.
In the afternoon, Brian napped and I worked on homework. It was really the perfect balance for me.
Then we headed out to Eagle beach. Apparently it's the 3rd best beach in the world according to TripAdvisor, but I wasn't overally impressed having been to many Australia beaches. I did have fun playing with my new Go Pro.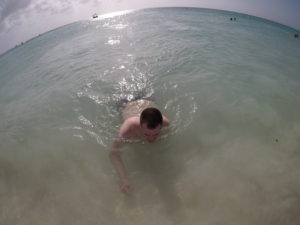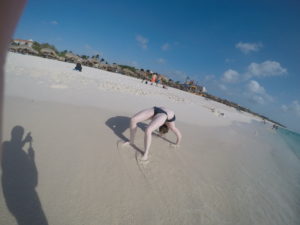 We didn't spend too long there before heading to the grocery store. The traffic was bad as we drove. We saw some people just drive over gravel to cut across the parking lot and then make their own space. The driving in Aruba is something else for sure. Also people pull out in front of you all the time because that is just the way they drive down here. If you wait to pull out, you will be waiting forever, so you have to be a little aggressive.
We got back around 6 and Brian cooked up Tuna for himself and a steak kebabs for me. We also skewered some brussel sprouts and cooked those on the grill to eat. It was a nice evening. Brian and I sat outside on our computers and working on our own things. I had my first supply chain class which I enjoyed while sitting outside at our little bar patio.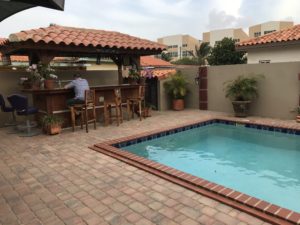 On days 3 and 4 we were finally doing activities together and I'll come back with another post for that.




Sharing is Caring: