Sharing is Caring:



This weekend I finally said YES to the dress. I will say though, if you recorded my experience for reality TV it would be quite boring haha. I was told I was one of the easiest brides the person at the store had. I went with Brian's mom and my friend Kelsey. I facetimed my sister through the experience, though she actually missed the first dress I tried on. Walking into a wedding dress store for the first time to find a dress was overwhelming. Also I hate lace. I mean I like it on other people, but personally, I wanted simple white and no long train since we will be getting married on a beach so I didn't want too much dragging through the sand.
I also knew I wanted strapless and flowy for the beach. This also allows me to continue building muscle on my arms and thighs without worrying about not fitting a dress in just over 6 months. I have a powerlifting meet in April and we get married in May, so I will be constantly working on my muscles.
We shopped at NY Bridal and they organize their dresses by designer. I didn't have a clue which designer I wanted. Actually I didn't even pay attention to the designer of the dress I bought. I just looked for the style I wanted. I was kind of hoping I could describe the style and the person helping me, Megan, would pull things. She did pull a couple and I pulled a few as well. I think we started with 6 dresses and spoiler alert, I stopped at dress number 4 and was done.
Since I had never tried on a wedding dress, it was an odd experience. I like to dress up, but this is probably the fanciest dress I will ever wear. I am also not a big dress person in general. I didn't want anything super poofy and also some of those dresses are massively heavy. I first tried on a fit and flare style dress, which I was fairly certain I did not want and once I put it on, it was beautiful, but I felt like my legs were stuck together and not free to move and it was HEAVY (this coming from a weightlifter).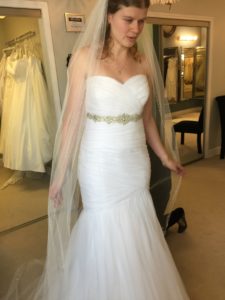 The second dress was a little better, but it was hard to picture the dress without a long train if we got that altered. Dress #3 was a contender, but ultimately, I put on dress #4 and it was COMFY. I added a veil and a little sparkle and was set. I didn't want to try on more and in 45 minutes I had decided on my dress. We won't even talk about price because it was way more than I planned to spend, but it was my dress. I didn't cry or anything, I just knew I loved it and I was blushing with excitement. My sister said I looked like a princess, which is what every bride wants to hear right?! I will still say it felt weird wearing such a fancy dress and it did make the wedding seem more real as it has been a long time coming and planning has not been easy whatsoever. I am happy that I now settled on the venue and dress this month. There are now little details to put in place and travel arrangements, but I felt those were the two big things as we aren't doing a reception and it's a destination wedding. A local reception will come later though.
Also Brian was home briefly this weekend, but to keep things traditional, he is not allowed to see a photo of the dress. Thankfully it takes 4-6 months for the dress to come in, so I don't have to worry about storing it for long as the wedding is less than 7 months away. I also shouldn't need too much altered on the dress, probably just the top taken in, because my chest is like size 2-4 and my hips are size 10…gotta love sizing. I was surprised at wedding dress sizes, but I believe being designers and such, they are probably real sizes and not American messed up sizes. A size is just a number anyway.
As for the rest of the weekend, Saturday Brian cooked some dinner and I got a bit of homework done and grocery shopping before relaxing on the couch for the evening.
Sunday morning was back to the gym. I took a few days off to rest as my right hip and left knee were acting up a bit last week. The extra rest was beneficial since I felt so good doing the big 3 (squats, bench and deadlifts) at the gym.
The rest of Sunday was spent doing some quick meal prep, making some veggies and turkey meatballs.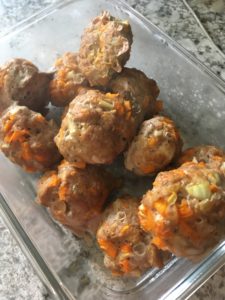 Then it was homework time. I can't believe this Fall semester is almost over. I am counting down the last few assignments and discussion boards and then I will be able to fully enjoy December and the holidays.




Sharing is Caring: