Sharing is Caring:



Recently I have been browsing stores a lot for pants. Pants that can fit my changing body. My body is changing in a good way though. More heavy weightlifting and I can feel my strength in my thighs just building. The problem? Thighs are getting bigger with the muscle building and certain pants just don't stretch in that area.
Growing up I can't recall thinking about my sizing too much or worrying about it. I mean I think I was fairly average. I also was very into baggy clothes. Giant t-shirts and jeans that were definitely a size too big. Then I would lose weight (without trying back then) and my jeans would grow. Maybe they would stretch from being washed. I am not really sure, but they were always baggy and I'd wear my one favorite belt pulling the pants together so they wouldn't fall down. Semi funny story, one time I was in an airport and my belt had enough metal on it to set off the metal detector. I nearly lost my pants when I took off my belt…wouldn't that have been a sight? I then learned to preferably wear pants that didn't require a belt when traveling through the airport or hold onto my pants so they wouldn't fall down. Someone could definitely have pantsed me without a belt on in those days.
I think when I got to college I slowly eased out of the baggy clothes and into more fitted clothes. Then when I started to weight lift and actually take notice of my body and the positive changes I saw, I wore even more fitted clothing. Weightlifting definitely helped me to gain confidence I didn't know I was needing.
So here I am, currently lifting the most consistently I probably have in my life and slowly and steadily increasing the weights. I am about at my PR weights from my meet in May and just signed up for another meet next April where I plan to totally crush those PRs since I expect to be breaking my current PRs soon.
So I went to the mall over Labor Day and decided to try on a size up from my current pants. You know what? They felt amazingly better!! I still have a bit of an issue with the waist being a little big, but my thighs are snug just right in the pants and it doesn't feel like the pants will split when I sit down. With the style these days of skinny pants (which I dislike for myself) and low waist, I find it so difficult to find proper fitting pants. I like bootcut style and low waist is OK sometimes as it depends on the fit. To be honest I am not a fan of whatever sizing system the US uses, because I can range from a size 2-6 now. It depends on the store, style and fit.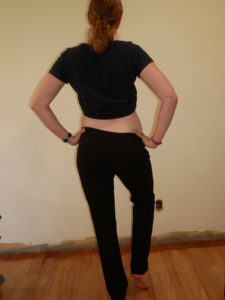 Oh and shirts, I would recently find myself saying "when in doubt size small", but now I find sometimes I need an XS or sometimes a medium. Again it depends on the style and fit and store. Recently I went shopping at Kohls and I walked out with 3 shirts ranging from XS-M. The medium was a juniors, I'll admit. Actually I really liked the fit of a medium juniors top vs an adult small/x-small. This is why I fail at shopping online. In addition to my thighs growing, so are my shoulders, as I tried on some blouses and realized there was no stretch in them and it barely got over my shoulders. But I LOVE my new shoulders. They are getting so strong and allow me to practice chin ups and pull ups!! I love this muscular body I am working so hard on, but clothes shopping can hurt your self esteem for sure.
Instead I remember the size doesn't define me. Hey I can't even fit myself to one size, I have a range. I am healthy and feeling strong and good. Of course I just wish I could wear yoga leggings all the time, but that's not the case. For jeans, I have been loving Lucky Brand jeans bootcut style. They still fit my muscles and stretch and make my butt look good. Work pants, sizing up for now and it's working. Now that I have pants that fit, I feel sooo much better honestly. Again that number doesn't matter so much, it's how I feel when I wear the pants. I am comfortable.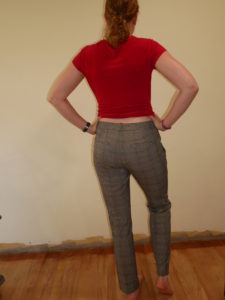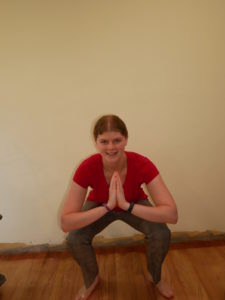 Now the real shopping to come…wedding dress. Hoping I can find something flowy and comfy, especially since I will be working hard to prepare for my meet the month before my wedding. I am hoping to stick to tank top/haulter or strapless so at least I wouldn't have to worry about my growing shoulders and since it's a dress, my thighs shouldn't be too much of an issue either. Maybe I should reconsider dress wearing for the office? LOL. I just like pants.
Find a size that makes you feel comfortable in the outfit, not a size that you just like to see on the hanger.




Sharing is Caring: