Sharing is Caring:



I spent 3 months traveling around Australia and New Zealand. While I knew I wouldn't be doing my weightlifting while traveling, I did want to incorporate some exercise in addition to just walking around new cities. I focused on looking for yoga studios and pools. Australia has many outdoor 50m pools which I love to swim in because A) you are outside and B) it is more challenging to swim 50m than 25 yds or m which tend to be the standard American size.
Below you will find my list of places I stopped in throughout my trip. If you are planning to backpack or travel for a long period around Australia or New Zealand (which I highly recommend) then these are some places you can check out if you are into yoga or swimming. Also note there are tons of different yoga studios in most of the big cities, these are just the ones I chose.
Sydney Australia
Drop in $26 or month intro pass available $58 for yoga only
We stayed in Potts Point for 2 weeks and I started by doing yoga youtube videos since we had pretty good wifi in our apartment but then I was craving a class. I found this place near our apartment towards the end of our stay. A drop in rate of around $20-25 seemed to be most common in the Sydney area. Though I did feel it was overpriced, I did enjoy the class. The studio is very nice with changing rooms and lockers available for no additional cost. If I had found the place towards the beginning of our stay I probably would have done one of the intro 1 month offers which were between $58 and $75 depending which classes you planned to attend.
North Sydney Olympic Pool
Swimmer $7.80, spectator rate $2.50
If you are looking for an awesome place to swim, Sydney has multiple olympic size (50m) pools and even better, they are outdoor pools! A drop in rate for this pool just next to the Harbour bridge is $7.80. I also loved that they had a spectator rate at $2.50 so that I didn't need to pay the swim rate for Brian as he was just watching.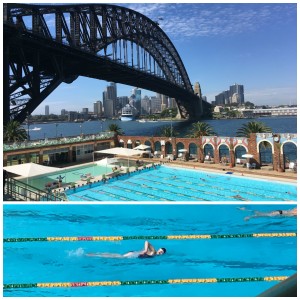 Melbourne Australia
$59 intro for 2 weeks, most classes $25 drop in
Since we were staying for a week and they had a variety of classes at 7am, I got the intro pass for $59. I ended up going to 5 classes in one week so it was well worth it for me. With the intro pass you can also go to 1 pilates X class (a small group class using pilates reformers to work out). I did pilates X, 2 mat pilates and 2 yoga classes. All were great and it was perfect to work up a bit of a sweat in the morning before going out. I definitely noticed my abs and glutes getting stronger through the week too.
Swimmer $6.40
This place was perfectly around the corner from our hotel so I went swimming one day instead of the pilates place. The place was built in the 1860s and it is a gorgeous building (it was redone in the early 1900s). During most of my swim I had to share a lane and it was difficult sometimes as the lanes are skinny. Then again I prefer my own lane so it could just be me. Still I recommend the place if you are looking for somewhere to swim. There is also a gym if you are staying in the area for a while or want to pay the drop in rate for that.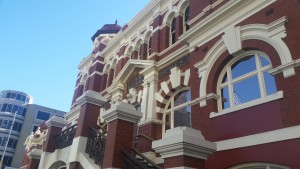 Adelaide Australia
Drop in $22
I was able to do a yoga barre class here and enjoyed the mix of vinyasa yoga with some ballet barre moves. Very nice studio on the end of Rundle Mall area.
Tip: register online for the class as they don't really have a front desk person.
Adelaide aquatic center
Swimmer $8.20
Didn't have time to go here but the pool offers a 50m swimming pool certain hours during the week, otherwise 25m when they split the pool. There are also water slides, but I am not sure if those cost extra.
Brisbane Australia
Musgrave Park Pool
Swimmer $5.40
Beautiful 50m outdoor pool and during the weekday I had a full lane to myself as it wasn't that busy. Highly recommend if you love going for a morning swim.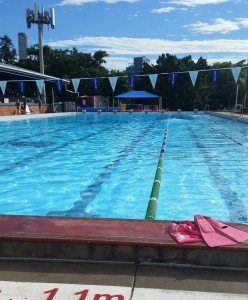 Drop in $20
When we extended our stay in Brisbane, I decided to check out this yoga studio. It was a wonderful vinyasa class that I felt was at my level with a few challenging poses.
We happened to be in Brisbane the opening weekend of their free fitness classes from March to May so I went to a yoga class on Saturday morning at SouthBank.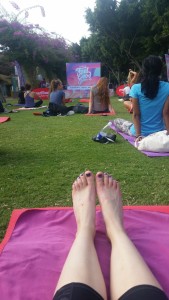 Noosa Heads Australia
Drop in $20
We happened to be in Noosa Heads the weekend of the surf competition and the Noosa Yoga Center was leading free yoga classes on the beach. The Noosa Yoga Center is located right in town and easy to get to, so if you aren't there during the surf week, you can definitely drop in and check them out.
New Zealand
Queenstown New Zealand
Alpine Aqualand Queenstown
$8 for pool, +$5 for waterslides
Craving a workout and something to do as we approached Queenstown, we made our first stop at Alpine Aqualand. $8 for an entry to the pool and if you want to use the waterslides, an extra $5 is all it costs. This place was perfect for Brian and I, since I had the lap pool and he was able to hang out in the lazy river and use the slides.
Nelson New Zealand
Drop in $18 + mat rental $2
We were driving through Nelson around noon one day and after sitting in a campervan for nearly 2 weeks I needed to stretch. I found a class just as we were coming into town for the afternoon and really enjoyed this small studio. Nelson is a cute little town I wish we had had more than 4 hours in the town.
——————–
My workouts were in no way consistent when traveling and yes it is a bit pricey to pay all the drop in rates for yoga studios, but it is something I invest in. I am always more motivated to do yoga when I am in a class setting. While I know I have lost quite a bit of muscle through my travels, I was happy with fitting in these workouts when possible. I always feel better when I start my day with a workout. Melbourne was probably the best as I was consistent for a week, but most places we were only around for a few days so consistency is hard.
Don't beat yourself up about it if you are traveling for a long period of time. I really did learn to live in the present and be happy with the little things each day because I was so grateful to be exploring the world.
Do you workout when traveling?




Sharing is Caring: