I am at the end of my 4 months of travel and haven't had access to a scale in many months, but recently I weighted myself and noticed I was probably 5 pounds more than when I left home. I am not overly concerned, but I feel that I put on most of the weight in France. I know some people travel for the food experience and while I love to dive into the culture, sometimes the cultural food just doesn't agree with me and for that reason doesn't look appetizing.
In the last two years, I have been able to experiment with food more and figure out what works for my body. I have realized that less carbs and very little dairy are better. I focus on fresh foods and meat which keeps me more satisfied and my stomach happy.
In Australia and New Zealand, Brian and I made most of our breakfasts and dinners each day. We would go out for lunch as it was convenient since we were already out. We did the best we could to focus on meat and veggies, but sometimes we stopped at KFC or some other fast food because that was the option available. Most nights I would make a salad and we would cook up some kangaroo burgers or sausages or something. This is why I didn't take many photos of my food or talk about it much because we ate simple meals we cooked and were often repeats. These meals made us both feel great and gave us lots of energy to explore.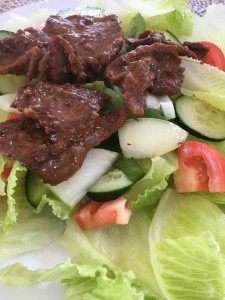 After 3 months, Brian went back to the states to work and I headed to Europe. First stop, London, and I actually found some protein bars and great organic shops and markets, etc. Can we talk about the amazing The MaE Deli?!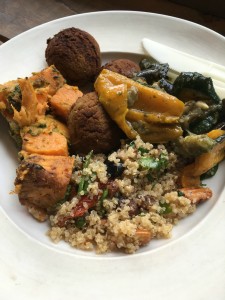 Eating in London wasn't much deviation from what I had been eating. The hardest part was starving through my layover in the Philippines but once I got back to eating and adjusting to the time change, it was better. (Tip: if you ever have a 10 hour layover in another country, be sure to pack tons of food)
Then I came to Paris, France. Traditional French food: cheese, wine, bread, are the main things I think of. The bakeries are full of all sorts of bread products and eclairs with cream fillings. The bakeries are beautiful.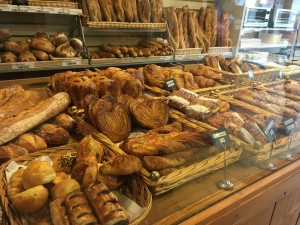 If I'm being honest though, I wasn't interested in the bulk of the bakery products. Of course I had to have a couple croissants because that is what you do when in France and they are light and fluffy and buttery tasting. Wait, can we talk about French butter?! Real butter?! Sorry I don't know how people do that fake butter thing. It's the one dairy product that doesn't seem to bother me much and the French butter was sooo delicious and creamy.
Alright back to lunch in Paris. Most days, I picked up a ham sandwich, but that sandwich was like 80% bread. I was THAT person that moved the fillings over and tried to only eat half the bread because I could just feel the effect of the number of carbs I was eating and it wasn't pleasant.
After my stop in Paris, I stayed with family friends out in the country side of Southern France. I had a chocolate éclair for my birthday and it was amazing (sorry forgot to take a photo as I was too in the moment). I know having one won't kill me. It is not to say I am looking at these bread products and labeling them "bad." I am thinking about how they make my body feel and just not interested in feeling bad. If I could eat them and know I would feel fine, I would.
The great thing about the little towns, were the markets. Markets overflowing with fresh produce and of course you have your cheese stands and olive bars and such. I focused on the fresh strawberries that are in season at the moment and the veggies that looked so delicious. I was happy to get out to the big market on Saturday and just see all the good looking fruits and veggies. It's hard to NOT buy everything, but I know I can't cook everything so there is that. We bought tons of veggies and I even scored some ripe avocados and more strawberries. I'm surprised I didn't turn into a strawberry with how many I ate last week.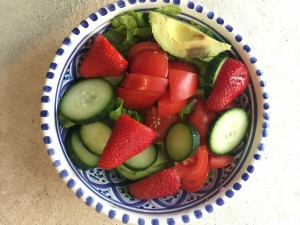 I absolutely loved seeing the beauty of the countryside of France and the air just smelled better in the mountains and everything. I definitely ate more bread than I am used to and I definitely felt a lack of energy because of that. It is frustrating when you want to eat something but you know it will make you feel bad and you just have to stay strong and say no sometimes.
Now I am in Spain and I feel a greater variety in food choices, though there are a lot of seafood dishes around and I am not keen on seafood either. Thankfully I have my sister's friend who has been living here for the past few months to study and knows of very tasty places to eat. She fed me well my first afternoon and we ended the night with apparently one of the best mojitos at one of the top Barcelona restaurants, Cera 23, because I mentioned I do like mojitos. Somehow the bartender made them stronger than usual though and with little sips it took me over an hour to finish but it was delicious with the fruity flavor.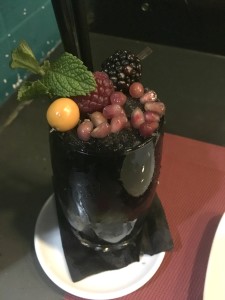 I look forward to going home to take over the kitchen and cook and bake my favorite dishes. I definitely have missed making my "healthyish" almond flour cookies and meal prepping for the week. I feel fortunate to have access to health food stores and alternative flours like almond flour.
I have loved this opportunity to travel, to experience other cultures, but it has also made me even more grateful for my own home. Sometimes you have to get away to appreciate what you have. I know that I will soon get back into routine at home and get back to my meal prepping and a happier belly. With that said though, I still plan to go on many more trips in the future. Hopefully another long one as well.
Thanks to Amanda for Thinking Out Loud.
How do you eat when you travel?