Sharing is Caring:



Hello everyone!! Coming at you from Melbourne now.
It's already Monday here and we just finished watching the Super Bowl. Wow that was a crazy game. I am not very into sports, not even the superbowl, but Brian wanted to head to a bar and watch the game. So it's superbowl Monday here and the bar opened at 7:30am for the 10:30am kick off time (local time). We got there right when the kick off started. The bar had American food specials, like nachos, chilli dogs, and wings. Since it was also breakfast time here, they had Hotcakes (or pancakes) too. I enjoyed some pancakes and bacon for my breakfast #2 since I ate my first breakfast 2 hours earlier.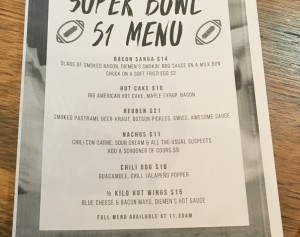 Brian enjoyed some beer and I enjoyed 1.8 liters of water… yep in the time we were there, I got myself a jug and drank the whole jug myself. Basically I drank half a gallon of water. I needed water as I get dehydrated at times while traveling like last night on the plane. Our plane was at 9pm New Zealand time and a 4 hour flight, but we went back 2 hours so we landed around 11:30pm local Melbourne time. I slept a bit off and on, on the flight, but was happy to be in our bed at 12:30am.
Since we will be in Melbourne for a week, it gives me a chance to establish a routine. I looked up yoga studios in the area and found a yoga, pilates and barre studio a 15 min walk from our hotel. Even though I went to bed at 12:30am, I woke up at 6:30 and headed off to a pilates class at 7am. I almost didn't find the place as I was one street off, Little Lonsdale vs Lonsdale street… but I found it in time and was happy to join a small class to start my morning. The intro offer is good for unlimited classes for 2 weeks, but I will only be around a week. I plan to do at least 5 classes, every 7am one and that brings each class to a little over $10 instead of the $25 drop in rate per class. My legs have remained strong throughout this trip so far but my arms need some work. In other words, planks were killer this morning.
So my Monday included a workout, grocery shopping, figuring out the kitchen in my hotel and watching the Super Bowl. After the half time we headed back to the hotel but found the channel on our tv in our room and I finished watching. Brian decided to nap as he didn't sleep well so I decided to check out the free wifi in the lobby and hang out for a bit. I must say, it is nice to get back to writing. I can't believe how many posts I came up with in the past couple days with internet again. I will likely not have much internet after this week as we will be on the road again through Australia this time, but hopefully I can pop in from time to time. I will definitely be updating Instagram.
Now it's time to take the rest of the afternoon to plan out things to see in Melbourne. It is nice that we take a chill day every now and then. I also have to leave you with this beautiful sunset picture from right before we took off from New Zealand Sunday night.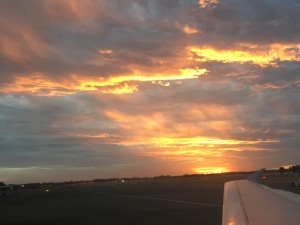 Thanks Katie for the link up.
Did you have a Super Bowl Party?
What did you do this weekend?




Sharing is Caring: