Sharing is Caring:



Hey there it's my first post for the year 2017 and I'm coming at you from Sydney, Australia.
I first visited Sydney when I studied abroad in 2011. Since then and hearing about the amazing New Year celebration, I knew I wanted to return. Firstly I didn't get to see as much as I would like because tight budget + school. So far we have been here for almost 3 full days and already have walked through a lot of places I had not seen as well as some familiar to me.
I am definitely still feeling the jet lag, especially after waking up at 4am New Year's Eve and having to stay awake until midnight. That was hard. I then slept until 9:30am this morning (New Year's Day). Even with the late start and sleeping in, I was just so tired today. Hopefully soon I will get some energy back. Maybe this cupcake I just ate will help…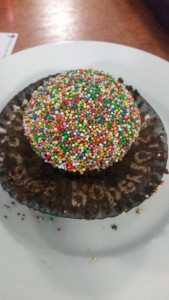 Back to New Year's Eve, our first real day of exploring. We mainly slept the first day…by accident. When nap time turns into almost 5 hours of sleep…woops.
We began early New Year's Eve (I mentioned I was up at 4am, but Brian didn't get moving until maybe 6am). After making breakfast in our hotel room (we have a little kitchenette which is perfect), we took the train and walked around Darling Harbour. We don't really have an itinerary, just a list of things we want to see. We ended up hoping on a ferry to Sydney Olympic Park. I had no idea a ferry ran there. I didn't get the chance to see it last time I was there but really wanted to swim in the olympic pool at some point. Obviously we weren't prepared for swimming, but the day was gorgeous and the 40 minute ferry ride passed by quickly.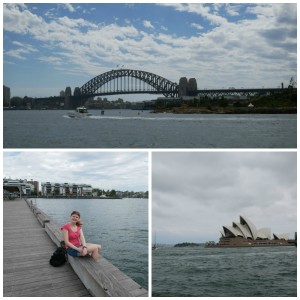 As we got off the ferry, it was 11am and we were getting hungry from all the walking we had already done. I had already hit 10k steps in the first few hours of the day. Buses picked up by the ferry but we looked at the map and thought we could walk. Well…it was a looong walk. It was also New Year's Eve and by the time we reached the restaurant point it was 11:30 and we wanted food, but there was only 1 place open in the little mall area we reached. So that was the place to go. I got a delicious pesto chicken sandwich. I thought a sandwich would be cold as it was warm out and I wanted cold food, but it was a hot sandwich. Still very delicious. We also drank nearly 2 liters of water between the two of us. We were mostly thirsty I think.
After that we felt much better and energized. We continued walking looking for the tour spot. Well we finally reached the stadium and everywhere just felt so deserted. I don't think they were giving tours on New Year's Eve. We were pretty tired after all the walking we did. We really did cover a lot of ground and it was only a small fraction of the park. I was amazed at all the residential area and thinking about how cool it would be to live in an olympic park with all the bike paths, walking and just this feeling of a tiny city.
We decided to take the bus back to the ferry, which was a very good decision. The bus ride was only about $2 and so much faster. Plus it went around parts of the park we didn't get to and I saw a school and another couple shopping centers. Really everything you needed was in that area and it was cool to see. We definitely plan to go back as we passed the aquatic center where you can pay a fee and lap swim. I love swimming in olympic size pools as it adds a challenge. Swimming 50m doesn't seem so bad when I can swim for 2 miles, but when you don't have a wall at the 25m point, it is harder and better practice for an open water swim for sure (hopefully one day).
Ferries were getting crowded as we returned around 3pm to the city. They started to run extra ones to accommodate for new years. We got off at Circular Quay, essentially the center of Sydney downtown, and made our way through the crowds back to our hotel. The point where we planned to watch the fireworks didn't open until 6pm and yet there was already a line at 4pm. Luckily it was a short line and we went back to the hotel to eat some dinner and headed over around 6:30.
I finally had a chance to read The Magnolia Story while we waited and got over half way through the book before it got dark shortly after 8. Then the first fireworks show was at 9pm, perfect for families and kids. It was a short 5-10 min and then a lot of the families headed home.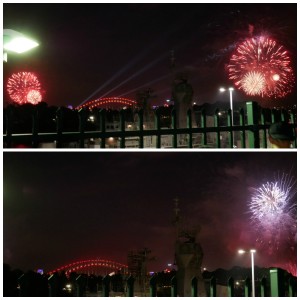 The next 3 hours was the longest. I think I took a half hour nap somewhere in there and then was using the flashlight on my phone to read some more, though I could barely keep my eyes open. Finally midnight approached and the crowd grew. Everyone was basically standing to take pictures of the fireworks. There wasn't really a countdown but we knew when it was close and then the bridge lit up with fireworks. Happy New Year!!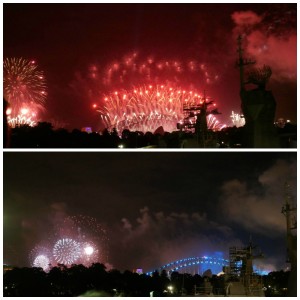 I think the fireworks went on for 10 minutes or so. I loved watching the fireworks and lights on the bridge and seeing the fireworks from Darling Harbour color coordinate. They must have a lot of thought behind these. My new camera captured beautiful clear pictures of the fireworks.
I think the odd thing was that our spot was so quiet. A lot of people simply took pictures and enjoyed the fireworks. A couple people were screaming Happy New Year, but for the most part, the crowd was silent. I was happy with our place. Of course we could have had a better view if we staked out a spot earlier in the day, but we could walk back to our hotel and we were home by 12:30am.
I'm so happy that I was able to make it to Sydney for New Year's and even better, to have Brian by my side. This is just the start of our adventures traveling and a great way to kick off the new year. Happy New Year 2017!!




Sharing is Caring: