I don't think I have ever done a word of the year, but I saw a few posts about it recently. I couldn't pin point my exact goals of the year, but Growth seems to sum it up well.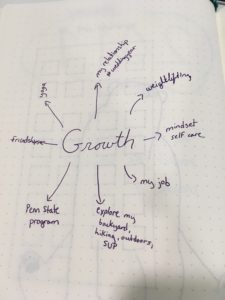 I drew this little chart after watching a bunch of Youtube videos on Bullet Journaling goals for the new year. I tried bullet journaling last year in the new year and I will say it only really lasted until May/June. I love the creative aspect behind it, but I plan so far ahead that I love my $10 daily planner more for weekly plans and to do lists. So now I'm using my bullet journal for occasional inspiration with drawing or quotes I want to write.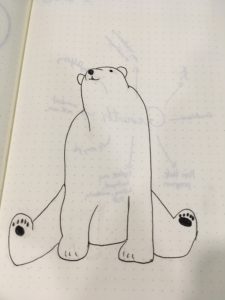 Anyway back to my word, Growth.
Growth in my yoga practice (aka practicing again, even if not everyday, getting back to consistency)
Growth in my relationship (currently Brian is home and it has been nice carving out more time with each other. Plus it's wedding year!!)
Growth in my weightlifting (I have my meet in April and I have some new PRs since last year, still hoping to break even more PRs)
Growth in my mindset (aka being more present)
Growth in self care (this goes with mindset a bit, but just taking time to de stress, getting back to monthly massages, because they really made a difference, taking more baths and doing face masks and continuing to eat well)
Growth in my job (it has been a crazy year end, I have learned a lot and I hope I can continue to learn more and make tasks more efficient)
Growth in friendships (if I'm honest, I feel lonely a lot of the time. Many of my friends are in different cities and states. I am excited that a few of my close friends will be coming to my wedding in May and I can't wait for girl time. Hopefully some weekend summer trips will happen to visit friends too)
Growth in Penn State (if I had to pick a favorite week from last year, it was the Penn State orientation week. It sounds so weird to pick that as a favorite, but I truly felt like I belonged and the first semester was amazing. This second semester there is a lot to figure out still, but I am learning and excited for my classes)
Growth in exploring and getting outdoors (I hope this summer, we have a summer and that I get some more SUP practice at the state park and some more hiking)
Those were some of the things I came up with and I think Growth describes it best for the categories.
Do you make resolutions for the New Year or any goals?