After 3 weekends of working on painting and house projects, it was nice to have a relaxing weekend. All the bedrooms are now painted and I am waiting for Brian to return home to get started on putting the trim on and staining the floors. Hopefully that will happen in the next couple weeks. We are expecting some furniture to be delivered this week, but I am not sure if I will put it together right away as I may just wait until the floors are done since we have to move everything around as it is. It is a process moving in and especially since we didn't have furniture other than a couch and mattress, it has been a process picking things out and thinking about the design of the rooms. I am trying to stay patient in the process, but keeping busy with getting out of the house definitely helps.
Saturday morning I had some breakfast and then I headed to Rochester, NY. It's a 2.5 hour drive there and it was really smooth the whole way up. I arrived at 10am, just like I had planned and met up with one of my old college roommates. We figured out we hadn't seen each other in 3 years, which was way too long. In that time she has moved nearly every year like me, from NY to Florida and now Ohio, but she was visiting her family and I figured I had nothing scheduled that day, so I took a day trip. Plus there is a beach up in Rochester and the forecast said at least 80 degrees so that was a perfect beach day.
We first met up in town for some brunch or breakfast round 2 for me. I had some chocolate chip pancakes and bacon. We were talking non stop catching up about everything and you know how you are talking so much you forget to eat. I ate most of my meal, but didn't finish the pancakes. It was my second breakfast anyway.
We then met up at the beach. There was a sign that said beach closed, but clearly everyone was ignoring that. I think it was referring to the water being closed due to the previous days of high winds. Being that it's Lake Ontario and June, the water is far from warm. We laid on the beach for a while, continuing chatting, before feeling like we were too hot and needed a quick dip in the water. We went in about up to our knees and adjusted to the water temp, but we weren't so hot that we needed to dunk in. Back to the towels to continue to chat and soak up the sun. Somehow 3 hours or so went by. The fastest 3 hours ever!! Around 3:30, we figured it was time to pack up. We were pretty thirsty since we had both finished our waters and our spot ended up in the shade as the sun moved. We got some final photos together and then said goodbye.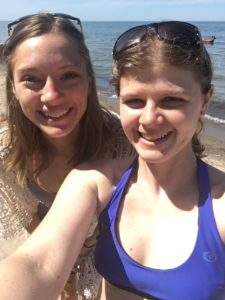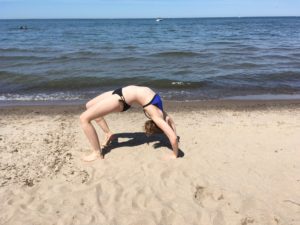 Next time, she has to come visit me at my new house. I can't wait to get the guest room together so I can invite friends to stay for a weekend.
I made a stop for Tim Horton's iced tea of course and filled up the gas tank and then started on my drive back. The drive was fairly smooth other than a minor 5 min stop from an accident that was partly cleared up when I got there.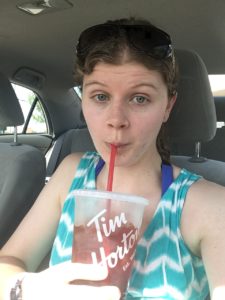 Since it was nearly 7 by the time I got home, I stopped for a large speidie salad for dinner. Other than a little cracker pb snack, I hadn't eaten since 11am, so I was hungry. I had to shower first upon walking in the door though since I was still covered in sand. After showering I discovered most of my back burned at the beach…oops. That's what I get for using SPF 30 instead of 50 and I didn't reapply like I should have and mostly laid on my stomach. At least my stomach was saved because I burned that in Australia and it hurt so bad. My sunburn didn't hurt too bad, but I had bought a tube of aloe vera recently just in case. I spread a ton of that on and then sat down and ate my salad and watched Good Witch until I got tired and it was time to get into bed.
Sunday morning I actually slept in until 7:30am. I was impressed. I had some breakfast and headed off to the gym. I was actually tired when I first arrived at the gym, but as I started to get moving, it woke me up a bit. I was glad my shoulders didn't burn because then squats would not have happened. As it was, my right side of my upper back burned worse and the barbell was rubbing a little spot of the sunburn, so squats hurt a bit, but I pushed through. I did skip one exercise that I knew would rub my back too much.
After the gym, I headed to Wegmans for groceries for the week. By the time I got home, it was almost 11, so I started to cut veggies and let meat thaw to make chicken stir fry. While the meat thawed, I quickly made muffins using the blender and then let them bake while I cooked the veggies for the stir fry.
The chicken stir fry turned out so good. I haven't made stir fry in a while so it was a nice dish to prep for the week and also have some for lunch. I ate and finished the last two episodes of Good Witch season 3.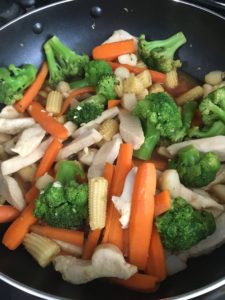 Then I took some time to enjoy the heat outside, wearing sunscreen, and read for a while. After finishing my book, it was time to spend some time writing. That was my afternoon and then it was time to relax until dinner.
Do you live near a beach? I grew up near one and it's hard not being less than 5 miles from one now.