Sharing is Caring:



I really don't want summer to end. This was my last weekend for the pool, but I fully enjoyed it. With the almost 90 degree temps, the water was very refreshing and I remembered to bring my pool noodles to float around in.
Friday night was very relaxed. I hung out on the couch for a while and watched a movie before bed. I slept SO well Friday night. I have definitely noticed the difference in my sleep from when I am running around and then hop into bed versus relaxing on the couch for a bit before bed. Thanks to my obsession over my fitbit and sleep patterns.
I woke up Saturday nice and refreshed. I ran some errands and dropped off my car for an oil change in the morning while I headed to the gym to swim. I am so glad I can still swim even with my foot issues. I got in an easy mile and a half total swim and my car was ready when I walked back to get it.
Next it was time for some lunch. Now that I have a toaster, I love making toast and decided on an open faced sandwich with turkey, cheese and avocado.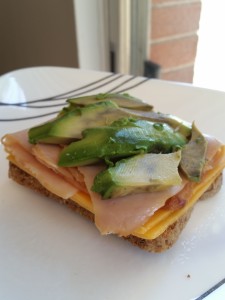 I then made some chocolate zucchini bread. I learned in this process that zucchini does not shred well in a blender attachment, that would be zucchini puree. So I spiralized my zucchini and then chopped it since I don't have a cheese grater. It came out tasty, though wasn't a fan of the frosting in the recipe. I would use real cream cheese or butter for a frosting since I am not vegan. The bread was good though.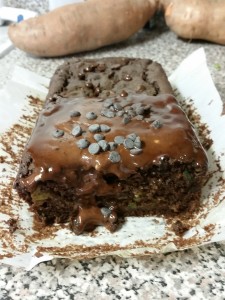 At 2pm, I decided to head to the pool for a couple hours. Then my friend kidnapped me and we ran some errands. It was nice to get out and about though we were both kinda tired after a couple hours. As we came back to our apartments we ran into another friend who was taking her kayak out on the water. We grabbed some snacks and that helped to perk us up. I think we were both hungry. Then we hung out by the water taking turns in the kayak. I didn't go as I was tired from the day and my swim, but it was fun to sit and chat and watch as the sun set. Soon it was 9pm and I was ready to head home, shower and settle down before bed. I actually also took a salt bath too as I was on my feet quite a bit.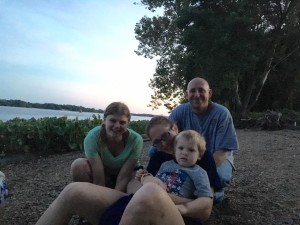 Again, Saturday night I slept really well. Almost 9 hours of sleep too! I made some protein pancakes and since I took off from teaching yoga this week to let me foot rest a bit (when I return I still won't be doing all the poses but should feel more prepared), I headed to the gym to swim again. I only did a mile as I could feel my arms were getting sore from Saturday's swim.
Once I got home, I caught up with my mom on the phone and then worked in the kitchen for a couple hours. A co worker is coming back to work tomorrow after being out for a month from a surgery so I made a chickpea cookie cake for her. Since I had leftover chickpeas, I made a smashed chickpea, pesto, turkey, spinach sandwich.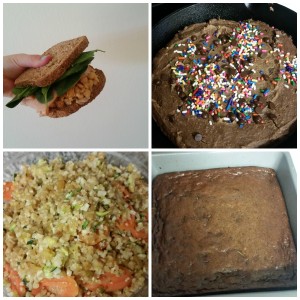 I also had extra zucchini from my groceries and saw Amanda's recipe Saturday and had to try out zucchini brownies. These were delicious!! Bringing some to work as well. And still more zucchini was mixed into my cauliflower fried rice mix for a side dish for dinners this week.
At 3pm I headed to the pool. Though I needed to work on some yoga and blog stuff, the pool took priority being my last pool day of the season. Next weekend I am heading to Virginia so I will get a beach instead but had to enjoy some sun and reading time. I also took a couple dips into the pool and floated around. The water felt great.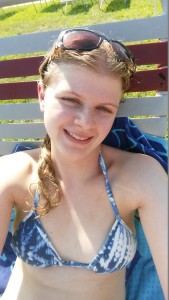 At 5 it was time to head back and prepare dinner and work on the things I was putting off earlier in the day. I like to have a few hours to get a few tasks done and then watching a tv show or movie before the week starts. Now that the Olympics are over, I am back to my no tv during the weekdays. I enjoy it as I am more productive and then tv is more enjoyable on the weekend.
That wraps up my weekend. Not super exciting but I enjoy baking, cooking, swimming and reading. I think that makes for a successful summer weekend. Looking forward to a 3 day weekend next weekend and a mini trip.
Do you like meal prepping?
Have any plans for Labor day?




Sharing is Caring: