Sharing is Caring:



There are many ways that traveling the past few months have taken me out of my comfort zone, but I think the most challenging to face so far was knowing I would be sleeping on a boat for 2 days.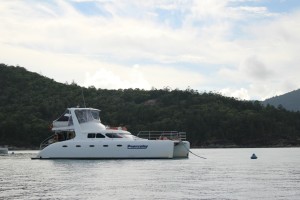 When one of our other tours was canceled I had a credit to use at the booking place and instead of losing 10% (because apparently they take a fee even when they cancel), I had the option to book another trip and looked into the WhiteSundays.
It happened that the only trip with 2 spaces available left on Brian's birthday. Maybe it was meant to be. I knew Brian wanted to go on a boat trip especially after we met 2 couples that are literally sailing around the world. Brian thinks that would be fun and I am sitting here shaking my head thinking no way.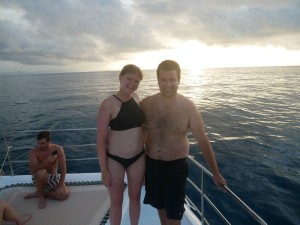 Anyway I ended up booking a boat trip at the Whitsundays, a very popular travel place in Australia. You get to go to Whitehaven Beach, which has white sand and is the third most photographed location in Australia (Uluru and Sydney Harbour are the top two). The sand is 98% pure silica which makes it great for polishing jewelry but is so fine that it can easily damage electronics if it gets inside them. There are heavy fines if you try to remove the sand. Only NASA is allowed to use the sand for satellite reflectors (source). Once the sand is all gone, it's gone forever.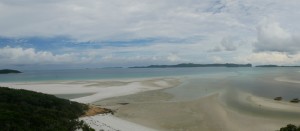 I have seen pictures and heard of this beautiful beach. Of course I wanted to see it but boat trips…totally out of my comfort zone as I get sea sick. I hate the rocking back and forth!
Well the day arrived, I got a sea sick band that is the drug free way for motion sickness but I didn't entirely trust it and nerves didn't help so I still took sea sick pills. The first day we left of course it was raining off and on and just looked gloomy. We worried the trip was going to be quite rocky and I worried the snorkeling wouldn't be good if there was rain.
Well the first day we snorkeled, it had already topped my first time snorkeling at the Great Barrier Reef 6 years ago (not sure if we went to bad places or if I was just struggling with the mask too much). I was so happy to see so much awesome coral and the colors…they were amazing, purple, yellow, pink, and blue.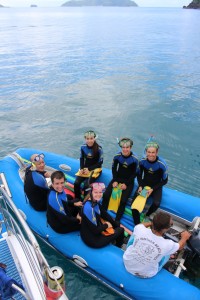 The first night we anchored and then had some dinner. My stomach was kinda hurting but I think it was due to eating something with milk products that didn't agree with me. I ate a lot less than I would on land as I didn't want to overdo it.
In the evening we watched the sunset and then they filled the hot tub and added bubbles. I eventually joined and that counted for our baths for the evening. The "shower" on the boat was the sink faucet that came up on a cord and you were allowed two 60 second showers for the trip which meant you could bank time and take a 2 min shower the second day or even have 2 people and get another minute lol. Anyway basically the bubble baths were my showers.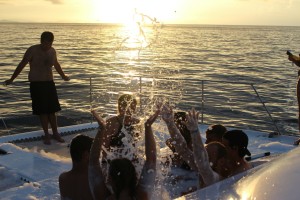 The rest of the evening included dinner, a meeting about activities for the next day and having cake and singing Happy Birthday to Brian. I then enjoyed journaling for a bit before joining in on the game 2 truths and a lie.
We headed to bed shortly after 10 after chatting with our bed neighbors. We literally had to climb over their bed to get to ours. You really get close on a boat. It was fun chatting though as they were from Paris and I am heading there soon (more to come about that).
I slept pretty well the first night until 5am. It was off and on between 5 and 6am. I started to get anxious and just concentrated on the rocking boat (the worst thing to do) and finally took more pills at 6am and climbed over my neighbors carefully around 6:30. I didn't actually get sick but I needed fresh air. I talked to another girl who was just out the back and couldn't sleep either. We were allowed to sleep in until 8am technically. Me and the other girl chatted with our voices low and watched the fish near the boat. Then I headed to the front of the boat and enjoyed the peacefulness of the cloudy morning and doing some stretching and downdog. Finally 8am came and it was breakfast time. I like to eat right when I get up normally and hate not having control over it but I have learned to adjust.
For breakfast they had yogurt, fruit and cereal. I actually brought my own oats and peanut butter. I enjoyed eating near the front of the boat as I can't stand the smell of yogurt. After breakfast we got ready to snorkel. We were already at the spot which was why we could sleep in. At this spot we got to see clownfish and so many other fish. The boat driver also fed the fish which would cause them to go crazy and the fish end up touching your hands and masks because they go wild for food. It definitely caught me by surprise but was fun.
We saw so much around the reef and it was enjoyable. I had no sense of time on this trip (another thing out of my comfort zone because I always want to know what time it is) and simply stayed present. What else can you do at sea?!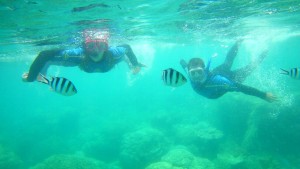 After the snorkeling we had biscuits (British cookies) and had a long almost 3 hour ride to the Whitsunday Island. Finally we reached land! Seriously the ride felt like it took forever. We had lunch on the move, which was salad and meat toppings for a sandwich but I skipped the bun so mine was a salad.
We went for a walk to the lookout points of Whitehaven Beach and then had an hour on the beach. The sand is apparently good for exfoliating the skin so we made sure to do so. I also got my bridge photo.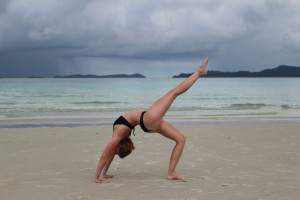 And a headstand.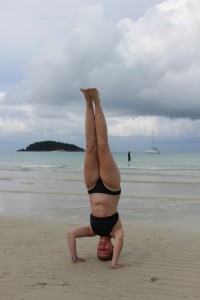 As well as some candid shots thanks to our boat crew.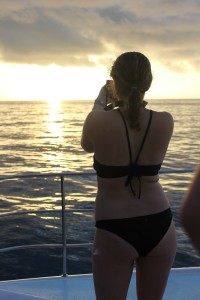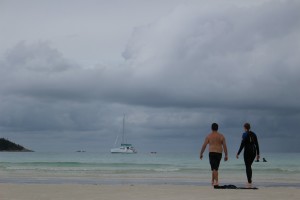 After the beach we headed back to the boat for another ride to our anchor station for the night. The channel in which we stayed is the only cyclone safe spot around the Whitsundays and the waters were quite calm. We did hit a bit of rain on the way and I went inside to play cards with a few of the French people. Shortly after arriving at our destination, we had dinner. A delicious steak, pasta, salad and garlic bread meal. I couldn't pass on the garlic bread although I can't wait to make my own again as I still believe homemade is better but it was good.
After dinner came the dessert of some sort of rolls that reminded me of donuts. I had to pass as I knew they may contain milk and I didn't want another stomach ache. Instead I grabbed a chocolate bar that we brought. A little dark chocolate before bed is perfect.
We watched the slideshow of pictures and then I journaled a bit again before bed.
The second night of sleep was so much smoother. The water was calm and I didn't feel the boat move one bit. It probably also helped we had an early 6am wake up call. I ate quickly and got ready to snorkel.
We saw more coral and someone spotted a sea turtle but sadly he didn't hang around so we couldn't get photos. As we swam out further to try to see where the turtle went a person got stung by a jelly on her chin (we wore wetsuits to cover the rest of our body) so I turned around and stuck near the coral areas. Sea turtles eat jellies so made sense he was around there but we didn't end up seeing him. We did see some turtles from the boat which was cool.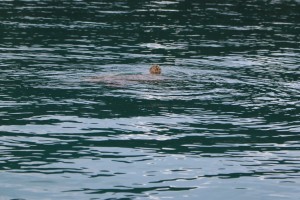 Our morning snorkel was pretty short and then it was time to get back on the boat and pack everything up. It was a 2 hour ride back to the dock but I felt it went faster in the calmer waters.
In the end I did pretty well on the boat. I am very glad that I went and Brian certainly enjoyed himself. I don't think I can top that birthday present. There were 18 people on the boat plus 3 crew. We were all in our 20s except the boat driver and it was a good group. I felt that right from the beginning, I was looked after. In fact the first day a giant bee landed on me and I honestly had no idea (probably a good thing) and one girl warned me not to move as she approached me and got it off. I was speechless and literally sat like a statue as she came near me but again was grateful. We had a great time chatting with everyone about their travels and learning about each other. I am still nervous about boats but this experience made it a bit more comforting. It is good to face fears and get out there to really live your life.
To sum this up I would recommend the Whitsundays trip.
Thanks to Amanda for letting me think out loud.
What have you done to step out of your comfort zone?
Have you been to the WhiteSundays?




Sharing is Caring: