Oh hey, long time no chat!! Truthfully I have drafted a couple posts recently and just haven't gotten around to fully editing them and adding pictures and all that. I needed a bit of a break in September, basically a recovery from a stressful August, but that's the short version. Now it's mid October and the I can't believe how fast it is going. My weekends haven't been all that exciting lately as I am usually spending a good 10-12 hours on the weekend doing homework and then I try to spend 2 hours a night on weekdays to do homework. It's a crazy semester. While I love my business analytics class, economics…not so much and it's just time consuming. We are now midway through the semester so I just keep pushing along.
I took Friday off from work so I could take my first economics test (I know, how exciting?!) and get a head start on homework. It was perfect because I was super productive Friday and as I sit here on Sunday night writing this, I have not been productive with school work today. I also spent a couple hours on Friday calling all my banks and credit card companies to figure out what I needed to do to change my last name….these are the things they don't tell you when you get married…I've spent a couple days off getting a license, social security card and recently calling my banks. I submitted my passport renewal with my name change a while ago and I didn't realize you needed a photo from the last 6 months. Well since I renewed my passport in Feb 2018, I had an extra photo leftover, but obviously that wasn't in the last 6 months so I submitted a new photo a week ago and hopefully I will get my new passport soon…so yes it has been a process.
But name change stuff aside…this weekend was all about Harry Potter and I have been counting down for approximately 6 months since I decided to purchase the tickets in April as a birthday present to myself and figured this was a good weekend, a week after our 10 year dating anniversary.
Oh Brian got me flowers for our 10 year anniversary which I loved!! The flowers also managed to last over a week even though I never changed the water in them (this is why I don't have plants to take care of or get flowers often). This is only the second time Brian has gotten flowers for me in our 10 years together so it makes it extra special.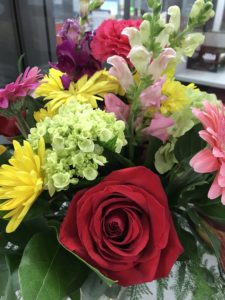 Saturday morning we left shortly after 7am which is just the time we were aiming for. Brian booked a hotel in Secaucus, NJ and we arrived around 10:30 after a couple stops. We found out where to park, as our room wasn't ready yet, and just went over to the bus stop. We arrived in the city around 11am which was perfect for lunch time. I told Brian I was thinking Mediterranean for food and he found a place, Kashkaval Garden. We went all out for the weekend and got a tapas plate of hummus, brussel sprouts, babaganoush, artichokes and taziki. The hummus and artichokes were my favorite from the plate. The brussels were good, but I prefer them warm and they were cold, which made sense for the plate.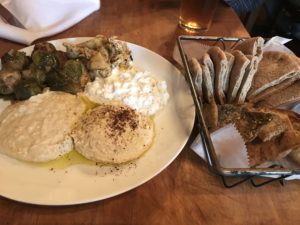 After the appetizer, we both ordered kabobs, I got chicken and Brian had lamb. The kabobs came with a small side salad and potatoes. All were amazing!! I was so full, I couldn't even finish the chicken, but I ate a bunch of everything else. I also was so hungry and excited for the food I forgot to snap a photo, but I was enjoying the moment with Brian.
After we stuffed ourselves, we took a short walk to Central Park and grabbed 6 mini cupcakes from Baked by Melissa. I was excited to get some Halloween ones.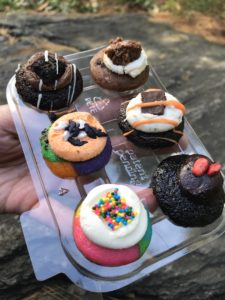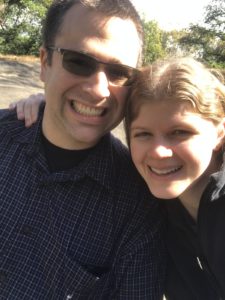 Then it was time for Harry Potter and the Cursed Child Part 1.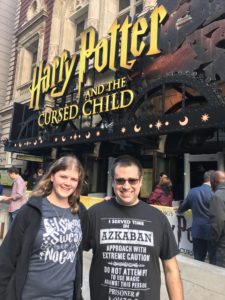 I got us both Harry Potter themed shirts of course and asked someone to take our picture. The angle of the photo is weird since she was trying to get the sign from the Theater in and everything.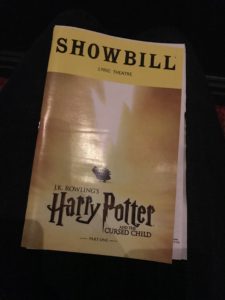 I am definitely more of the Harry Potter fan than Brian, but he tagged along. After Part 1 ended, he couldn't wait for part 2 though!! He was so excited and into it. We also had great seats, row A in the balcony so no one was in front of us and it was a nice view of the stage. Honestly I couldn't remember the seats I picked 6 months ago lol, but Brian said I did good.
After Part 1 ended, we had about a 2.5 hour break to grab dinner. We decided to head up to 9th avenue and walk to see what we could find. We eventually settled on a Thai place. We started with Fried tofu and then we each ordered soup and salad. My throat has been bothering me a bit (cold season) so I hoped some chicken and rice soup with ginger would help and it definitely did, along with a thai salad with ginger dressing. Give me all the ginger.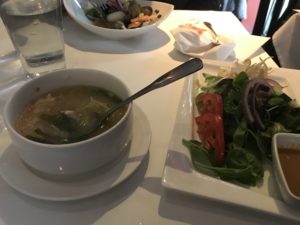 I will say we had amazing service at the place we found and I don't remember the name of it. They constantly filled our water glasses, served food quickly and everything. It was also a beautiful night and some people were dining outside.
After eating, we still had an hour to kill. We quickly visited the M&M store, though didn't buy anything. Then we just made our way back towards the theater and found a European Bakery to step into for me to get my cookie fix. The cookie was giant, but it reminded me of biscotti so it was super light and just the right amount of sweet I needed.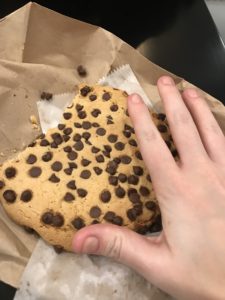 Back to the theater and we got some pictures and I bought a bag for Voldemort day because I felt it was unique and a good souvenir.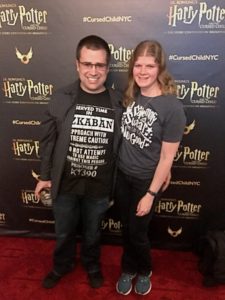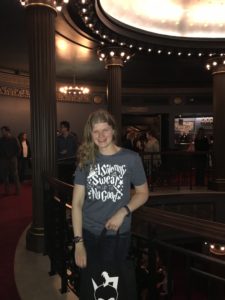 If we thought Part 1 was amazing, Part 2 was even more so. They really went all out with special effects, some of which I can't even figure out. Both shows were truly amazing though and if you are a Harry Potter fan, I highly recommend.
The second part ended around 10pm and we managed to catch the 10:30 bus out of Port Authority to go back to our hotel. We checked in and then passed out soon after. Sunday was a nice slow morning, though we are both used to waking up early so at 7am I was wide awake and Brian was up shortly after. I watched some Flea Market Flip on HGTV (hotels are like vacations when I get cable since I won't pay for it at home). Around 8:30, we checked out, stopped at a diner nearby and then drove back. We couldn't have asked for more beautiful weather in October. It was nearly 70 in the city and it was sunny and 60 degrees driving back. It was beautiful to see the trees all changing. Seems all the trees are changing except for the 2 on our property that are fully green still. Last year we got a snowstorm in November that covered our leaves so I never raked LOL. I guess we will see what happens this year. It was a great weekend, though I am ready for another weekend as I still have mounds of homework to do this week, but back to the work week. At least I did make meatballs Sunday night that I will be eating for dinner for the next couple days.
Have you ever seen a show on Broadway? If not, what would you like to see?