Sharing is Caring:



For as long as we live within driving distance to NYC, I think I would love to make it a tradition to head down for the day, see a Broadway show and the Christmas tree. It's so simple and also so fun.
But first let's talk about Saturday. In the morning, I knocked a few things off my to do list and then my reward was shopping in the afternoon. I had to shop for a secret Santa gift for work and also a little girl from the giving tree my work has. I don't have many people to buy for and no little kids s I was super excited to find some things for a little girl. The lines were insane at some of the stores but I didn't have anywhere else to be so I patiently waited and tried not to be tempted by things along the wall when standing in line. I say tried…because I definitely left with a couple extras but they were small items.
So about 3 hours later I had hit up 5 stores which included the grocery store for my weekly groceries. I then got home, heated up some leftovers for dinner and got to wrapping. I was so excited when I also found wrapping paper on sale that was Minnie Mouse as the little girl said she liked Minnie Mouse. I really hope these gifts make her Christmas.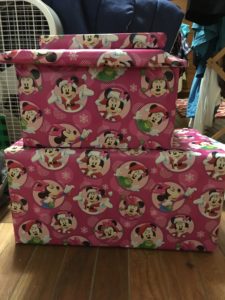 My go go go day had me quite tired at the end of the day and I curled up in bed with a Christmas movie on my laptop.
Sunday morning I had an alarm set for 7am and thankfully I did because I could have slept later. Of course Saturday I was wide awake at 6 when I could have slept in longer, go figure.
I got up and made breakfast and got ready to head to NYC for the day. My new friend, also named Alicia, was meeting me and Brian at the house to head down with us. We left shortly after 8 and it was a 3 hour drive. Though we stopped a couple times so I think it was closer to 3.5 hours but the time flew by because we talked the whole way.
Once we parked we headed straight for the TKTS booth to get discount tickets for a show. It took us up until we reached the window to decide but we decided on Cats. I feel like Cats is one of those musicals you hear about all the time so we figured we would see it.
After getting tickets, we had just enough time to grab some lunch. Brian found a place nearby called Beer Authority. We all had some type of burger and it was delicious. I could tell I needed some food.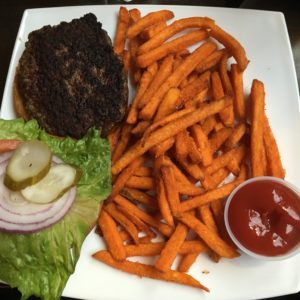 Then it was off to the show. Cats was really good. Lots of jazz type dancing and there was an awesome tap dancing segment. I am biased whenever there is tap dancing since I tap dance.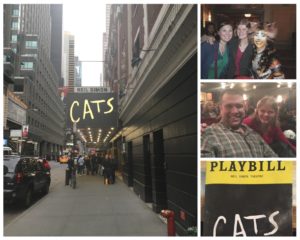 We all loved the show even without knowing what to expect.
After the show we walked down to the Christmas tree. We made a pit stop for cupcakes which I forgot to take a photo of from Magnolia Bakery. Honestly I was kinda disappointed in the cupcakes as they fell apart taking them out of the box, the frosting part separated from the cake and it was messy but still a good dinner.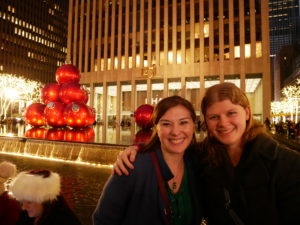 We made our way through the crowd to take photos by the Christmas tree and then it was time to head back towards the car since it was getting late and we had a 3 hour drive back.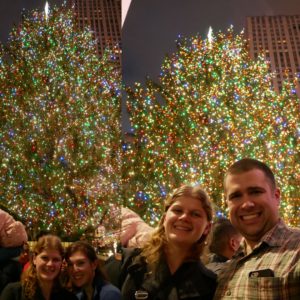 We got back right around 9pm which was perfect. I got my lunch together for work the next day and got ready for bed. I also opted to skip the gym Monday morning in favor of getting more sleep and headed to the gym after work instead. When it's dark so early it's hard to drag your butt to the gym, but I always feel so much better after.
Do you have any favorite Christmas Traditions? I also make Gingerbread cookies annually and will be doing that soon.




Sharing is Caring: