Sharing is Caring:



Catch up with the first couple days in Aruba here.
On Wednesday, we slept in a bit, until 7:30. We had our snorkel adventure in the morning at 9:30. Knowing I would be getting on a boat, I made sure to take motion sick pills. They really helped, though thankfully, the boating time was super short before we would get into the water to snorkel. Our first stop was the SS Antilla shipwreck. This was my first time snorkeling at a shipwreck and it was neat to see.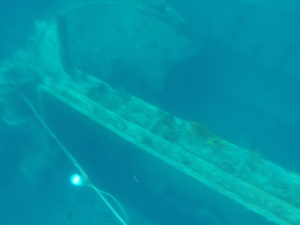 Our second stop was a shallow area, only 7-10ft, and lots of coral and fish. However, the coral was not very colorful so it was a little disappointing. There are probably too many people. Plus, again, Brian and I are spoiled having done the Great Barrier Reef and also snorkeling in Bermuda. It was still a nice boat ride for the morning.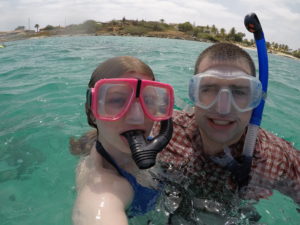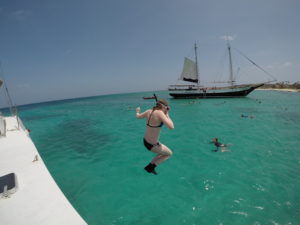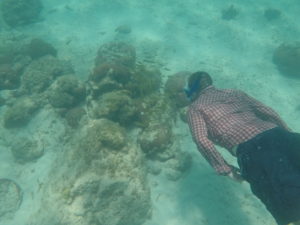 We got back right at noon and decided to stop at Nourish Café (Yoga Girl's café at her studio) for some lunch. I got a taco bowl and green juice and Brian got a pesto panini and more coffee. We also saw Rachel walk into her office, but she was in a meeting when we were heading out, so I didn't get to talk to her, but was cool to see her.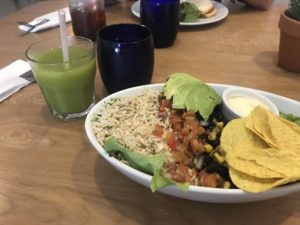 In the afternoon, I realized my arms had gotten a bit sunburned on the boat, in a strange pattern too because I had my arms crossed across my belly while laying down. I relaxed in the hammock for a bit and worked on some homework enjoying the sun while applying tons more sunscreen.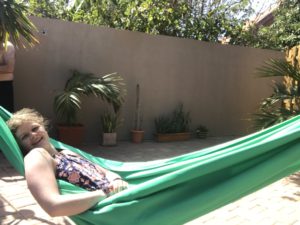 When I spoke with a girl at the yoga studio the previous day, she told me about the California Lighthouse restaurant that overlooked the island. You need reservations and I tried to make them around 5/6pm but the website said it was booked. However, it did allow me to book for 4:30pm, which I guess was still considered lunch. We arrived and I mentioned we had 4:30 reservations and they seated us, not even checking their book. There was no one at the restaurant yet so it was a little weird, but also nice to have it to ourselves and overlook the island. It's an italian restaurant and they have a whole vegan section which was amazing. I had a vegan alfedo pasta and Brian had a seafood pasta dish. The portions were huge so we each brought home leftovers as well.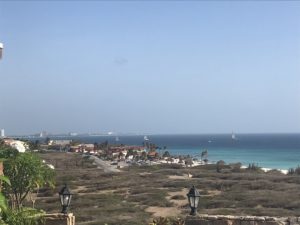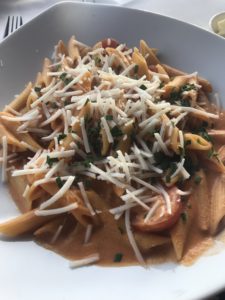 While we were at the lighthouse end of the island, we took some photos and stopped at a beach for a short walk. However, since my arms already hurt from the sunburn earlier in the day, I wanted to head back and rub aloe on them. With an early dinner, we had a good time relaxing in the evening and even caught Toy Story 2 on TV.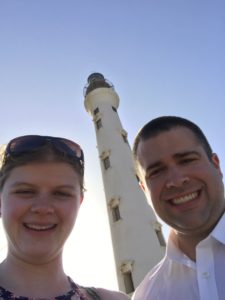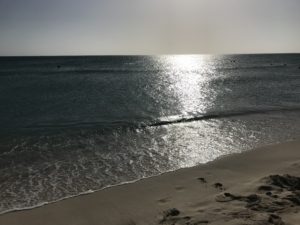 Day 4 – Thursday
Thursday morning we were up around 7am again so that we could leave at 8 for our ATV tour. I was a bit nervous, but got the hang of it while we were out. We booked a double and I drove. If I hadn't driven, I probably would have gotten motion sick so it was nice that Brian let me drive while I beat him up on the bumps. Despite all the sunscreen I kept applying, my arms hurt from the burn they got on the boat ride the previous day and the beating hot sun on them did not help.
In addition, my Go Pro display decided to break. We took a few pictures in the beginning and a couple videos. They ended up turning out fine, it's just the display that broke and I have sent my camera back to Go Pro to hopefully get a new one…hate that it broke on it's first trip and only 2 months old.
I was glad I had my iphone though and I took it out at the stops for many photos. We stopped at a natural pool and I was so ready to get into the water to cool off. That felt amazing!! After the swim I dried off and tried to put on more sunscreen even if I just had white patches all over. We were trying to use reef safe sunscreen and it takes a lot longer to rub in.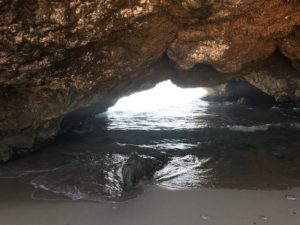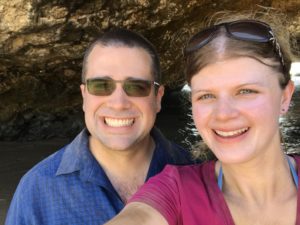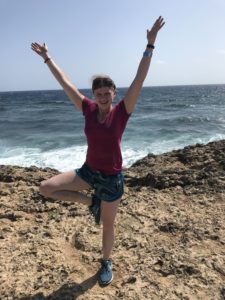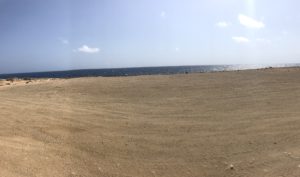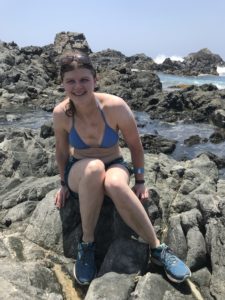 The ride back was nearly an hour and my arms were burning and hurting at the end. They were also covered in dirt which made it hard to even add more sunscreen to them. I was so happy that we drove over to the ATV place so we got to go straight home and it was only a 10 minute or so ride. Brian drove and once we got home, we rinsed off in the outside shower and took a short swim in the pool. Then it was time to eat. It was after 1 and we were starving. Thank goodness for the restaurant leftovers we had from the night before. Then it was time to shower inside, apply all the aloe again and cool off. We didn't feel like doing anything in the afternoon.
Around 4, I asked Brian if he wanted to head out to the shops. I wanted to get a little souvenir of some sort. So we headed out and walked around. We stopped in the Aruba Aloe store and I got the two recommended products for sunburn. I applied it immediately because my left arm just constantly felt on fire. I have never had a sunburn like it. I was happy the aloe store had a lotion to apply because it felt so good immediately. I think since my aloe from home is a year old, it may have lost some of its effects. I then applied the cooling gel to try to cool it off. It helped, but definitely didn't make all the pain go away.
We then stopped in Starbucks and I got an iced tea. Mostly because I wanted to hold the iced tea to my arm. It also tasted good. It had a whipped topping which went well with the iced tea.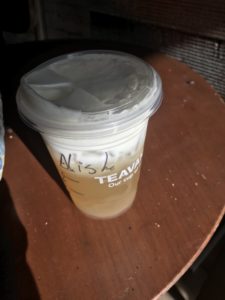 After some more walking, Brian grabbed food at the beach bar and I headed to yoga. My intention in yoga was to be present and try to flow forgetting how much my left arm was on fire. I think I was successful for maybe half the class time. It was difficult practicing on my travel mat because once my hands and feet broke a sweat with the humidity, I was slipping everywhere, so that was tough. I was so happy though that I got to see the big room, the Luna Shala.
I ate a bit of a snack plate for dinner and then we took a night swim. It helped my burning arm. I then iced my arm in the evening which felt good. When I tried to sleep, the burning was so hot, I actually took my towel with ice and placed it over my left arm while I slept on my right side in order to sleep. Sleep was rough though. I just couldn't get comfortable. Apparently Aruba sun is something else and I have even been to Australia and burned where the ozone has a hole in it. Also we did go through at least 2.5 bottles of sunscreen on the trip, so I was really trying not to burn.
Day 5 – Friday – Going Home
Friday was the day to head home, but we didn't need to rush and it was nice relaxing in the morning. I made breakfast and ate outside before unpacking and repacking my suitcase to make everything fit. Honestly my arms were still warm when you touched them from the burn and I didn't want much sun time because of that. After a short yoga flow outside, I stayed in until we decided to leave at 11. We returned our rental car and got to the airport nice and early. After checking our bags, we decided to grab a bite to eat, knowing we still had a couple hours before the flight and I didn't want to starve on the flight.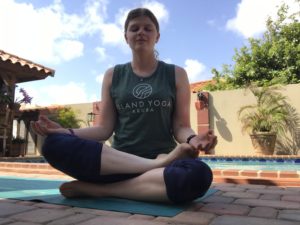 Then it was time to go through the passport gates. I got asked if I was older than 18 years old as I was about to step up…yeah…just a bit…Then we had security and they don't have a precheck line so off came the shoes and out came the laptops. In addition, I was told to take off my watch. That was a new one to me.
Next up was customs with grabbing our checked luggage and bringing it through. That line was long, but we both have Global Entry and it came in handy to jump the line and get checked that way. Then there was a SECOND security, so off came the shoes and out came the laptops again. Packed back up again we were finally in the gate area. Brian got coffee and we wandered around for a bit. Then I got out my laptop and wrote for a while. It was nice to have a solid 40 minutes before boarding to relax.
The flight was a bit bumpy heading into NYC. I basically put on movies I had already seen and just shut my eyes for a good portion of the flight. The flight was about 5 hours and we actually landed early, but then there wasn't a gate ready for us so they said 10 minutes. 10 minutes went by…the plane moved an inch…and they said 10 minutes again. We landed at 7pm…we couldn't get off the plane until 8pm!! It took an hour, not 10 minutes. It was very frustrating waiting. I was glad we didn't have a connection to make. We had rented a car one way to drive home which would be another 3.5 hours or so.
Once off the plane, I saw Jamba Juice and basically ran for it. Your throat gets so dry on a plane and I was dehydrated. Knowing it was already late and not wanting an actual dinner, I got a smoothie and enjoyed it. By the time we got our bags and our rental car, it was after 9pm. It was a long drive. Well Brian was driving and I was attempting to sleep, but I don't really sleep well in cars. Brian stopped at a Taco Bell to get some food too. We finally got home at 1am Saturday morning and crashed into bed. I was glad we had the weekend to recover and get unpacked instead of heading right into work.
And that wraps up our trip. Now it's back to regular activities with work and school. I needed that beach time, even if my sunburn was recovering for a bit. I ended up peeling a week later…a little delayed. It wasn't even THAT bad, more annoying than anything. I'm glad as we came back to upstate NY, it was getting warmer. We actually came back and had a beautiful weekend even though we heard it rained like the whole time we were gone. I'm glad we missed that, but the rain is back again. I hope we get some nice summer days, but my classes are also keeping me pretty busy this summer.
Do you sunburn easily?
Have you been to Aruba or other Carribean islands? I would love to go to the virgin islands next, US or British.




Sharing is Caring: