Sharing is Caring:



It's a popular topic today on how we can reduce our waste. Recently when traveling in Aruba, I learned they did not have recycling there. They simply burn their garbage and everything because of the small island. It made me feel grateful to live somewhere where I have access to recycling because I really do try to recycle as much as possible. I grew up learning this, thanks to my parents and ecology camp, so sometimes I find myself even yelling at Brian for not putting something in recycling. However, even with recycling, not everything breaks down quickly, so reducing where ever you can is important.
In the last few years, with having my own place, I have really seen how I can reduce waste in some areas. In addition, having backpacked a couple years ago and needing to carry our things, it gave me an entirely new perspective on what we really need to live.
Something I am really proud of is the reduction in paper towels. I haven't fully stopped buying them, but it's easy to measure because exactly a year ago we were moving into our first house and I bought 12 rolls of paper towels. So last week, we opened roll number 6!! Number 6!! This means we still have 6 left!! So while I thought I used about a roll a month (which I did previously with a cheaper brand), I bought 12 rolls of Bounty paper towels last May and have only gone through half my stash. This is seriously mind blowing to me because I know people who subscribe on Amazon to get paper towels delivered every 3 months or so. Now with kids or pets, you probably go through more, but as a couple, to only have gone through 6 rolls in a year, I think we are doing well.
Now onto some other ways I'm reducing waste. Some are fairly recent and others I have done for a year or more.
Silicone mats for baking sheets instead of parchment paper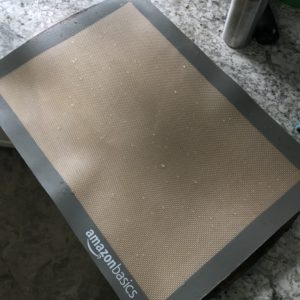 I just got these Amazon basic silicone mats from my wedding registry and I love them. Not too bad to clean up as you can put on the top rack of the dishwasher. Sometimes I do find I need to give them a light scrub or rinse, but it's way better than all the parchment paper I was using to roast veggies. Brian even loves them too. We do feel we need to get a couple different sizes as we have some smaller baking sheets that it is a little big for and we have some larger ones, but so far, definitely loving it and knowing I don't need to buy parchment paper as often is pretty sweet.
For the ladies, a menstrual cup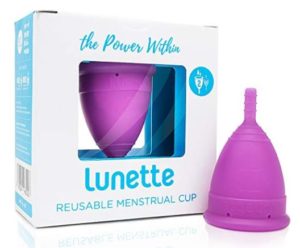 I know this might be a little TMI, but I bought a menstrual cup about 2 years ago. There is a bit of a learning curve and I still use light pads because sometimes I leak, but overall it's great and I haven't had to buy tampons in over 2 years. I actually still have a couple boxes as I do still keep them in my purse in case I don't have my cup with me. Also it's WAY more comfortable than a tampon and you can leave it in for up to 12 hours (great for traveling) without worrying about the toxic shock syndrome. It seriously was life changing for me to switch and I highly recommend.
Bars of soap instead of liquid soap in a plastic bottle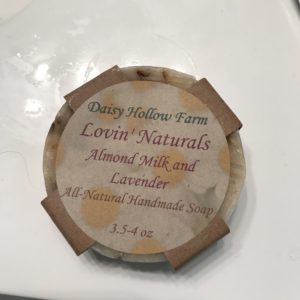 While backpacking, I learned it was way easier to have bars of soap rather than liquid for traveling. I continued buying bars of soap at little street fairs that were homemade and then stocked up at my first New York state fair and have continued since. I used to go through sooo much liquid body wash and I find the bars of soap not only smell better, are usually handmade from the sources I buy from, but also last longer than my liquid soap did. So I'm saving on plastic and getting more for my money so I call that a win. Plus, I just love the essential oils in the soaps and learning about the different benefits of the charcoal soap and almond milk soap, etc.
Bringing my lunch in a reusable bag and a Tupperware container for my salad and my own fork (NOT PLASTIC)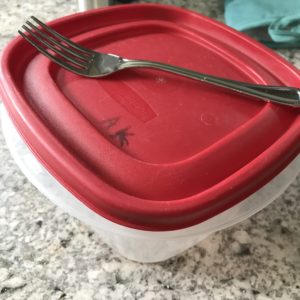 I've been packing my own lunch since I was about 10 years old. Yep…I didn't like what my mom would pack. I didn't eat sandwiches, so my parents were like, ok pack your own. However, I used to pack my lunch in a brown bag, which was better than plastic and I would save the bag and use it for 5 days, so only 1 a week, but still more wasteful. Once I started working after college and needed to pack a lunch, I first used a plastic bag until I got the perfect reusable bag size from a Lululemon purchase. Now I use a reusable bag that I got free at some event. I also pack my salad in a Tupperware (not as good as glass, but at least it's reusable for a long time) and bring my own fork from my silverware. I know some people don't want to lose their forks, but after I am finished with my salad, my dirty fork fits right inside my salad container so it works. Less plastic waste and also sometimes plastic forks break on you when trying to eat a salad.
Reusable ziplock bags – Stasher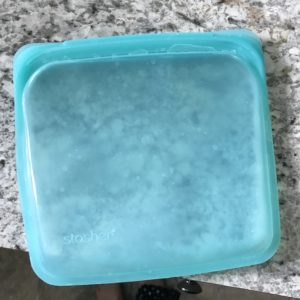 Another item I put on my wedding registry were Stasher bags. I learned about them from Healthnut Nutrition (you should watch her channel) and I love them. They are great because you can put them in the dishwasher to wash. You can freeze them and even put them in the oven on a baking sheet I believe. Before my wedding, the website was having a 25% off sale and I purchased some pocket sized ones for my girl friends and put their bracelets in there. That way they had a nice and cute reusable bag.
Bringing my own reusable bags to the store
I can't tell you how many times we would clean out the front closet of plastic bags growing up. The number of bags was crazy because with 4 members in the household, once we all reached driving age, we would all go to the grocery store at different times and come home with so many plastic bags. Now we did reuse the plastic bags for cat litter, but we definitely had more than we needed. My mom tried her best to bring reusable bags to the store and especially to Target once they started offering 5 cents back per bag, which is great because at this point, my $1 bags have been reimbursed. So I keep my bags in my car so that I have them when I shop. After unloading groceries, I keep the empty bags by the door so that next time I go out to my car, I put them back in the trunk to never forget them.
Washing my hair about 2 times a week
Another thing I started to do when we backpacked was washing my hair less. At some campsites, we had to put quarters or other Australian dollar coins into the showers to use for x minutes. This meant I learned how to take faster showers and decided to wash my hair less. Honestly it hasn't been bad. My natural oils came back, as my hair previously was over-washed and dried out. So I have continued to do this and I'd say I use like maybe 2 bottles of shampoo a year. I recently bought a new conditioner in January and am just finishing the bottle. That's even with sharing a little bit with Brian (thankfully he doesn't need as much with less hair). Again, I don't mind saving on toiletries.
Is there anything you have recently changed or thought about to reduce your waste?




Sharing is Caring: