Sharing is Caring:



Follow my blog with Bloglovin
I wanted to go over what I packed for backpacking. I know some people are really good at packing just a carry on bag for their trips, but I am not one of them. Actually I blame the whole liquids rule and the fact that I always seem to go somewhere warm and bring bottles of sunscreen. So how did I pack for over 3 months of travel you ask?
Firstly, per my friend's recommendation (who was on a backpacking trip as I planned mine), I purchased the Osprey Ariel 65 Women's backpack. This backpack can fit a lot of stuff and really I could have packed a little less which I will go through as well. At least I had Brian's help when I was packing and trying to figure out what to bring and not bring so he really helped me cut down. I think the hardest part is trying to have enough layers for 4 seasons but also be ready for warm weather which thankfully was most of our trip.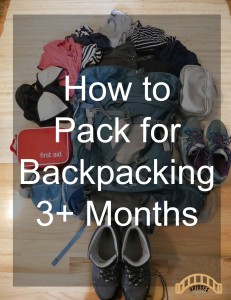 I have split categories into what I needed, what I over packed and what I wish I had.
What I needed
–raincoat -not only is this great for rain but also windy days when you need another layer. My rain jacket is also pretty compact and easily folds up, great for travel.
–hiking boots – I got this pair from REI before my trip and they are my first hiking boots I have ever owned. I knew we would be doing lots of trail walking and I also got water proof ones which were great for rainy days as they kept my feet warm and dry. Since I packed so much, they didn't fit in my bag so I also wore them on travel days, but that worked because carrying my backpack was 30 lbs on my back and the boots gave my feet extra support.
–fleece leggings – the best thing you can have for the colder climates. It was summer in New Zealand but the weather didn't agree with the season and these came in very handy on cold nights in our camper van.
–1 pair of jeans or pants – I only brought one pair because jeans take up a lot of room and we were mostly in warmer climates. I would say if you plan to travel to a cooler climate, it would be good to have a second back up pair.
–2 pairs of shorts – as I mentioned, I was in a summer climate so shorts were necessary and worn the most.
– quick dry towel – this is something we bought once we got to Australia as we realized it would be good to have a beach towel. It also came in handy when we stayed in hostels and didn't have towels provided. Again our towels fold up into a little pouch and quick dry is a must for travel too.
– a pair of sneakers – self explanatory, but lots of walking
– a pair of flip flops – for beaches or just to shower in
– 5 t-shirts – this was how many t-shirts I packed and I felt it was a good amount
– 2 swimsuits (a bikini and one piece for me) – yes I only brought 1 bikini, Brian limited me, but I did purchase 2 bikini tops on the road and I brought a one piece for when I went to swim laps at pools.
– workout leggings/capris – personally I like to find yoga classes while on the road so I packed a pair of leggings and capris. I don't generally wear leggings out and about but it you do, they are a must. Also a must if you are washing your only pair of jeans and need pants to wear.
– 3 tank tops – tank tops came in handy for the warm weather but also used them for my workout classes I attended
– underwear and socks – I explain below on how this is the item I over packed and how many I used
–1 long sleeve shirt – for layering this is helpful and also I slept in my long sleeve shirt on cold nights
– sweatshirt or light jacket – I had one zip up light workout jacket and a light fleece sweatshirt which worked for cooler days
– casual dress – works great for a swimsuit cover up and warm days for an outfit (obviously if you aren't going somewhere warm, I wouldn't recommend)
–toiletry bag – I never owned a toiletry bag until my trip and actually I just borrowed one from my sister. I packed my face wash, toothbrush and a travel size toothpaste (though you will have to buy more obviously as you go), travel hairbrush, etc. I bought a bottle of shampoo once I got there and didn't even worry about conditioner most of the time. I find if you just buy the travel size shampoo it is way more expensive (another reason I check my bag), but if you are aiming for carry on, maybe get a travel size dry shampoo and some shampoo. I would only wash my hair about 3 times a week.
–first aid kit – going to break this down in a separate post of what I packed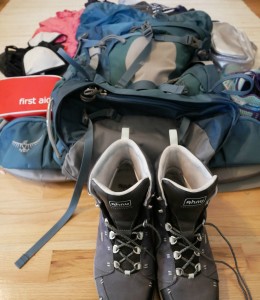 What I over packed
– underwear -I had enough for a month but would probably cut that in half. The most we went between laundry loads was about 10 days so as long as I had 14 pairs or so I probably would have been good
–socks -being honest I rewear socks a few times. Also I was often in flip flops so having 2 pairs of hiking/long socks and 3 pairs of small ones would have been enough. I packed way more than that
– skirt – I brought a casual dress and skirt. I liked the dress for the beach and wore it a few times. Only wore the skirt once
What I wish I had
–quick dry shirts -cotton shirts really got sweaty on hot days so would have been nice to have some more quick dry shirts especially for laundry day too. Most places around Australia only have washers so we hung our clothes to dry.
– powder laundry soap so that we wouldn't have to buy soap every time we did laundry. We always went with a $3-5 bottle but still could have saved by bringing a small container of our own
Next time I am going to aim to pack lighter, especially as I may buy clothes on the way or something. By having my bag pretty full, I wasn't tempted to buy many clothes on the way. I only bought one shirt in Dublin at the end. I will also mention, half my shirts were $5-10 shirts from various stores and at the end of the 3+ months, they were quite worn and I got rid of some. Don't bring clothes that are delicate while backpacking or that you really love as they may not last. I do believe in quality of clothing and I do think camping stores can provide that so that shirts will last beyond the 3 months. I know my hiking boots will last a long time and they were not cheap. Do your research and invest in items that you want to last.
I've only done one long trip so far, but I hope to do more in the future exploring my own country and other countries (especially since we didn't get to Asia this time).
I would love to hear if you are traveling anywhere and if you have any questions, leave a comment or email me.
What are your packing necessities?
Have you gone backpacking?




Sharing is Caring: