Sharing is Caring:



We are over a week into August, so I thought I would share another Currently post. You can check out July's here.
Current Book: Finding Me (Salty Key Inn Series Book 1). This was a random find on Amazon when I was searching for my next book and recommended. Really liking it so far and it was only $2.99 for the kindle edition. I like knowing that my next book will be book 2.
Current guilty pleasure: I'd say Netflix because there was a while I was reading a lot and now I just need some Netflix time to balance it out.
Current drink: water…
Current food: chicken sausage…a new thing to add to my salads for the week for work.
Current Obsession: learning about the difference between tension and compression in yin yoga training and now it makes me think so much more about my body in yoga classes.
Current craving: all the greens…seriously have had too much sugar recently.
Current Need: a massage…thankfully I have one scheduled for Saturday and joining the monthly membership. I have noticed it really helps me recover with weightlifting. In September since I am a little less busy, I might even splurge on two massages. Need it.
Current Excitement: bullet journaling, taking time to practice different handwriting styles and layouts to see what will work for me. I know it will take a few months.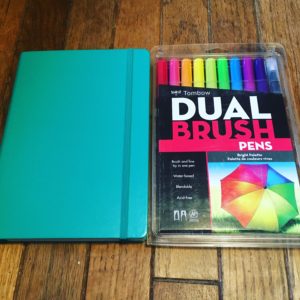 Current Confession: I'm writing this instead of doing my yin yoga homework reading.
Current Mood: Feeling a little sluggish after too much sugar
Current Wish: That my hip and back feel better after some rest. Also wishing I had more pictures for this post.
Hopefully you had fun reading.
Tell me your current book, drink, craving..




Sharing is Caring: