Sharing is Caring:



Hey there, since we just started a new month, I thought I would try out a Currently post again.
Current Book: A Million Little Things, been reading this book basically since May, but now that I am over the half way mark and really into it, I should finish it soon. Next up, Yin yoga books.
Current Podcast: The Girl Next Door. If you are looking for a light and funny conversation to listen to, this podcast is so good. I love Erica and Kelsey. I found out about the podcast from The Chatty Sisters Podcast which is also a good one. The Girl Next Door podcast started in 2014 so after I listened to all the 2017 episodes I went back to the beginning and working my way through all their episodes. They seem to do 2 a month so I have quite a few to catch up on.
Current guilty pleasure: almond milk ice cream, definitely had ice cream for dinner one time last week. Though I did have a protein smoothie a couple hours before as a snack/pre dinner so maybe that helps. The orange flavor is so good!!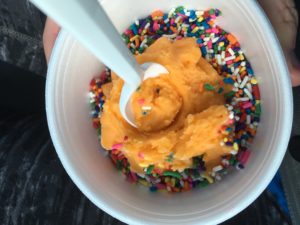 Current drink: iced tea, loving it especially on hot days
Current Food: roasted sweet potatoes, these seriously are the best addition to my dinners. I make a big batch on Sunday and eat them throughout the week.
Current Obsession: weight lifting, so excited for my new power lifting program that I put together based on one I found online. I then did a deadlift session with a trainer to see how my form was and even though I haven't done deadlifts in YEARS, she said my form was good and I felt like 95lbs was no big deal on the bar. I went from a 70lbs kettlebell to 95lbs with bar.
Current Craving: all the peanut butter, definitely on a PB kick these last two weeks
Current Need: new pillow, need one for side sleeper and mine is losing the amount of fluff it once had
Current Excitement: Blogfest! I can't wait for my first blogging/fitness convention. It's also in Las Vegas and I have never been. Brian and I talk about going there someday together to go to shows and such, but looks like I will get to go first, not that I am a partier though. Excited to meet some bloggers in person. PS I made business cards to bring with my social media details and LOVE how they turned out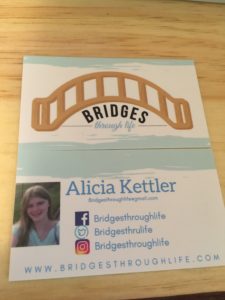 Current Confession: I pretty much eat the same thing for dinner each night. I prep meat and veggies on Sunday and then eat the same thing. I should have more variety but sometimes that is hard with portion sizes and 1 person. I do try to cook different meats each week and I switched from Brussel sprouts to broccoli one week which was good.
Current Mood: happy with how life is going
Current Wish: To save up money. I had some splurges this month between BlogFest and signing up for a Yin Yoga training. Next month I should do better. I am at least glad to have money coming in as that helps to offset things a bit after all the travel and no paychecks earlier this year.
Tell me your current podcast, craving, wish…




Sharing is Caring: