Sharing is Caring:



This weekend was another busy one with yin yoga training weekend 2 of 4. We did a lot of practice teaching of poses and also learned about meridians. After starting my yin hw assignment, I learned that the Indian culture refers to meridians as Nadis which I am somewhat familiar with from my first teacher training. It is interesting how many different types of yoga there are and how when you study yoga there are different names for similar ideas whether you are studying the Chinese method or Indian method.
Not only does studying yin bring in different thinking and awareness for me but also just studying in a different yoga studio. If you are familiar with yoga, you know that each studio has their own ways of teaching. Obviously when you do a training at a different location, you get a different perspective and I think that is great as it brings more variety and awareness to your thoughts.
Three years ago I definitely was not as in tune with my body as I am now and there is still more to learn always.
Those are my thoughts from the weekend. There was definitely a lot of information but it was balanced with a lot of teaching and teaching yin is out of my comfort zone because while we do similar poses to a yang (vinyasa) practice, yin yields a different outcome and you want your student to feel that outcome. While I had practiced yin before this training, I now understand so much more about what yin is and what I should be feeling in practice.
On another note, I did some squats on Saturday morning after nearly a week of rest due to my traveling. I honestly felt super strong. Then I increased the weight and it was more challenging and I got sweaty but it was good. The hardest part of the workout wasn't the squats though. The hardest part was doing lunges and goblet squats after the squats. Talk about a leg day! I pushed through though because when you push through, that is when the changes happen.
I came across this on twitter Saturday night and loved it.
"Your mind will quit 100 times before your body ever does…"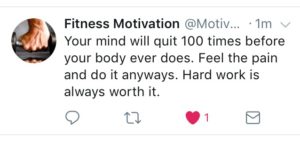 So true and this is also why I love yoga and yoga training because it gets me to focus on my mind and my thoughts. Part of our yin hw these next few weeks is to journal after each yoga practice. I haven't been great at journaling consistently in a while but lately I have all this motivation to write after Blogfest so I look forward to this part of the hw.
Saturday night I was so excited to lay in bed early at 9pm so I could really catch up on sleep. I have felt behind all week after returning from traveling.
Sunday morning I was awake around 6:30 since I went to bed so early. I was happy to feel well rested at 6:30am though. I got up and made some protein pancakes for breakfast and had a bit of down time before leaving around 8 to head to yoga. This was a gentle/chair yoga class and it felt nice to just slowly move my sore body in the morning. I had realized I forgot to foam roll after my squats on Saturday and so my glutes were quite sore when I woke up. Foam rolling seriously makes a difference in recovery.
After yoga and a bit of work at the studio, I headed to Target. I needed to get some highlighters and post its for some marking up in my yoga books. It was perfect since it's back to school season. I always loved getting a school supply list and going shopping for new pencils and notebooks. Every Sunday my family would get the newspaper with the ads and we would see what supplies were on sale each week.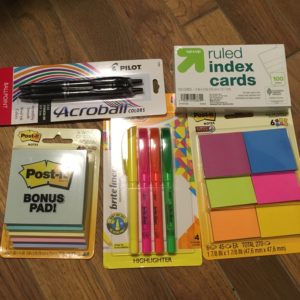 I also got some more La Croix because I had a coupon for a free pack thanks to Blogfest. Passionfruit is my current favorite.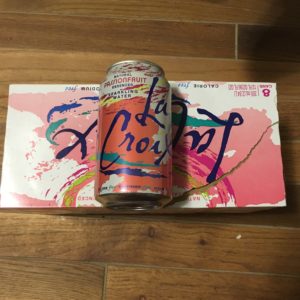 When I got home I had some lunch and then got to writing, journaling and reading for yin. It was absolutely beautiful outside. I wish I had had an outdoor activity but when I sit outside at the house there are way too many giant flying bugs or bees. I've decided I will just be pale this summer…
Also here is a look at my workouts from the last week. Slowly getting back to my regular schedule, but there were a few more rest days due to the traveling and just knowing that I needed sleep as a priority this past week.
Sun 7/23: rest (headed home from Blogfest)
Mon 7/24: rest (was so tired and needed to catch up on sleep)
Tues 7/25: aerial yoga
Wed 7/26: deadlift day
Thurs 7/27: arm accessory day
Fri 7/28: rest – practice teaching in yin but didn't do a full practice
Sat 7/29: squats and practice teaching in yin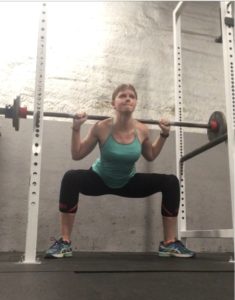 What's your favorite La Croix?
Do you like to journal?




Sharing is Caring: