Popping in late on this Monday. I had quite the packed weekend, which was really fun and left no time for writing like I normally do on weekends. My weekend started on Friday evening with yin yoga training. We were originally going to have 3 hours on Friday and 3 hours on Saturday, but we took a vote and had 2 hours Friday and 4 hours on Saturday as that worked better for the teachers.
Friday evening passed by quickly as we went over some more poses and started to talk about the superficial back line and myofascial release in the body. It was a lot of information, but also really interesting. My teacher got a lot of the information from the book Anatomy Trains by Thomas Myers. I am very tempted to buy it to further my anatomy learning.
Once yoga training ended at the early hour of 7pm, I headed to Wegmans to stock up on groceries for the week. I should be getting back into a more normal routine this week after the funerals and visitors the last couple weeks. I am excited to get back into meal prepping as well.
When I got home, I had some snacks and Brian made us mojitos again since we had all the ingredients and it was just nice to relax with a mojito in the evening. I watched a bit of the movie Grown Ups 2 before my eyes started to close and I headed to bed shortly after 10 (late for me).
Saturday morning we tried to sleep in a bit, but of course the dogs were in and out of the bedroom and so by 7am, I was out of bed and making some protein pancakes for breakfast. I wanted something filling for the morning.
Around 9am we headed out to the church for calling hours and the service for Brian's grandmother's funeral. The service ended around noon, just as my yoga training began, but I mentioned I would be late. I skipped the lunch and quickly ate some vegetarian sushi (because I'm not an actual sushi fan, but avocado sushi is delicious) in my car and headed around the corner to the yoga studio. I was there around 12:15, so they had barely started.
For our last day, we got tennis balls and worked on a few myofascial releases with partners. I was already familiar with some of the positions as I have been using Yoga Tune Up balls for about 4 years now. I even had a set of my balls (yes we talked about all the ball jokes in training too…) with me that I passed around to show the different grip texture. Mine are more similar to a lacrosse ball and yes they cost more, but I was introduced to them in a yoga class in the Chicago suburbs and fell in love. We would start class with them for about 10 minutes rolling out our feet and shoulders and it's the hurt so good feeling.
After about an hour of myofascial release and some lecture info, we took a quick break and were told that we were going to do an hour yin class. Then we came back in the room after break and were told WE were going to teach it. No notes, no plan, no specific order of people. This, to me, was our surprise test I worried about and I definitely didn't relax as much in the yin class, but the class did go pretty smoothly considering. We had exactly 10 people in training which allowed us 6 minutes each for teaching and that teaching goes fast when you are holding a pose for 3 minutes.
After a wonderfully "on the fly" class put on by us, we filled out surveys, took a group picture (that I wish I had a copy of) and ended with some of our thoughts in a circle with each other.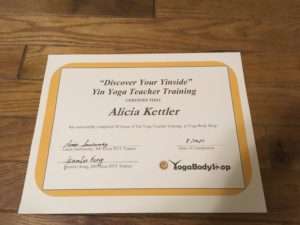 I am so happy to have completed another training and I really learned a lot about what yin yoga is through this training that I feel I am getting more of the benefits when I attend a class.
When I arrived home from training, I discovered the boys asleep in their beds. Since it was nearly dinner time and I had a small lunch, I decided to get right to cooking, but cutting up veggies and making Erin's zoodle pad thai. Though I made a sesame soy sauce since I couldn't find the fish sauce that I am sure is somewhere in the kitchen. I had a couple GIANT zucchinis and I used about 1 whole one and it made a ton. Topped with sprouts and cilantro to eat and it was amazing!! I am loving having all the veggies again.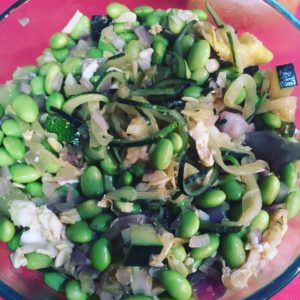 I also roasted some sweet potatoes. I am excited that we are heading into squash and potato season. I used to hate both of those items, but I learned in the last few years that it was because of the way they were served to me. I am looking forward to spaghetti squash and more roasted potatoes.
An hour and a bit of cooking and finally Brian got out of bed. He enjoyed a taste of my zoodles but then I packed up the rest for leftovers for dinner for the week.
Shortly after I finished eating, Brian's mom came home with some of her girlfriends. I enjoyed chatting with them and eating some desserts they brought home with them that were leftovers from the lunch I missed.
To make the evening more eventful, Brian ended up having to fix an oil filter on a car and then the girls were off on the road. It was another late night. I think we eventually headed to bed at 11 after watching some tv.
Sunday came and I headed to the yoga studio for a class and work. My last day of working there for now as the drive is getting to be too much and I just can't make it out there with all my activities. When I returned home at 11, I changed and then Brian and I headed to Syracuse for the New York State Fair. I am going to cover that in a separate post as I have many photos to share. Here is a sneak peak though.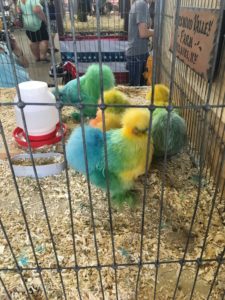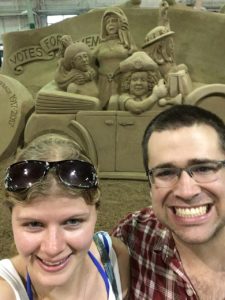 It was a fun outing as we haven't gotten out in a while and then we followed up with dinner at a friend's house in Syracuse. We got home at about 9:40pm and then it was time to make my lunch for work and get to bed.
All the late nights over the weekend made it hard to get up Monday morning, but I made it through the day. All in all, the weekend was really good and scheduling worked out well. I am excited that for labor day I don't really have plans and therefore will have a bit more relaxation time.