Sharing is Caring:



Happy Cinco de Mayo!! I will probably be back late tonight as I am visiting my sister in Iowa (cross that state off my list to visit). I am hoping to make some tacos or fajitas at home Saturday if not tonight. I think fajitas are one of the few things all my family members like, instead of everyone eating their own thing for dinner which is the usual.
Anyway I am back with Friday Favorites for the second week.
Green smoothie at home – I really missed my blender while I was traveling and my green smoothies. I added avocado, banana, spinach, almond milk and protein powder to this one and topped with mini chocolate chips. It was so good and I hope to be making them at least once a week again soon.
New socks – So I don't know what it is with socks, but I always feel like I buy a bunch and then only end up with 5 pairs I wear. I really don't know what happens to all the other pairs. Anyway my socks from my trip were pretty gross and I really like the Under Armor brand and then I also saw these super soft (the package does not lie!) Puma socks for 25% off as well, so I picked up those too. 12 new pairs of socks. Hopefully I am set for a while. I really don't need that many.
Coupons for free stuff – I love Bath and Body Works and Victoria Secret when I get the free coupons. I swear half my underwear was free from Victoria Secret. Though apparently Victoria Secret realized they can't just do free without a purchase anymore so you have to make a purchase, so I bought a pair of underwear and got one free. The cool part was the coupon actually worked for the more expensive pair which was sweet. Bath and Body works also sent a free coupon for a full size shower gel. My sister literally used to have a whole shelf of the travel size bottles she had gotten for free. I was surprised when this coupon was for a full size.
Getting rid of more stuff – I came home from traveling and realized how much I lived without. I mean I have slowly been getting rid of things since college because I lived without a lot of my stuff in the dorm room obviously, but somehow it wasn't until I lived out of a backpack for 4 months that I really realized how little I needed. Finally I was able to become detached from shirts and pairs of underwear that really needed to be tossed. I have also been able to get rid of little trinket items that serve no purpose. I realize some people may like them, but I just don't have the space for them and pretty tired of moving things from place to place. Moving 3 times in 3 years and to two different states will do that. I actually now will have lived in 3 different states in the last 4 years which is pretty crazy.
First Cubs Game – I've been a terrible Chicagoan the last 27 years of my life and have never been to a Cubs Game. But actually the only sports games I have been to have been through my jobs with a suite, so it's actually not too surprising. Anyway I finally went on Tuesday night. It was cold, like 40 degrees outside (ummm this is not May weather…), but the Cubs won and that was the best part!! It was also the latest I have managed to stay up in weeks haha!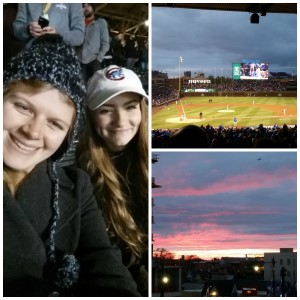 That's all I have for today. Tomorrow I am working on packing up my car and then getting an early start on Sunday morning to start my drive to Binghamton, NY. I have an aunt in Ohio so stopping there for the night. Soon I will be moved, now I just need a job…
What are you doing this weekend?




Sharing is Caring: