Sharing is Caring:



Hello and Happy Thursday!! I'm amazed this is my third blog post for the week as I have had some time to relax. I think whenever you travel whether for a short vacation or a long period of time, it is important to have time to relax. Plus the weather right now in South France is amazing!! Sunny and warm.
Here are a few thoughts from this week. Thanks Amanda for Thinking Out Loud.
I go back to the states in 9 days…it's so unreal
This cat gives me a heart attack when I open the window…please don't jump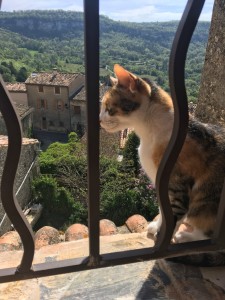 But this view from my bedroom is amazing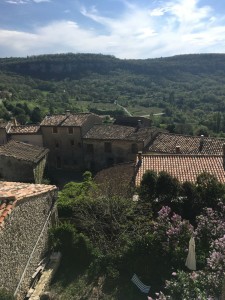 The roads in South France scare me and I'm not even the one driving. They remind me of some of the New Zealand roads…skinny and feel like you will drive off the cliff
I haven't taken that many photos since in South France as I have had quite a bit of down time and I am loving it or rather I am loving having clothes that smell clean and getting the opportunity to write and read more.
I also forgot to take a photo of my piece of chocolate cake on my birthday and then my chocolate éclair that we saved for the day after since we ate so much. We also had a steak dinner and it was amazing!!
I have already started my Target list for when I return… my sports watch is a bit broken so I have been gluing it once a week and I need vitamins (I get Target brand) and other things
My workouts haven't been very consistent but I wrote up about the yoga studios and swimming pools I visited in Australia and New Zealand. I did this youtube core workout the other day and barely survived and was sore the next day. I have a lot of work to do when I get home, but the bit of sacrifice was worth it to travel.
What's your favorite thing to buy at Target?
What treat do you like to have for your birthday?




Sharing is Caring: