Sharing is Caring:



Thirteen years and a few months ago was the last time I was in Paris. This means I am literally double the age I last was when I was in Paris (well I just turned 27 yesterday, but was still 26 when I was in Paris). I told this to Brian and he was like "so we have to go to Paris when you're 52 years old." LOL. I'd like to think I'll make it back before then, maybe every 13 years or even sooner, but I definitely think it will have to be someplace to go when I am 52, if I can remember then haha.
Last time I was in Paris, I was using a film camera. I feel like film seems like ancient history now. How did we even limit ourselves to 25 pictures or whatever it was per roll?! Anyway I remember having a good time with friends as my last Paris trip was through my school over Christmas break. I know we saw a lot of museums and the Eiffel tower, but it is still hard to recall everything, so I felt like I was seeing Paris through fresh eyes this time.
I can't say I have many food recommendations, because I am not a great French. I eat little bread (my choice because it is poor for my digestion); I'm lactose intolerant, not a big fan of cheese *gasp* and I am not a wine person either.
I do want to give you one food recommendation though.
It happened to be around the corner from where I was staying and the savory breakfast of pancakes, eggs and bacon was amazing!! I would say get there when they open at 9am on weekdays though so you can get a seat. There was a line at the door when I left of people waiting.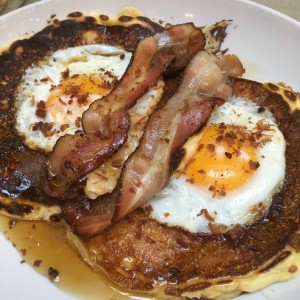 Now onto things to do in Paris.
Tip when planning: some museums are closed one day during the week so plan accordingly.
Louvre Museum (15 euros)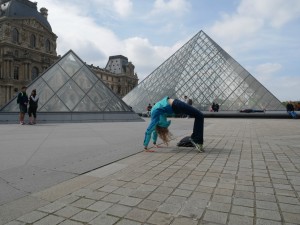 Besides the Eiffel Tower, the first thing that says Paris to me is the Louvre Museum. I went here on my first day and got in line before they opened. I highly recommend getting there around 8:30-8:45 if possible even though they open at 9. It wasn't until 9:30 when I got inside to get a ticket. You could also buy a ticket in advance and take the fast line.
The Louvre displays so much art from Greek to Roman to Africa to French. Even with a map of the museum I definitely got lost as there are so many steps and half levels. They also house the original Mona Lisa. If you are really into art I am sure you will just spend the day here. My limit is about 3 hours, though your ticket is good for the whole day and two days a week they are open till 9pm so maybe you will decide to come back.
Notre Dame (FREE except for tower climb)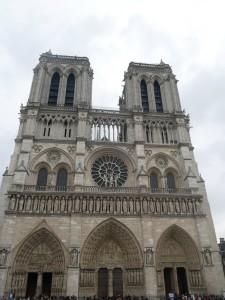 The most visited place in Paris. Why? Because it is FREE. Sitting in the historical part of Paris, take a walk through this amazing cathedral, learn about the construction and the Gothic Architecture.
Eiffel Tower & Seine River Cruise (42 euros online)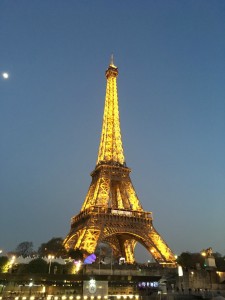 I found a combo ticket for the Eiffel Tower and Seine River cruise online. The ticket gave me a quick entry as a group into the Eiffel tower at a specific time. Our tour guide also gave us a bit of history on the Eiffel Tower before we were free to roam around for however long we wanted. My ticket was good for the 2nd floor viewing. To get to the top of the Eiffel Tower would have been another 6 euro which I would have done except there was quite a long line in the afternoon as the elevator to the top only holds 8 people and they limit the number of people up there. From the Eiffel tower you can see Notre Dame and more. It is a really great 360 view of Paris.
The cruise I was able to take whenever I wanted. I opted to take an 8pm cruise so that it would be at sunset and I could see the Eiffel Tower all lit up. The hour cruise in the evening was so enjoyable and went by quickly. I loved taking this at the end of my days in Paris as I felt it was a good way to wrap up my time. Though it would also be great in the beginning to get ideas of where to walk around.
Musee D'Orsay (12 euros)
I didn't originally plan to go here, but I am glad I went. I love Monet and Van Gogh works of art and this museum was less overwhelming than the Louvre as it is smaller and more focused on French artists. Again after 2.5 hours I was pretty much set, but I covered most of the museum unlike the Louvre where you could spend days.
Basilica of the Sacred Heart of Paris (FREE)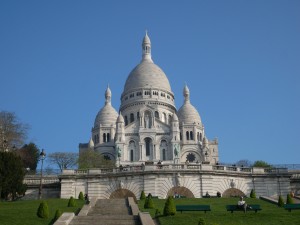 So I overheard from a person on my Eiffel Tower tour how amazing this place was and decided to go on my last morning. The morning was a bit hazy so you couldn't see that far from the top of the hill, but it was still absolutely beautiful. You aren't allowed to take photos inside, but the paintings are so beautiful so it is a must see.
Versailles Palace (20 euros)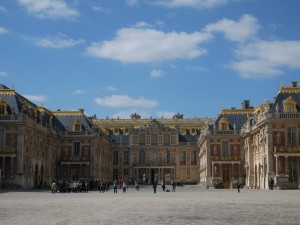 I spent a whole day in Versailles! I took an 8am train to get there around 9am when the palace opened and then spent the morning on the tour inside the palace and the afternoon walking around the vast amount of gardens. I definitely recommend getting there around when they open as it gets crowded fast. I also purchased my ticket online so I could avoid the ticket line and head right in. I loved that the ticket included the audio guide instead of it being extra. I also got to see the famous Hall of Mirrors which was cool.
Then you get to the gardens and park and there is soooo much area! You can rent a bike to ride around or rent a paddleboat to enjoy the lake a bit or just bring your own food and sit by the water to eat. The sun came out in the afternoon and I soaked it up by the water for a bit. I then walked around the ENTIRE lake which had to be like 1.5 miles down and then back at least. I took my time, sitting and enjoying the view. The gardens is a great place to bring the family too as kids can run around and have fun.
There you have what I covered in my 4 days in Paris. I enjoyed walking around the city and exploring as well as the few tours I chose. Hopefully this gives you some ideas of what to do when you head to Paris.
Also I must say it was weird being in a place where everyone speaks a different language, but since I did study French in school, I found I could understand a lot of the signs, but speaking French, I'm a bit rusty. Most tour places there is someone who speaks English and my tour guide for the Eiffel Tower spoke English, French and Spanish.
Where in Paris would you want to go?




Sharing is Caring: