I can't believe it's now June so it has been 2 months since I was in France. It has taken me so long to try to sum up my time in Southern France. Part of this is because half the time I was just living life. I was enjoying sleeping in (ok I was up by 7am each day), catching up on laundry, watching Netflix and getting back into yoga (my favorite!!). After all the traveling for 3 months, it was kind of nice to relax and just be doing normal everyday things and not worry about running around everywhere.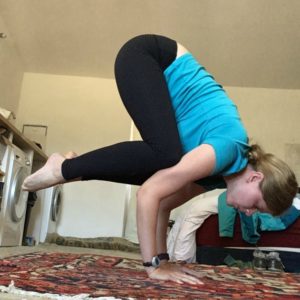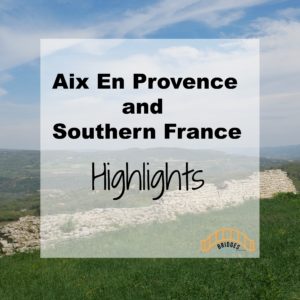 I had the most amazing family friends hosting me and showing me around what I imagine is just classic French style towns. Their house is in Saignon, a town that is tens of thousands (maybe 100 thousand) of years old and it was just so amazing to see the cobblestone lanes and beautiful architecture that remains. A few weeks before I was in France, I had seen the new Beauty and the Beast movie. When I was in Southern France, I felt a bit like Belle, walking around the small town with cobblestone paths and cute little shops and a fountain. The house I stayed in was made of stone and it felt like a mini castle to me. It wasn't huge, per se, but the stone walls just reminded me of a castle feeling. They also kept the house nice and cool, which is great for summer.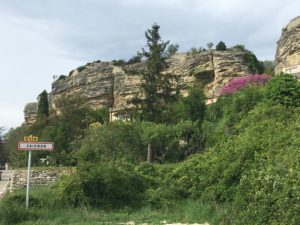 I didn't realize how popular it was for people to vacation in southern France or the Aix En Provence, but I now can see why. It is so beautiful, especially spring time. Flowers were in bloom and the weather was gorgeous the week I was there.
While I am definitely no expect on the Aix En Provence area of France, I wanted to share some of the highlights of my trip you may want to check out when you book your next vacation there. I've split these highlights into two categories, quick trips within 30-45 minutes of Saignon and then day trips that require about 4 hours roundtrip driving.
Near Saignon
Lacoste – a town just 20 minutes from Saignon and worth checking out. The views from the top of the mountain are beautiful. I went here a couple of times as there is a university campus as part of SCAD where my friend teaches.
Fountain de Vaucluse – I found this fountain very fascinating. It's the biggest spring in France. The fascinating thing about it is that research is still being done to figure out where the water comes from. Divers have gone down to explore and some have died with the depth that it goes. With more advances in technology, they have been able to send technology devices down through the tunnels. Still, a lot remains a mystery. The fountain is also in a little village with an old paper mill and tons of stands directed to tourists. I also had a pretty delicious Nutella crepe here.

Fountain de Vaucluse

nutella crepe

Markets – you can't miss the markets as they are so fun and a great cultural experience. I went to the two listed below. The Goult one is small, but still fun to check out. I brought some soap home from the market and love the lemon scent. The Apt market on Saturdays, you could get lost in for hours as there are so many vendors and fresh fruits and veggies and cheese.
Day trips
Marseilles and the Marseilles Mucem – Marseilles is just a two hour or so drive from Saignon. There are many cruise ships that come into and leave from Marseilles. I am still in awe of how big cruise ships are. I am not a boat person, but there are many boat tours you can take in Marseilles. We just went to the Mucem and learned more about European history. Then we walked around the city, viewing the churches and walking through some markets going on in the street.
Van Gogh Foundation – Arles, France – We actually went here and then the park below in the same day. While this museum is called the Van Gogh Foundation, they also feature work from other artists. The museum is pretty small and took about 2 hours to go through. Great for a person into art and some art history.
Camargue Natural Park – Two words: wild flamingos! I have never seen so many flamingos. I have seen flamingos in a zoo, but it's very different from seeing them in a natural habitat and hundreds of them!! This place was definitely one of the highlights for me that I will always remember. Watching the flamingos fly was like watching airplanes take off and land. Flamingos take a little running start on the water and then up and away, putting their feet back. When they come in to land, they put their feet down first and land in the water. While we were at the park, the flamingos were feed and it was madness as the flamingos were getting the food. In this area there is a lot of horseback riding. We actually tried to go to one place but arrived and found out they had already closed for the day.We then drove down to the beach area to get a view of the sunset and test the waters of the Mediterranean Sea.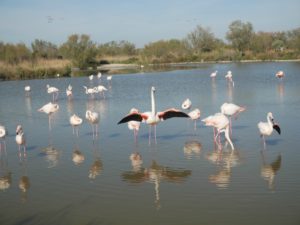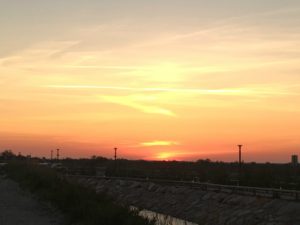 There are so many day trips you could do from Saignon. You could drive to Nice, France or even Italy. I would prefer to stay overnight at one of those locations just because it would be a lot of driving, but definitely on my list of places to see. I hear the beaches in Italy are quite nice if visiting in summer.
In my time in Southern France, I had a bit of difficulty with all the hills as I get motion sick. Besides the major roads between cities, the town roads are old and were not built for modern cars for the most part, so it's scary when it's two way and you feel like only a car and a half will fit on the road. Oh and then mountains and driving around blind corners with the edge of a cliff next to you. Just a bit scary and I wasn't even driving around there. Besides that though, I was happy I got the opportunity to experience more of the French culture. With smaller towns, there is definitely less English spoken, not like visiting Paris. I think the small town is a nice escape from a stressful busy life.
Have you ever been to a small European town?