Sharing is Caring:



We had no idea that when we arrived in Adelaide, we would come when the Adelaide Fringe Festival was starting. It turns out South Australia really is the Festival State. Though I think Perth and Melbourne also have Fringe Festivals at different times of the year. Since we happened upon the Adelaide Fringe Festival, we actually extended our stay in Adelaide for a full 3 days and made it to 5 shows at the Fringe Festival. We didn't really do much sight seeing around Adelaide, but it was fun to enjoy the arts and this unique (to us) festival. The Fringe Festival offers a variety of shows for all ages. The shows that we attended were rated for mature audiences, some for language or nudity. What I really loved about this festival was that every show was unique in its own way. From cabaret to comedy to theater and more, there are tons of different shows you can attend. We also got most of the shows for half price at the half price ticket office that was open daily from 12-3pm. I believe there is a show for everyone at this festival and with the half price tickets available for most shows, it is really affordable. Most of our half price tickets came to $15 or under a person. There was only one show that was a splurge as they didn't offer half price tickets but it was well worth it. If we return to Adelaide in the future, we will definitely be coming back around festival time to see more as the festival runs for an entire month!!
What did we see at the Fringe Festival?

Saturday Feb 18th
1:30 Claire Healy – Impure Thoughts
This was a cabaret show done by Claire Healy. In case you can't tell by the title, it refers to us thinking about things that we believe are impure, things we don't feel comfortable saying out loud. Through song and playing piano or ukulele or the accordion, Claire gets out some of her thoughts and encourages the audience to participate at the end. I absolutely loved this show! Claire has a wonderful voice and is so funny. I even bought a USB from her with her songs that we enjoyed on our outback road trip. It was a great first show to see at the fringe and encouraged us to check out more.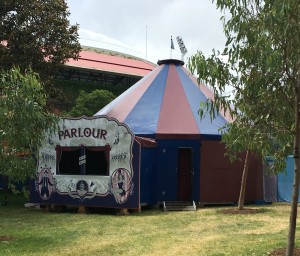 4:00 ARRR All Aboard for Piratey Variety
This was a music focused show and included pirates singing (of course) and being piratey. There were also the pirate woman who did some hula hooping and tricks. This show took place in a bar, so being a pirate theme, you could buy a drink and drink during the show and feel piratey. Honestly, I would say this was my least favorite of what we attended. I believe Brian really enjoyed it, but I felt it was too loud for me and I wasn't into the whole drinking and pirate theme. If you are into that though, by all means attend. I also noticed there were a couple small children in the audience. I probably wouldn't bring my child to this show, but that is my personal opinion.
8:30 – The Fringe Parade
Since we arrived on the opening weekend of The Adelaide Fringe Festival, we were able to attend the free Fringe Parade Saturday night. It was convenient that we stayed so close to the city as we were able to walk to the parade after making dinner and then walk home. It was really cool to see the culture and arts of the city in the parade.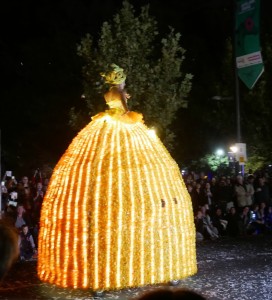 Sunday Feb 19th
Saturday night we (I mean, Brian) planned out some shows for us to attend on Sunday. We worked out the times so we fit in 3 shows.
2:00 We Live by the Sea
A theater performance combined with visual projection and music. The story is about an autistic girl and her family and meeting a boy new to town. This story moved me to tears, both happy and sad. The performance was done so well and I would highly recommend it. It also gave me a new perspective about autism and how hard it can be at times (not saying I know much about it, just a new perspective). For those who have children or work with autism, you are amazing and thank you.
6:00 Blanc de Blanc
Want to talk about an entertaining, laugh out loud show, Blanc de Blanc is where it is at! This was our splurge show at $50 a ticket. It was also a 2 hour show and well worth it. A combination of cabaret and circus. This show contains sexual references and nudity. All of the performers were amazing, from aerial acts to miming. The time flew by and we were entertained for the full two hours, laughing almost constantly.
9:00 Night Creature
Our last show was another theater show, Night Creature. "Night Creature is the retelling of an Ancient Greek myth about a pretty nymph turned monster" (source). This show was amazing as it was mostly 1 person performing for the whole show. Occasionally a second person, who played the guitar for background, would jump in with his voice, but mostly it was a one person theater show. I am amazed at how she did with telling the story and again it was moving, but not as emotional as We Live by the Sea.
I didn't want to give too much away in my descriptions of the shows in case you plan to see them, but you can probably see how each show was truly unique. I really loved that I couldn't compare any shows to one another because they were just different. I was happy we got to see a variety of shows from cabarets, theater, music and circus. The cabarets we saw were more light and funny while the theater was more emotional for me but both were enjoyed in their own ways. After a weekend at the Fringe Festival, it got me thinking, I should see more shows in the future and support the arts more.
Have you ever been to a cabaret show?




Sharing is Caring: