Sharing is Caring:



I was working on my post of what we did on the South island and I realized that many of my favorite places were free walks we did as we drove by. I will have a separate post for some of the paid activities we did as well. If you are going to travel the south island of New Zealand, I highly recommend a campervan or buy a car/van when you arrive if you are traveling longer than a month and have a sleeper in the back. We saw many people who did that. A self contained campervan though is more convenient, just depends on your budget. Oh but be warned, gas is expensive, like over $100 to fill up from nearly empty, so find a buddy or two and split the cost :).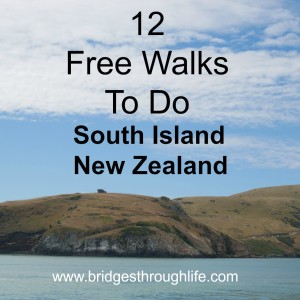 Campervan or car, that is the best way to see as many sights as you can along the way. Here are some of the walks we did to stretch our legs for a bit in between driving. I have them in the order in which we visited as we traveled from Christchurch, going south and then over to the west coast and up the coast back to Christchurch.
Aramoana beach and The Mole walk

Near the town of Dunedin, take a walk onto The Mole (walkway stretching out into the harbour) to see sea lions and look across the harbour and you may find albatrosses swooping down (they don't fly unless it is quite windy). You may even see some penguins if you are there at the right time of day.

Tunnel Beach

Not too far from Dunedin, a popular tourist spot is tunnel beach. Yes there is actually a tunnel down to a rock beach. No swimming though. It is quite a walk downhill then going back uphill, takes about 60 minutes total depending how long you stay down there.

Crown Range Rd

Located near Queenstown. Apparently this road used to be gravel, but it is now a nice paved road. Drive up to the start of the path. If you are an avid hiker, spend time hiking the path to the top. I believe it was over an hour hike one way? We just walked 10 minutes up the path for a nice view. Great overlook to Queenstown even at the start of the path.

Blue Pools walk

Located along Mount Aspiring National Park, this is about a 15-20 minute walk that will take you to two Blue Pools. Amazing clear water. You can view from the bridge or even take a short track down to the pools.

Thunder Creek Waterfall

Not far from the Blue Pools stop on the same road, a quick walk down to this tall waterfall is a must stop if you like waterfalls.

Fox Glacier

There are helicopter tours to actually walk on Fox Glacier, but we all don't have $300+ dollars to spare, so if you still want to see the glacier, you can also take the walk. I think the walk was about 60 minutes round trip. Follow the path as there are movements daily and it is important for your safety. Honestly I was just enthralled standing next to the mountains as we walked towards the glacier. I felt so small compared to Earth and nature. It was absolutely stunning though. You may still be 500m from the glacier, but the walk is worth it and free.

Hokitika town and beach

This little town is fun to stop in. A beautiful beach and coast line. We happened to be there during the weekend of a driftwood competition so we walked the beach and saw all these amazing creations from driftwood and rocks. Also free wifi at the library 24 hours (which you will want since free wifi is hard to come by once you get west).

Tunnel Terrace Track

Near Hokitika on the West Coast, stop and park your vehicle and take this 20 minute loop track through tunnels carved out for mining and through the forest. Smell the fresh air and stretch your legs if you are on a long drive.

Pancake Rocks Walk

You can't drive up the West coast and miss the Pancake Rocks. Layers of mudstone and limestone create these rocks resembling a stack of Pancakes. Thousands of years ago these rocks were buried under the sea and now the sea and weather erodes the stack of pancakes. Overtime, these stacks will make their way back to the sea, but don't worry, there are plenty to see in this lifetime. Of course, this makes it a great tourist spot not just to see the rocks, but also to eat some pancakes. You can get some pancakes at the café before or after walking down to the pancake rocks.

Truman Track

This 30 minute or so walk takes you down to a beautiful beach area, though not recommended for swimming due to strong currents. Great stop for some beautiful scenery pictures.

Pelorus Bridge

Not only is there a great campsite here, but there are also a couple walks. A short 20 minute walk to one waterfall which was apparently featured in the Hobbit movies (with more water than what I saw there – dry season). You can also take a walk down to the river and go for a swim. I will warn that there is a slight current, so I do not recommend it unless you are a strong swimmer. I consider myself to be a strong swimmer, but with the rocks, I didn't feel that safe and just took a quick dip in. There also are a bunch of sandflies, so bring some bug spray. The river was featured in the Hobbit movies as well.

Conical Hill

In the town of Hanmer Springs (which was on our way to Christchurch due to route 1 being partly closed from earthquake damage), you will find Conical Hill. It is about a 45-60 minute round trip climb. It is not too steep of a climb up and there are benches along the way to take your time. It offers a beautiful view of Hanmer Springs town and smells of pine (which I love) from all the pine trees.
I hope that this post helps you plan your travels to the South Island of New Zealand. We planned our trip on the fly, so each day we had somewhat of a destination in mind (not hard when you are doing a circle and traveling a single main road) and stopped at interesting places along the way. Some days we made it 50km and others we drove over 200km, depending how long we would spend doing a walk or activity. There are tons of other walks and many hiking trails for those interested in hiking New Zealand. For the most part these are pretty easy walks (except Tunnel Beach, that was quite uphill and steep) and no longer than an hour. I think most would be suitable for family trips as well.
Do you enjoy scenic walks?
What is your favorite part about traveling?




Sharing is Caring: