If there is one thing New Zealand is known for, it is known for having tons of activities ranging from skydiving, bungee jumping, jet boating and more. However, these activities tend to be pricey. Not only due to the amount of safety measures that have to be taken, but I think they know tourists will pay their prices. If you are into the adrenaline rushing activities, there is no shortage of them on the south island so go for it.
However, if you are looking for some fun activities outside of that, maybe a little more family friendly as well, and don't want to break the bank, check out my list below. I feel that these activities can fit into a budget pretty well. The most expensive is Milford Sound but cruises range in costs from $45-$100 or more. I believe there is something for everyone and if you plan it out (maybe not "on the fly" like me) then I think it can be budgeted for. Regardless, I hope this list helps you to plan out some fun activities for your next trip to the South Island of New Zealand. Also be sure to check out my list of FREE walks.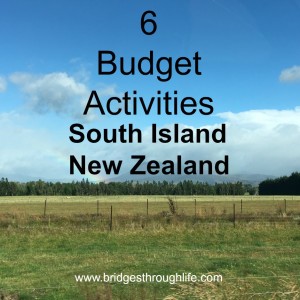 (Note: all prices listed are for 1 adult, child or student price is usually a few dollars less)
ChristChurch
Quake City ($20)

A small museum explaining the earthquakes New Zealand gets hit with and the effects of the 2010 and 2011 earthquakes leading to a rebuild of the center city of Christchurch

International Antarctic Centre ($39-59)

There is an express tour for $39 or the general admission is $59. If you have time before your flight, this is a great place to stop and see. There are lockers to store your bags and it is located across the street from the airport. I was a little iffy on the price but I do believe the $59 was worth it. We spent about 4 hours there, catching the 4D shows, the penguin feeding, riding in the Hagglund and more. I learned more about the scientific research being done in Antarctica and how important it is that we protect that land.
Queenstown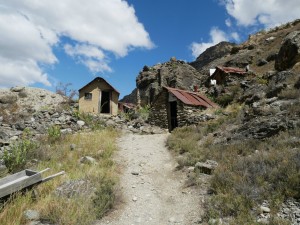 Goldfield's Mining Center ($25)

30 or 60 minute self guide tour, then tour with guide to see demonstration of machine working and learn the history of New Zealand Gold Rush for $25. Then pan for gold yourself.
Milford Sound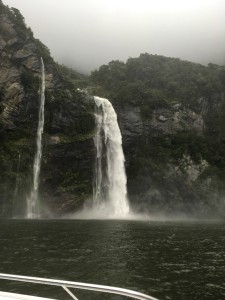 Milford sound cruise and 120km drive from Te Anau
If you are driving yourself there, great stops along the 120km road from Te Anau to Milford Sound include:
Elington Valley
Monkey creek – 100% pure water, you can fill your water bottle up in this creek. I have to say I am not really a bottled water fan (I taste the difference) unless necessary. This creek really did taste like bottled water, so it is THAT pure.
The Chasm
Of course if you are visiting Milford Sound, I hope you are taking a cruise, as it is pretty much the way to see Milford Sound. If you google map "Milford Sound" it will say you can't drive there because it is the water area. You actually have to google map "Milford Sound Cruise" to find it, but since it is one road from Te Anua to Milford Sound, you can't really get lost.
Cruises range in prices and length, so do some research ahead of time to plan out what you want. It was easiest for us to do a tour bus which is getting into the $200 range per person, but it was worth it with the curvy roads and getting to meet other people traveling. I saw some cruises online that started at $45 and there are deals all the time.
Tips:
Be ready to get wet, rain pants and rain jacket and waterproof shoes would be good. Milford Sound is one of the wettest places on Earth and there is only 1 sunny day in every 10 days approximately. Actually it is bound to rain over 200 days a year there, so be prepared. I had a rain jacket, but got very wet still.
If you are traveling during New Zealand's winter, be aware that the road may be closed due to snow and ice or rock falls. Be sure to check ahead if possible.
Wanaka
This is a great town to stop in not too far from Queenstown.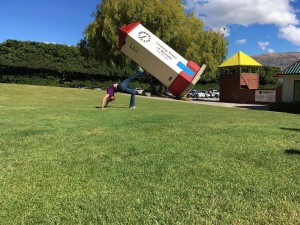 Puzzling World ($16 for maze or illusion world, $20 combo pass)

A place to get geeky. I suggest the combo pass and starting in illusion world. You will walk through a tilted room, see a wall of eyes following you and be puzzled by sculptures. Then take a walk through the 3D maze. Challenge yourself by finding the 4 corners in a specific order. The maze was a blast and it took us about an hour to complete. Then after you can sit in the puzzle room and play a bunch of puzzles they sell in the gift store. You could also just stop by and play in the puzzle room for free if you don't want to do the other activities.
Hanmer Springs
Thermal Pools and Spa ($24 + $10 for slides)

If you love waterparks and thermal pools, this is the place to go. You can get BOTH! This is a great family activity too since there are kid areas and then the adults can relax in the sulfur and thermal pools while the kids play (assuming they are old enough to run along on their own). Just $24 gets you access to all the pools. There is even a freshwater lap pool! For an extra $10 you get access to the 3 water slides, one is a tube slide and the others are fast water slides. The water on the slides is even quite warm so it isn't a big deal to go from the hot thermal pools to the slides. So much fun you will want to spend a few hours here.
Bonus:
Not an activity, but I wanted to include this anyway. If you are heading to Queenstown, make sure to stop in for a bite at FergBurger. The line may take about 20 minutes but worth the wait and gives you time to decide on what you want.
If you are a sweets person, check out Cup and Cake for a cupcake.
I hope you enjoyed this activity guide for the South Island. Be sure to check out my other guides and keep following for more on my travel adventures.
Next up: Melbourne, Australia.