Sharing is Caring:



Sometimes you look at tours and you wonder if they are worth the price. Well I can tell you, the Hobbiton and Glow worm cave tour was definitely worth the price and far exceeded my expectations. I didn't know what the bus trip would be like for the 2 hour ride, but the driver talked the WHOLE 2 hours giving us the history behind New Zealand.
The native Māori people were living in New Zealand for a few hundred years when the British discovered the island. Captain James Cook made friends with the Māori and sailed to New Zealand multiple times introducing them to new plants and livestock. It wasn't until the 1800s though when Britain signed a treaty to own the land of New Zealand. It was then that 2 brothers back in London decided to make fliers to advertise buying land in New Zealand. These 2 brothers had never seen the land but they advertised calm waters and plenty of farm land. Well what they didn't know was that the waters from the West were rough and the land was entirely covered in bush and native plants. However they made good money and the very wealthy British people bought land.
In order to get to their land though, it was a 6 month trip down to New Zealand which still wasn't even on maps. They were uncharted waters and they soon discovered the lies in the advertising when they tried to dock on the western side. Let's just say most of their furniture didn't make it to shore and ended up sunk underwater. But once they had arrived, they had to make due. They started to chop down trees and set up tents. However, the Māori did not like this. The Māori were the first to own the land and the more land one of them owned, the better status. The Māori ended up killing many of the first settlers. The Māori and Europeans fought for decades (about 60 years) before they ended up living semi peacefully on the same land. They even helped in the world war.
Though they were living peacefully, they were living their own lives. In the past 40 years, many things have changed. The Māori have now integrated with the schools in New Zealand. Whether you are of Māori decent or not, there is now a written and spoken Māori language taught in all public schools. Born in New Zealand, you would be known as a New Zealander. That is the name of the people.
That is just a short summary of the two hour talk on the bus ride. I found it very interesting. I had originally planned to sleep on the bus but that quickly changed as I learned about the New Zealand people and its history. Our tour guide made a good point about how in other countries you go on tours, they tell you, here is the tallest building; it is XXXX feet tall. While that might be an interesting fact, it is something easily looked up. It was great to have the knowledge of this bus driver to sum up New Zealand's history in a way that kept my attention with some humorous stories and facts. Hearing about New Zealand in the first couple days of my trip made me look at the land in a whole different perspective and appreciate this beautiful country even more.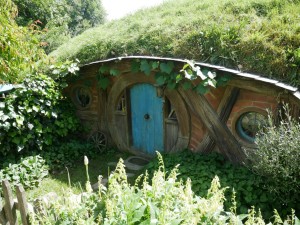 Well that was a bit of a long beginning, but after the 2 hour bus ride, we finally arrived at Hobbiton, our first destination. Hobbiton is located on a privately owned sheep farm, the only sheep farm in that area in fact. The original Hobbiton for the first Lord of the Rings movie was set up and then mostly torn down. I say "mostly" because they left about 7 hobbit holes when a storm came through and drenched everything. Then they had to move on to another project promising to come back. Well, by the time they did that, people had already figured out where the movie was filmed (thanks to the mountains in the background) as it was out in theaters and started calling the owner of the sheep farm to ask for a tour. So when Peter Jackson (director of the movies) asked to use the property again for the Hobbit trilogy, the owner asked if he could build it with permanent material. He agreed and said he would add even more details and that is how Hobbiton came to be.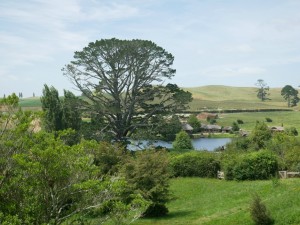 Confession: I have only watched the first Lord of the Rings movie and none of the Hobbit movies…so I can't say I am a crazy Lord of the Rings fan, but Hobbiton was AMAZING.
Our tour guide was fun and of course knew the movies and was able to tell us what certain things were made of to look old, etc and about certain scenes like running scenes that make sense when you see the movie but then you see where they were filmed and they don't make sense at all, like he ran from one end to another but really it was around the corner, love that movie magic!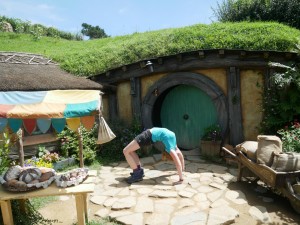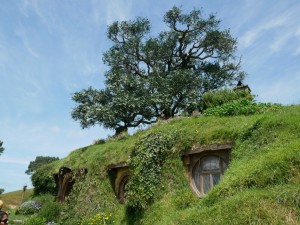 Random fact about the photo above, in the original set up for the Lord of the Rings movie, the tree was real but it was cut down from another location and replanted. Obviously it rotted and couldn't be kept so for the Hobbit movie when they rebuilt the set, they made a tree. The fake leaves imported from Taiwan and the trunk made of metal and other materials.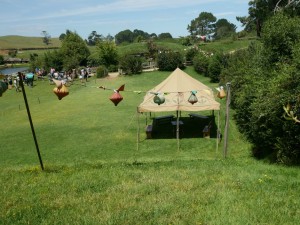 After a one hour tour, we got free beer at the end (I think that is included in the ticket price). Then with our tour, we had a buffet lunch set up. All the food was delicious and the dessert table was too.
We then headed back on the bus for a one hour drive to the Waitomo Caves for a tour to see glow worms. I knew this was something I wanted to do in New Zealand. We weren't allowed to take pictures inside the cave because it stresses the glow worms out, so I just took a couple of the outside of the cave after the boat ride. You also have to remain quiet throughout so I wouldn't recommend this as a family activity unless your kids are really good at being quiet for a while.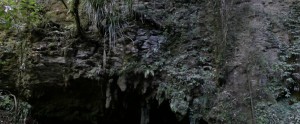 I don't have much to say about the glow worm tour other than it was like looking up at stars. It was a pretty cool experience. There are also other options like black water rafting to see them, basically white water rafting but through a cave and in the dark.
Our tour ended and Brian and I hopped on a bus to Rotorua, which was part of the reason for us doing the tour as it was a way to get a tour and a ride to Rotorua without renting a car. For that reason, I believe it was also worth it. Of course you can also take the bus back to Auckland if you are staying there. I think it is nice to do the one way to save from renting a car and gas (because that is $2 a liter here so times by 4 (3.78 to be exact) and that would be like $8 a gallon!! Yeah you won't complain about gas prices now will you?!).
I hope you enjoyed a bit of history and the Hobbiton photos. We are now 4 days into our New Zealand trip and loving it. New Zealanders or Kiwis (nickname) are very friendly and we have so many suggestions on places to see. More posts to come.
Are you a Lord of the Rings fan?
Have you been to New Zealand or is it on your wish list?
Disclaimer: All the history in this post I learned from the tour and writing from my memory so there may be errors.




Sharing is Caring: