During the last week, our weather has been the same here, 79 degrees for a high with a chance of scattered showers. I figured the weekend would be no different, but I was pleasantly surprised and happy about it.
Friday night I took my last yoga class with one of my favorite teachers who is moving away for a new job. That left me a bit emotional and then Brian found out he would have to leave for work on Sunday night after only just getting home Thursday night. It wasn't long enough and I was upset.
Friday night when I got home, Brian and I just had some time together. We talked about weekend plans to make the most of our time. While there are many house projects, our time was cut short and I wanted to do an activity together.
Saturday's forecast was partly cloudy with a chance of showers. I headed out early in the morning and bought some new sneakers. With my training for a 5k, I have felt like my current shoes are wearing out. I also wanted to try a new brand. I'm not much of a runner, but I happen to follow a lot of running blogs because I am just so amazed how people can go out and run half marathons, marathons, or even an "easy" 5K. I love reading runner's stories about how they felt mile by mile, because while people make things look easy, running takes a lot of mental work as well to stay in the zone and push through. I have been training with the couch to 5K app. Despite my weight lifting ability, I have little endurance, which actually just might be because I haven't tried to train to up my endurance much. ( <-foreshadowing a coming post)
Anyway I finally caved and bought Brooks. I can tell you that for the past 10 years, I have worn Asics sneakers. A couple years ago, I tried some Nikes, but quickly learned those were not for my feet, at least the pair I bought. But I wanted something new. I not only fell in love with the color of these, but also the feel felt great on my foot. I need more cushion towards the ball of my foot and these felt like they had it. I'm no expert, but you have to try something to really know.
I got home and Brian was still half asleep so I decided to try out my new shoes and take a run around the neighborhood. First run down and they feel good. I know you need to do a lot of miles to really break them in though so I'll try to keep you updated.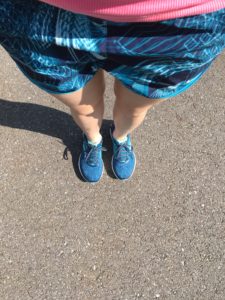 After my run, I changed clothes and Brian and I headed out to state park. I wanted to go paddleboarding. While the clouds seemed iffy at first, it ended up being a perfect afternoon on the water. Turns out the state park only has a couple paddleboards so I paddleboarded and Brian took a kayak. Just paddling out to the middle of the little lake was so calming. It was quiet and being surrounded by the water and trees was something I needed. I definitely miss my last apartment which was right on the Delaware river, so whenever I was feeling tense, I took a walk by the water in my own backyard. I don't have any pictures since we left everything in the car besides the keys and sunscreen. I need to get an underwater camera.
We were out for an hour on the water and it was the perfect amount of time since we started shortly after 11 and I was getting hungry. Actually I was like hungry since Friday because it was just one of those couple days where I could eat and eat and eat.
We decided to stop at Beer Tree on the way back. While I don't drink beer, they have an amazing taco food truck, Fox and Farmer, there. Lunch time was the perfect time to go there because it wasn't too crowded and they had tons of tables outside to sit at. I got some pulled pork and Brian had some tacos. There also happened to be a donut truck, Juke Box Donut Shop there, so we couldn't pass that up. You can get 3 mini donuts with different toppings on them and they were fresh off the fryer. I got chocolate and peanut butter (my favorite), smore's topping and plain. The freshness was amazing!!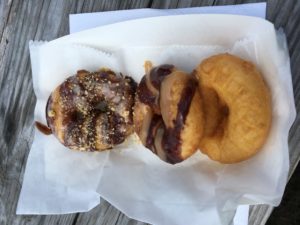 We ate by the river and since I had my swimsuit on, Brian had me pose for a picture.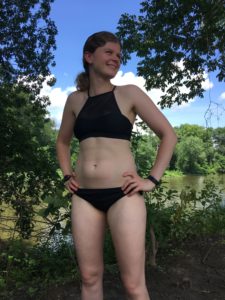 Beer Tree and Donuts were an unexpected part of our day but that's what I loved about it!! We headed home to shower and then needed to run out for a few items for the house projects. All that running around took us to dinner time so we swung by the grocery store and picked up steak as I wanted some steak tacos and put together a delicious meal. Brian brought down the smoker from his mom's a couple weekends ago and he set it up and cooked steaks and kale on the smoker. The kale turned into nice crispy kale chips.
I whipped up some guacamole and a cucumber and tomato salad as well. I'm building up my spice collection again, but right now my favorite is Thyme. I added rice vinegar, a bit of oil and a sprinkle of Thyme to the salad and it was delicious.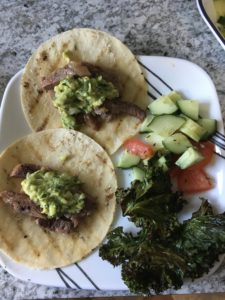 We enjoyed our dinner while starting the first Lord of the Rings movie. I discovered that all of the movies are on Hulu and it was nice to find something to watch we agreed on. We only made it half way, literally, through the movie when Brian was falling asleep.
Sunday morning I headed out to the gym, a new workout plan I was excited for. Then I made a quick trip to Wegmans for groceries before coming home and somehow spending the rest of the morning in the kitchen. It was so relaxing though. Brian was cutting trim for the bedroom and coming in and out while I was making pesto with my fresh basil and a new pot that we got as a housewarming gift this weekend from a family friend. She also brought us some pasta so I cooked some of that up and added the pesto on top. It was delicious!! In addition, I baked muffins and made bean salad.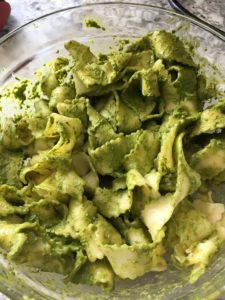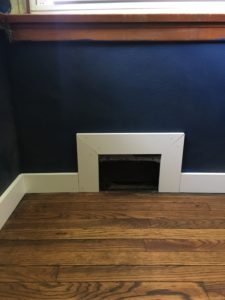 While we ate our pasta for lunch, we continued Lord of the Rings. Luckily we were able to finish it just in time before Brian was off to the airport again. I think we are both hooked now, but I want to wait and watch the remaining films together. I am curious about the books now though and might actually buy the boxed set to read.
Also a movie is much better when you know you have visited some of the filming locations, aka New Zealand for Lord of the Rings. Brian and I watch in ahhh because we loved New Zealand so much and Hobbiton was seriously the best.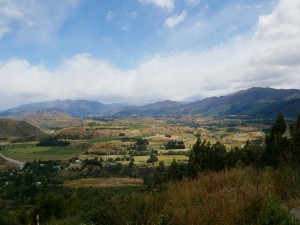 So yes 17 years later, I have finally watched the full first movie in the Lord of the Rings trilogy.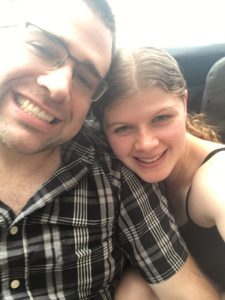 What's a movie you were late in the game to watching?