Sharing is Caring:



Hey there everyone. What a great weekend we had here in Sydney visiting the Taronga Zoo and Bondi Beach.
Friday was actually quite rainy for the entire morning and we had plans to head to Bondi but we actually didn't get out of the apartment until the evening when we finally went for a walk. Got to get those 10,000 steps daily right?! It was a great rest day at the apartment, getting time to follow a 1 hour yoga video on youtube was quite the treat and just not spending money on lunch, because we ate food that we had leftover. In the evening we walked down Potts Point and to the start of the botanic gardens. That was pretty much it for our Friday.
Saturday the weather was much better and perfect for a day at the zoo. One of my friends I met in a math class here when I studied abroad now works at the Taronga Zoo some days. I actually never got around to going to the Taronga zoo the last time as I had to limit the amount of pricey activities I did. My friend was kind enough to get us some day passes and we picked a day she was working so that we could get time with the giraffes. We took a quick ferry across the harbour and then took the sky walk to the top entrance of the zoo.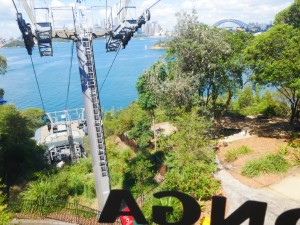 The koalas were first and it was amazing to see the koala actually climbing the trees. Usually they are sleeping as they sleep 20 hours of the day. It is hard to catch them during the 4 hours they are awake.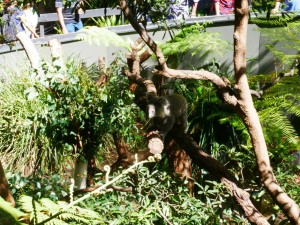 We met up with my friend a couple hours in. The giraffes were so friendly and it was fun to feed them and take some selfies. You can tell I was having a blast from the photos.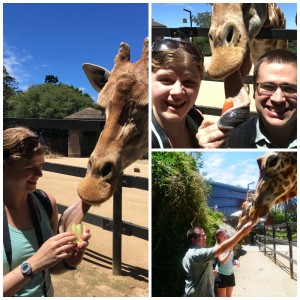 The Taronga Zoo is a pretty decent size and we ended up spending a good 6 hours there to cover everything. Considering how fast we walk through some museums and zoos (usually in 2 hours), it was impressive that we were able to spend 6 hours there. We took our time as we weren't in a hurry and enjoyed each of the exhibits. We also got to watch the Seal Show and Bird Show, both which I recommend if you ever find yourself in Sydney.
Sunday was finally beach day. We got a late start. I still don't know how I slept until 8am. I slept almost 10 hours Saturday night. I guess the zoo and sun wore me out.
I never made it to Bondi in warm weather to swim back in 2011 so it was nice to enjoy the beach (along with everyone else that was there because it was crowded of course).
Since we arrived at Bondi shortly after 11, we decided to find some food first. I reached out to a person I follow on Instagram (@carolinehgroth) who lives in Bondi and asked for some recommendations for healthy eating. One of her suggestions was Cali Press and it was very close to the beach so we went there. I got "the naked salad" and Brian got the spicy tuna sandwich. We were both very pleased with our choices from there and I highly recommend it. If we make it back to Bondi one more time, I hope to try their acai bowl or a smoothie.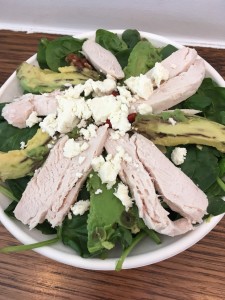 I got a new swim top while we were at Manly beach last week as I needed one that would be good for all the waves in the ocean. I love this halter top as it is much more secure.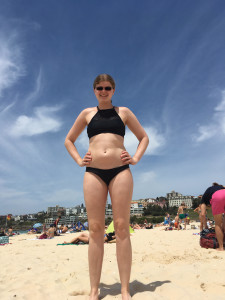 We enjoyed laying on the sand and hopping in the water a few times. After the first time, it was much easier to fully submerge yourself in the coldish water. It was breezy which felt nice when laying down so you didn't get super hot.
After 3 hours and the beach becoming more crowded, we decided to walk to the North side to take in the view.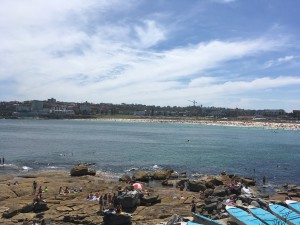 Then we searched for food. There are plenty of places to eat, though some close early on Sunday and we are totally indecisive. Eventually we came to a sushi place. I knew Brian wanted that and they had some non fish sushi for me, cucumber and avocado roll and chicken avocado roll for me. Brian went all out on salmon rolls.
Then it was back on the bus to the train and back home to de-sand ourselves. Since we ate mid afternoon, we weren't hungry for a while. Finally we got moving to the grocery store around the corner and I just wanted fruit and snacky stuff for dinner. I decided on brinner with a muffin, apple and an egg.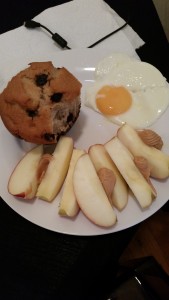 Now Monday hoping for another swim and some more walking in Sydney.
Thanks for the MIMM link up Katie.




Sharing is Caring: