Sharing is Caring:



Hello everyone. Did you have a great Thanksgiving? It was really nice to have a 4 day weekend. I headed up to Binghamton after a workout on Thanksgiving day and then stayed until Saturday. That left me with a full day at home to recover and clean up, etc.
I actually didn't take like any pictures except of the dogs…meet Lucy and Greta
Anyway Thursday morning as I said I worked out. My gym opened at normal time and was closing early. I decided to go at 6:30am and did this workout. That was HARD. I think I am going to start trying it once a week so I can improve.
I got home and made a smoothie for breakfast as that is going to be the new norm while I eat up the frozen fruit and protein powder.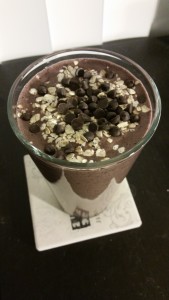 Then I headed on the road. I only made one stop and it rained on and off, but most of the drive was smooth. I hung out for a couple hours and then it was time to eat at 2:30. One of Brian's cousin's is vegan so I finally got to try vegan mac and cheese that she brought. It had a bit of a weird after taste that I couldn't figure out but otherwise was good. We had an oven cooked turkey and deep fried turkey and then some veggies and normal thanksgiving stuff like mashed potatoes and cranberries that I don't eat lol.
Then it was time for dessert. I enjoyed some of the vegan pumpkin pie I made. I used almond milk and the rest of the ingredients were vegan from this recipe. I can say the best part about Thanksgiving was that I didn't overeat and I didn't eat much dairy so my stomach didn't bother me at all. That is a successful holiday!!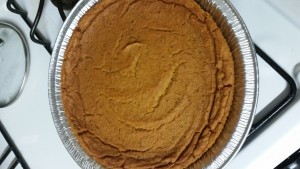 Shortly after eating, we headed over to our family friend's house. We ate so early that we arrived at this house before the guests. They have family come over for dessert and pies. I had some chocolate pie here and had fun chatting. There are so many people that come over and always fun to chat.
We got home around 9pm and watched some tv for a bit before heading to bed.
Friday I didn't do any shopping. Though on Saturday morning I did finally buy a backpack on sale for my trip. We had lunch with one of Brian's friends that I wanted to meet and enjoyed chatting. I had a delicious quinoa with chicken and veggies salad. I finished Scrappy Little Nobody and then helped Brian and his brother move some firewood. After that I worked on some blog writing for a while and then we had dinner at 5, turkey soup, which I do have to say was pretty good considering I am not a big soup person. After dinner we were going to head to the movies to see Fantastic Beasts but the shows were pretty much sold out so instead I purchased tickets for Saturday morning and we headed out bowling.
I was happy with bowling and won the first game! I got second place in the second game.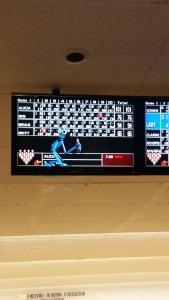 When we got back home, we watched part of the movie The Hangover, but couldn't last the whole movie and eventually headed to bed.
Saturday morning I headed out to breakfast with Brian's parents and family. Then Brian and I headed to the movies. Fantastic Beasts was really good and we both enjoyed it. Then it was time to part ways as I drove back to Philly. A quick stop for gas and Tim Horton's and a mint cookie which I wish I had a picture of but ate while I was driving. Iced tea and a cookie were my "lunch".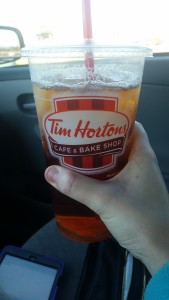 I stopped at Wegmans and then got home immediately unpacking, getting laundry in and cooking up some dinner along with after dinner snacking to enjoy the first two episodes of the new Gilmore Girls!! I actually had to pay attention and have this bad habit of clearing my plate and letting the show continue since I usually have Gilmore Girls on in the background, but I actually had to pause it when I got up so I didn't miss anything.
Sunday I didn't have to teach yoga because the gym cancelled it due to the holiday. Instead I went to the gym and swam 2.4 miles!! I don't know how I had that in me, but after 2 rest days, I had energy. I haven't swam in about a month because of my busy weekends so it was nice to be back in the pool. I swam for an hour 35 minutes with few breaks. Someday I'd like to do an open water mile swim. Open water scares me, but I think if I can swim 2.4 miles, I can do a mile. Also I finally got to try Blue Raspberry Spark. Perfect pre swim fuel.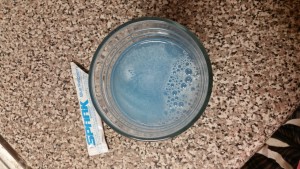 When I got back home, I roasted some veggies and then had those and some ham for an early lunch. For the afternoon, I worked on some holiday gifts and crafts. I was feeling a bit like a scrooge as the Christmas season started. I obviously won't have a tree this year as I am moving and I am just not into shopping since I need my money to travel. I have found some little gifts for people that I think they will like and taking the time to put something together made me happy and feel more in the giving mood. Gifts don't have to be expensive and I think mine will be meaningful.
In the evening I made a spaghetti squash with some diced tomatoes and a turkey burger. I am eating my way through the pantry and freezer for sure. I will probably be sick of burgers in a week, but they should all be gone by then.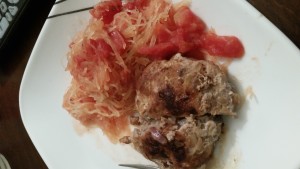 Then it was time for the last 2 Gilmore Girl episodes. I was going to try to spread them out more, but I know the next two weeks as I prepare to move and train new people at work will be busy. Plus in two weeks I have Fuller House Season 2!!
Thanks Katie for the link up.
What's your favorite part of Thanksgiving Dinner?
Did you watch Gilmore Girls?




Sharing is Caring: