Sharing is Caring:



For about 4 months, I have been looking forward to this weekend. 4 months!! That is how long I have had my tickets for Wanderlust 108 Philadelphia. After hearing about it in other cities this year, I was really looking forward to it. Though it rained in the afternoon, the festival was so much fun and me and my friends stuck around basically until the end.
Thanks Katie for the MIMM link up.
I was up early Saturday morning to make breakfast and head out the door shortly after 7, not much different than a work day. I arrived at the Navy Yard around 7:45am. Luckily it was an easy drive to get there and I loved that there was free parking for the event.
I had never been to the Navy Yard, but I loved how the ships were in the background of the Wanderlust arch.
The 5k started at 9, so I walked around a bit. I had to do a wheel under the Wanderlust arch of course.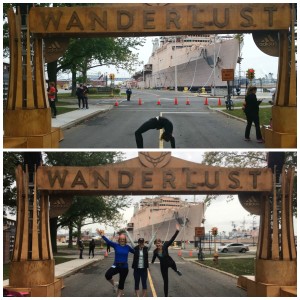 I then met up with my friends and we checked in and walked around to check out all the booths and free samples. I tried every bar that came in a mint flavor. Seriously I love mint!!
I loved the Nature's Bounty booth that had a mirror that gave you a compliment and then took your picture. So perfect as you always smile after a compliment.
As we walked around we found some girls putting on tattoos they brought. They had a couple extra so why not join in on the fun.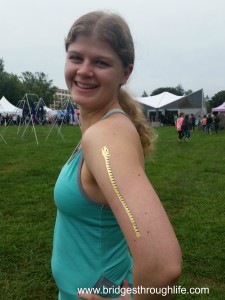 We also tried a cold matcha drink which we later bought cups of.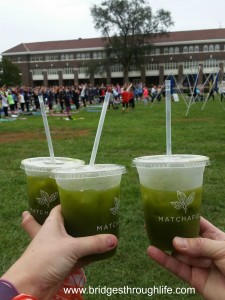 We stopped by the Kombacha Garden. Honestly, I am not a big Kombacha lover, but I tried their pink lady apple flavor and it was pretty good.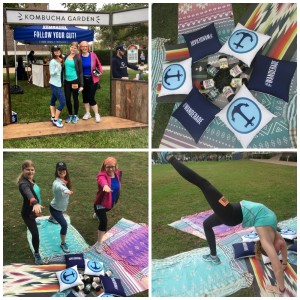 Then it was time to line up for the 5k. Since I am recovering from a stress fracture, I took it easy. Luckily my friend mostly wanted to walk. We did some light jogging and then would walk. We had a lot of catching up to do. I met this girl at Yoga on the Steps and we keep in touch through Facebook. So fun to go to events and meet people with similar interests. We actually started to talk a lot about essential oils. Apparently she uses them for like everything and I am just digging in. So much we can teach each other!! We were both like, it was meant for us to meet. Happy to have a person with such positive vibes in my life.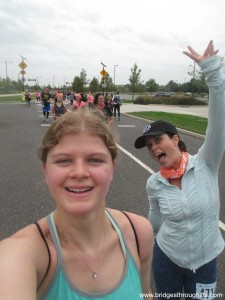 After the 5k, we went to get tribal face painting followed by braiding. I loved getting my hair braided!! I was recalling the memories I have of babysitters I had when I was little that would braid my hair for me. I have simple needs haha.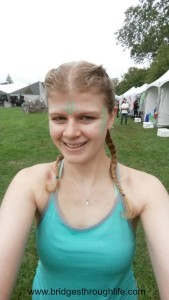 Since we were getting our hair braided, we missed the first 30 minutes of yoga, but we joined in during the dance party and did the second 30 minute flow. I have to say there were a few weird transitions, not really described well, but it was definitely fun. Towards the end of the practice light rain started. When we settled into savasana, I closed my eyes, relaxed and just felt the rain slowly hitting my face and my body. I imaged it as a kiss from the sky. It felt so wonderful.
We then closed with a meditation. As we meditated, the leader of the meditation was speaking about how we need to get through uncomfortable situations, like sitting in the rain or things in life that might seem uncomfortable. I think I stuck out 15 minutes or so of the meditation, but then I wanted to move to find shelter as the rain was getting harder.
There was a building with a covered porch that people were sitting under and so we headed over, but then were told we couldn't be up there unless we were eating. As we were about to head over to get our picnic lunch, a security person cleared everyone from the porch. I'm not sure of the reason other than maybe private property?
Anyway, we got our food and remembered the Adidas tent had a lovely couch in it. There were still seats and we ended up eating there and hanging out for an hour and a half or so chatting with people that came through and watching Aerial yoga.
I then headed to my Acro Yoga session that I signed up for. I worked with 2 sisters who were very friendly as we worked on inversions. Super hard inversions that basically if you don't have handstand down (I don't), they were quite difficult. I did get up once though and it was fun to play around. The time went by fast.
I then found my friends again and we waited around to do Aerial yoga. They were signed up for a later class but due to the rain, most people left and I got to jump in to the last class as well. It was definitely worth the wait and so much fun. Plus you can always cocoon yourself in the silks :).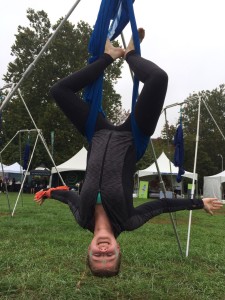 Shortly after 3, it was time to leave. It was a fun day, but definitely tiring and the rain was getting harder. I made a detour through New Jersey to go to Wegmans and Whole Foods on my way home. I really dislike driving in the rain, but I always remind myself it is better than snow. Oh and yes I go to shopping with face paint on now. There might have been people giving me strange looks, but didn't really notice.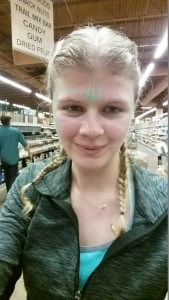 Finally I got home at 5:30, went through my pictures and took a much needed salt bath to relax my feet. My foot continues to feel better which is good. Then it was time for a simple dinner, soup and chips and hummus (because when you go to the store hungry, you leave with HOPE kale pesto hummus, so good!!).
I wrapped up the night with a movie and relaxing on the couch. Perfect end to a long day.
Sunday I was able to sleep in, clean at home, work on some blog stuff, teach yoga and meal prep. It was a more laid back/catch up day which was what I needed after Wanderlust.
I hope the weather next weekend is better as I would really like to go apple picking again and enjoy some more outside time before it gets too cold.
Have you ever been to a Wanderlust Event?
What's one thing you did this weekend?




Sharing is Caring: