Sharing is Caring:



Wow, what a weekend. I focused on gratitude a lot this weekend and getting some ideas down on paper. Firstly, I want to say send prayers for Florida and Orlando. From Friday night losing Christina Grimmie to Sunday early morning mass shooting, it was not a good weekend down there. Sending love to everyone.
Thank you Katie for always reminding us to spread love and hosting this wonderful link up.
Fortunately, I had a pretty good weekend. I started Friday night with a swim. I was so antsy at work and it seemed like half my office took the day off for a graduation or vacation. Later in the evening I spent a lot of time reflecting and having a good talk (via text) with my fiance. Though it didn't seem like it at the time, it really set me up for a great weekend.
Saturday morning I headed to Yoga on the Banks in the city. It was a nice vinyasa class, more to my pace than recent yoga classes I have attended. It was also beautiful weather and I had some time to read outside before it started.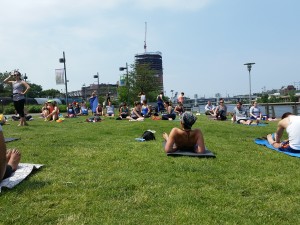 In the afternoon, I ran errands and spent some time in the kitchen, my happy place. I did some baking including making Ms. Spoons recipe, because when you buy 2lbs of strawberries, why not make strawberry chia jam?!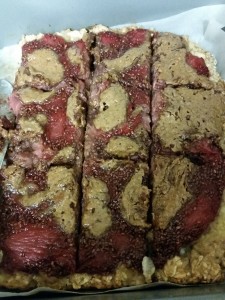 I enjoyed the evening by working on some blog stuff and watching The Prince and Me.
Sunday morning I was all sorts of productive cleaning up the apartment and working on meal prep in the morning. From chicken in the crock pot to roasting sweet potatoes (yes I use the oven when it's 90 degrees outside…grateful I have good AC).
I taught yoga at noon and then stopped at Target (why is Target next to my gym…way too convenient). I should not have walked down that chocolate aisle, but these were delicious with my snack style lunch.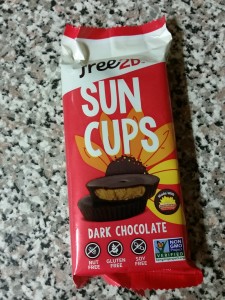 In the afternoon, I enjoyed 3 hours at the pool. It may have been 90 degrees but it was so windy that I actually didn't feel hot most of the time I was there and in the end, I was busy chatting with 4 new friends. As I type this, I still can't tell if my face burned. I tried to reapply sunscreen but definitely didn't do every spot and like I said, I didn't feel too hot but drinking tons of water just to refuel from the sun time anyway.
Once I got home, I threw together a quick stir fry, basically this recipe plus some baby corn and water chestnuts and minus the quinoa because I didn't want to wait around for that to cook.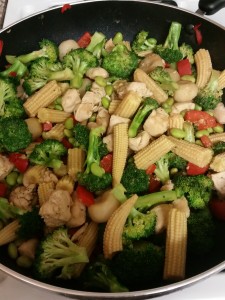 Sometimes I think I'm cooking for a family, but in actuality this is my dinner 3 nights this week.
That pretty much wraps up the weekend. I am feeling ready for a new week and hope I can keep up with my productive attitude. No Netflix in the morning really helps.
What did you do this weekend?




Sharing is Caring: