Sharing is Caring:



I'm sure you can gather what I did this weekend from the title of this post, but here's a more detailed recap. Also I want to say good luck to everyone running the Boston Marathon today!! It looks like it will be good weather. Warmer here in Philadelphia today, maybe 80 degrees!! I'm so happy it is finally warming up and the sun coming into the living room has been so nice to enjoy in the afternoons.
Friday at work in the afternoon I was antsy to leave and enjoy the weekend. This was my first weekend that I wasn't traveling somewhere in 3 weeks!! I was happy to get back to my usual weekend routine at home. I had a nice and relaxing Friday evening. I actually got into a Youtube loop of different videos and I created a simple Chair Yoga video for my friend to use for a project. I am not very good in the video field. My camera only allows me to record 10 minutes before it stops and I don't have any editing software. I am clueless to how to edit videos on a windows computer. I'm thinking next year I might invest in a Mac and work on doing videos, whether it be vlogs or yoga videos.
Saturday morning I slept until 6:30, which I guess is sleeping in since my body is getting used to waking up around 5am during the week. I had a quick breakfast and headed to Wegmans. Once I got back from the store, I had a Quest bar for a snack and headed to the gym to swim. I think it has been about 6 weeks since I last swam. The pool was on the warm side which made it much harder to keep swimming. I pushed through 40 laps where it usually gets easier, but it was still hard. I made it to 50, then did a set of 20 and got my mile in. I was hoping to get to 2 miles, but I ended at just over 1.5 miles, total 60 minutes of swimming. By my last kicking lap, I had my head on the board closing my eyes, the warm water makes me so relaxed like a hot bath…yeah it was too warm.
Once I got home, I was just exhausted, like I didn't want to do anything. I was also quite hungry. One of the Youtube videos I came across was Sarah Fit's latest protein smoothie. I actually bought dates at the store and gave it a try after my swim. I added some chocolate chips too, because chocolate! It was delicious!!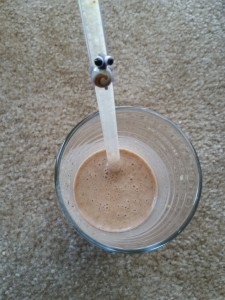 Since I was still hungry, I then made myself one of the perfect portioned steaks I got from Wegmans. I love getting them as they are thin so they cook quickly and like the name, they are the perfect portion size.
Eventually the steak kicked in and I wasn't as hungry. I decided to sit on the couch and read for a bit. I'ma kid at heart and was reading book 9 of a Diary of a Wimpy Kid. I discovered these books when babysitting years ago and love them for a quick funny read. I fell behind, actually still need to read book 8 and then I also have book 10 to read. Book 11 is being released in November 2016.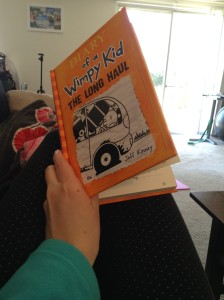 Eventually by 4pm, I got moving. I went on a cleaning spree of the apartment from the kitchen to the bathroom. I then made some cauliflower fried "rice" with tofu for dinner.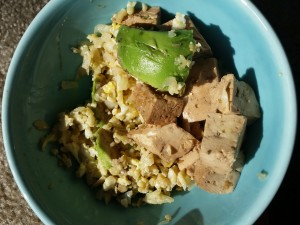 After dinner, I headed outside to do some yoga as I also had to think of my routine to teach on Sunday. I love how it's still sunny at 6:30pm so I can be lazy in the afternoon and still get outside later. Funny story though, when I first opened my patio doors and was about to bring my tripod out, suddenly a bee flew into my apartment, so I screamed (usual reaction) then stayed silent and just watched it as it flew around the couch area and eventually it found it's way back outside, thank goodness…I did close the screen and waited a bit before going out though.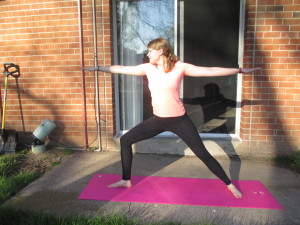 I then relaxed on the couch watching tv until I went to bed.
I slept an amazing over 9hrs Saturday night. I don't know what had me so exhausted, but it was nice to sleep in until almost 8am. I made some protein pancakes for breakfast, because that is what Sundays are for, pancakes!
I then headed over to the gym to do workout 4 from the Booty Bootcamp I am following. That was a sweaty one, so I had to hop in the shower after getting home even though I was teaching yoga a couple hours later. I started on some meal prep and then headed to Target, the gym to teach and then stopped at Panera on my way home. I am loving the Asian Sesame Chicken Salad and I had to get my free birthday treat.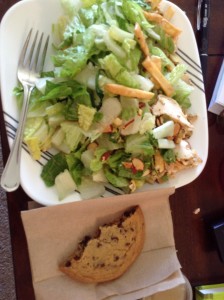 The afternoon included more meal prep, more yoga planning (as I am subbing today and teach tomorrow) and some sun time!!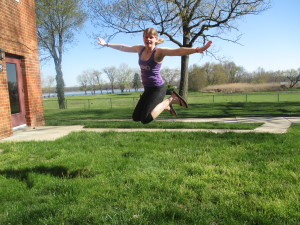 Did you have nice weather this weekend?
Have you ever made cauliflower fried rice?




Sharing is Caring: