Sharing is Caring:



Good morning everyone. I am super excited for the warm weather heading our way this week even though it likely won't stick around. I just can't wait for summer and spending my weekend afternoons laying at the pool. Until then, I will enjoy the sunshine and the longer days we have now.
This weekend I probably had the least plans compared to what is ahead for the next month, so I fully enjoyed it by spending time at the gym, reading and cooking.
Friday evening I headed to The Yoga Garden for a wonderful restorative and Thai massage workshop. Basically we did like 6 poses in 2 hours and slept/melted onto the props while getting adjustments. It felt wonderful. By the time I got home, it was 10pm so I just headed to bed.
Saturday I did my usual grocery shopping in the morning and then I put on my swimsuit for the first time in like 2 months to head to the pool at the gym. I haven't had time for a long swim lately due to plans and having a cold. Chlorine and a cold don't mix well. To give me a bit more energy, I fueled up on lots of water plus Spark and a Quest bar.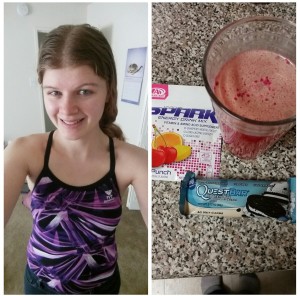 I didn't know how it would go but after the first 40 laps, I was feeling pretty good. I made it 2 miles. YAY! That is what I now aim for. Though not quite all at once. I did 50 swim, 4 kick, 50 swim, 4 kick, 20 swim, 2 kick, 20 swim. If my calculations are correct, 140 laps is 2 miles, so I did 140 swim and 10 kick in just under an hour and 20 minutes. After a shower and heading home, I was ready for some food. I don't know what Brian did to me, but suddenly cauliflower rice and fresh grated Parmesan cheese is delicious. Add in a few mozzarella balls and roasted tomatoes, it's like the cauliflower pizza we made but without as much effort. I have never been a fan of cauliflower but in rice form, I don't mind it. I am also not a big cheese eater, but the fresh block of Parmesan we got is sooo good. I'm telling you, it's weird, but also nice to change things up.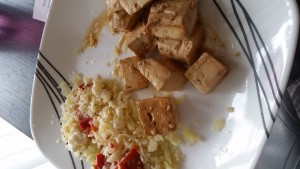 I then made some Paleoful cookies. They had some mixes on sale so I finally ordered a couple. Oh yeah, Friday was a good mail day. First box of Quest bars and Paleoful mixes.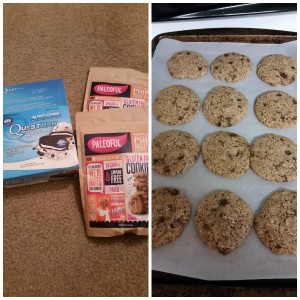 I have bought almond flour and coconut flour in the past and have not been a fan but if you already have it in a mix for me, it's fine. Something about the strong smell when I buy just the flour, I can't work with it. Coconut I really don't like the smell or taste of. The only coconut thing I have been able to handle is coconut milk. Strange I know.
Saturday flew by as I watched a couple TV shows (almost done with Fuller House season 1 🙁 , at least they were renewed for a season 2) , cleaned up the apartment and read for a while on the couch. I am really enjoying Gabrielle Bernstein's book Spirit Junkie. There are journal exercises too and I actually really got into them. I definitely need to write more, not just blogging, but personal thoughts and what steps I need to take to achieve my goals. It was a great reflecting evening on Saturday.
Sunday morning, I made some paleo pancakes (1 egg, 1 banana, a scoop of protein powder) plus chocolate chips, because chocolate in the morning is delicious. No picture of the pancakes, but last weekend I bought a new frying pan to replace my super scratched up one and let me tell you, it has made meals sooo much easier and clean up is a breeze. No more trying to flip an egg and half of it is stuck to the pan.
I subbed a yoga class (my usual one was covered as they needed a sub at a different location). I tried out some new things in my sequence after watching a few videos and I actually had to cut some stuff out. I will eventually get this timing thing down, but it was definitely a sweaty workout and the most people I have had in a class, about 40. It was hard for me to talk really loudly as I am not a loud person. Eventually I think I am going to have to get a mic headset, but it went well.
I then came home, ate some leftovers for lunch and enjoyed a hot shower. I also got back into #headstandSunday . I may have made that up, but I enjoy it. Getting steadier, slowly.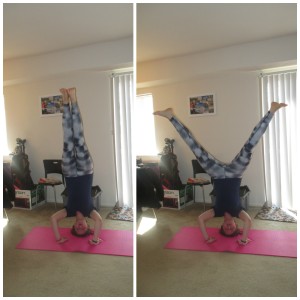 The afternoon was time for taxes with help from my dad, some cooking and relaxing on the couch in the evening with my book again.
What did you do this weekend?




Sharing is Caring: