Sharing is Caring:



Good morning everyone. Happy President's Day!! Do you have off of work today? I do and I am happy to spend another day sleeping in (which pretty much means I am up at 7:30am). I had a pretty good balance of productive and relaxing weekend.
Friday night I caught up with my parents and a couple friends on the phone which was nice. Saturday was my super productive run-all-the-errands day. I decided to go to the gym shortly after 8am and then came home to change and head to Cherry Hill. I wanted to see the movie "How to be Single." Being that I am cheap and a morning person, I went to the first showing of the day at 10:10am. I was only the third person in the whole theater! By the way for this weekend it was just me, myself and I for Valentine's, but that was OK as I had a growing to do list. Brian wasn't around but we will celebrate next time he comes down.
I enjoyed the movie and then went to get my groceries at Wegmans. Oh and besides the cold, which I knew about in the forecast, it decided to snow while I was in the movie so I came out of the movie and had to brush off my car. There was definitely no snow in the forecast. In fact when I checked in the morning it said 0% precipitation…lies. At least I have snow tires and it only stuck a little but the wind kept blowing it away.
So I drive over to Wegmans and it is crowded so finding a parking spot was tough, but then I finally see one open and then I notice 3 shopping carts half in the space. Like really?! I mean I realize it was towards the back of the lot and it is cold, but really?! It annoys me that people can't run over and put their cart where it belongs. Luckily I could still fit my car in the spot and left room for the carts but then, the nice person I am, I dragged those 3 carts (which is hard to steer and my hands were freezing) to the cart spot where a Wegmans worker was rounding up the carts anyway and happily took them from me. My good deed for the day. I mean with the wind we had, I didn't want these carts running into my car or the other people's cars they were all next to.
Anyway I got my shopping done and headed home. By then it was well past lunch time so time to eat. I worked on my yoga sequence and practiced some yoga for 30 minutes.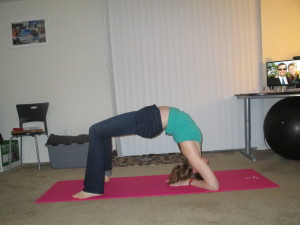 Then I headed back into the cold to go to Staples and Kohls. Luckily they are in the same plaza and while I would usually walk between them, it was too cold for that Saturday and I drove between them.
I finally organized my yoga sequences I have been writing into a binder, which was my reason for going to Staples. It helped to clean up all the papers on my desk. Felt good to see a bit more of my desk and be more organized.
I cooked up a hamburger for dinner and then made some muffins for a little valentine's treat.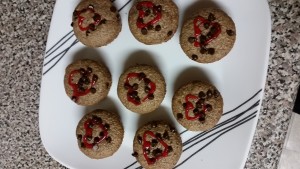 I then spent the evening watching a movie on Netflix and then Skyping with Brian for a bit before bed.
Sunday was less eventful. I was productive in the morning with cleaning and working on some blog posts, but then I just decided to read for a bit. I mean that isn't totally lazy at least. I am almost done with the book Bossypants by Tina Fey and if you haven't read it, go pick it up now, or buy the paperback for like $5 on Amazon. Seriously so good. I can't put it down and that is rare for me and books.
I didn't want to leave and enter the cold 8 degrees feels like -8 temps, but I had to teach yoga. I decided to go a bit early and walk a mile on the treadmill to warm up a bit and so I didn't feel so lazy looking at my lack of steps on my fitbit for the day. I really like walking on the treadmill for a bit before yoga as it does warm my body up especially with the cold weather. There were 16 brave soles that came to yoga and I had a wonderful heart opening sequence for them for Valentine's Day.
After yoga, I came back home, ate a snack like lunch and then continued reading Bossypants. One thing I was happy about with the weather was that at least it was sunny. In the morning, the sun shines into my bedroom and warms it up (where I hung out with my book in the morning) and then the early afternoon it comes more into the living room. So I probably looked weird, but I was just sitting on the floor or my foam roller and reading in the sunlight by my patio door. Yep, that's what I do, chase the sun around my apartment. I can't wait for summer and soaking it up outside by the pool.
Feeling like I needed to do something, I got into the kitchen and marinated some turkey cutlets and then baked them in the oven. I have to experiment with the bake time a bit as I think they got a bit over done, but still tasty. I put together a great dinner plate (in my opinion) as I celebrated self love for Valentine's day and fueling my body with clean eats.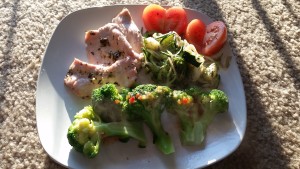 Do you like my heart tomatoes?
I still felt like I needed something more since it was Valentine's and all, so I decided to whip up Jenn's cupcakes. I actually first made these last year as a late valentine's celebration dinner with Brian and they were amazing. I saved the other two for today probably after dinner. I used the peanut butter frosting recipe but lightened it up only using 1/2 cup of powdered sugar so my frosting was a bit more liquidy than I would have liked, should have decreased the milk too, but it was still perfectly peanut butter like.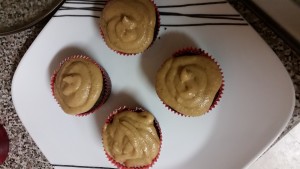 I ended the night watching Gilmore Girls and reading some more before bed.
Saturday flew by being in and out of the car, but Sunday was slower paced and it was perfect to have that balance. Today's to do list includes making a couple more yoga sequences as I teach tonight and tomorrow night and planning to go to the gym mid morning for a zumba class that I can never go to because of work. I love working out on holidays! Probably will do some weights too.
Do you have today off? If so, what are your plans?
Did you celebrate Valentine's Day?




Sharing is Caring: