Sharing is Caring:



Hey all!! Here we are back at Monday. My 4 day Thanksgiving weekend was a much needed break, but of course went by way too fast. Now back to the 5 day work weeks until Christmas.
I had a nice Thanksgiving. I slept in, made some protein pancakes and did some yoga at home (thanks OneOEight) before heading out on the road at 10:30am.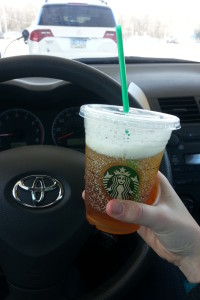 I arrived in Binghamton shortly after 2pm and the dogs were happy to greet me. Brian was working for the holiday but I joined his family for Thanksgiving.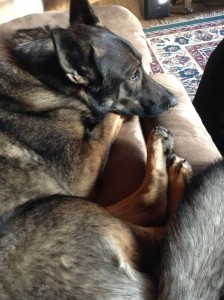 People started coming over around 4 and we snacked and then ate until 6 or so. We also watched a few Adele Youtube videos, from the SNL skit, the original "Hello" video and Adele trying out for Adele. It was fun!
After eating some pie, I headed down to Marathon where I joined some of Brian's friend's family. They have so many family members and the house was packed. There were also 3 new baby cousins this year so I was enjoying the babies, though the 2 month old was very unhappy. The babies a bit older were more alert and just fascinated by all the people.
I stayed there for the night and then Friday morning met up with Brian's mom for a late breakfast, where we enjoyed talking for a while. Before noon I was back on the road. Luckily everyone was out shopping so the highways weren't too crowded lol. I stopped at Wegmans since it was on my way back and stocked up on food for the week.
Can I just note that on my drive home I was sweating and even turned on the AC, it was 67 degrees outside!! No complaints here but felt odd the day after Thanksgiving. When I got home, I wanted to shake out my legs and enjoy the unusually warm weather, so I changed into some leggings and did a bit of running/walking around the complex just as the sun was about to set. The rest of my evening wasn't too exciting, but got some laundry done, cooked and relaxed for the evening with a Christmas movie. The day after Thanksgiving and it's now appropriate to watch Christmas movies all the time and listen to Christmas music, YES!
Saturday was another wonderful day of sleeping in. I had breakfast and headed to the gym. I got my squats in and turned my legs into jello before heading into Target for a few items. Then I had the rest of the day at home. What was I to do? I got into a cleaning spree and going through some boxes of stuff and the afternoon was flying by. Also, thanks to the emails on all the sales, there were a few that got me and I decided to order some Christmas gifts for others and myself. I did not plan on buying anything with the Black Friday deals (which continue onto Saturday and Sunday at some places now…), but it was nice to get some shopping out of the way. I am looking forward to the many packages I get to open arriving in the next week or so and putting together presents.
I also really wanted to cook and bake and was excited to have time to be in the kitchen. I made Davida's muffins again, half the recipe so I wouldn't eat 12 muffins by myself…and also treated myself to some steak I bought and cooked up one of my favorite veggies, broccoli. Don't let the plate fool you as I ate more after this, but only ate 2 of the muffins that evening.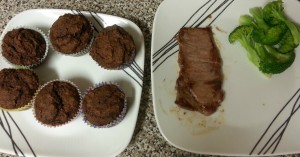 Saturday night I was excited to settle down on the couch reading until "A Gift Wrapped Christmas" premiered on Lifetime with Beverly Mitchell. I guess all my sleeping in has finally helped me catch up on sleep because I managed to stay up until 11 Saturday night haha, but still enjoyed another 8 and a half hours of sleep Saturday night.
Sunday was laid back other than my 2 mile swim, which is more challenging after a leg workout day, but I pushed through it. I may not have walked well afterwards, but at least I spent some time on the couch reading and didn't have to go anywhere else.
I did some meal prep for the week, baked chicken and roasted veggies.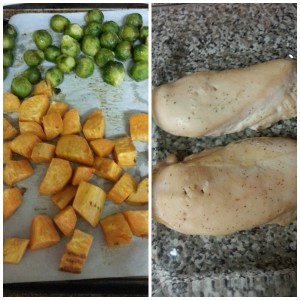 Besides that, it was a good day for reading, finishing a book and brainstorming some yoga sequences. Also some yoga and foam rolling my legs out, OUCH, but so good.
My weekend wasn't that eventful, but I got some good workouts, things checked off my to do list and gifts ordered, so I would call that successful.
I hope everyone has a great Monday.
Did you go Black Friday shopping or shop online?
Do you enjoy watching Christmas movies?




Sharing is Caring: